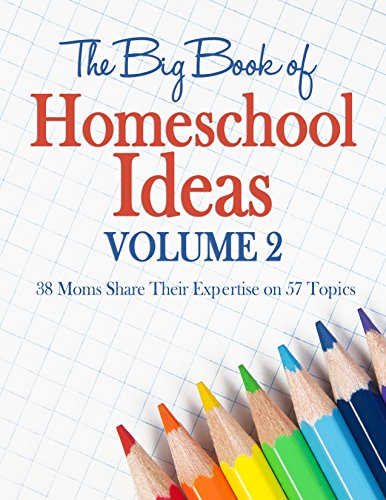 This post contains affiliate links for a resource we love. Please see our disclosure policy.
What do you do when you have a difficult homeschooling question on your mind?  Sometimes there is a homeschool family nearby, to reach out to.  Or on other occasions, a friend at Co-op might have the answer.  Or maybe a favorite blogger could serve as a resource and help you to seek out what you are needing at the moment.
But sometimes those options are not readily available. Or maybe they are not up on the current topic that you are exploring and wanting an answer for.
The Big Book of Homeschool Ideas 2
Well, the great folks at iHomeschool Network have come up with yet another helpful resource that might be just the ticket!
Are you familiar with the Big Book of Homeschool Ideas, Volume 1 ?  So many families had turned to this Big Book resource, that they decided to put together yet another one.  The second volume of this great book has just been published this week!
The NEW Big Book of Homeschool Ideas Volume 2 was released on February 13th! And it is chock full of helpful tips and resources, covering a wide variety of new topics helpful to us all as homeschooling families.
Here  are just a few of the topics covered in the new volume, which has been written by 38 moms, covering 50 + topics, including:
Need ideas for getting Dad or grandparents involved?
What should you do if you have anti-homeschool family members?
Need help creating socialization opportunities for your homeschooled teen?
Are you confused about how to assign high school credit for courses and electives?
Would you like to make back to school time special for your kids?
Are you a city-dweller who longs to go outside for nature studies?
Need ideas for raising tomorrow's thought leaders and entrepreneurs?
Do you have a child who is a chronic worrier?
In this book, the veteran homeschool bloggers of iHomeschool Network once again go beyond the basics of academics and delve into practical topics like dual enrollment and college prep, transcripts, personality and learning styles, ADHD, book clubs, flashcards, STEM, small spaces, and tips on managing your homeschool, your home, your life, and your sanity.
I was privileged to be a part of this book.  Based on helping my daughter go from homeschooling to college, I wrote the chapter called "The Nervous Mom's Guide to College".   It is all about planning your high school years, with college in mind.
But that is just one chapter!  The Big Book of Homeschool Ideas, Volume 2 has 57 other chapters, which are grouped into these 7 Units:
 Ages and Stages – Teens and Beyond
 General Homeschool Helps
 Learning Resources – Language Arts and Literature
 Learning Resources – STEM
 Learning Resources – Training Hearts
 Learning Resources – Unique Needs
 Managing Your Life – Unique Homeschool Situations
If you are new to homeschooling or a veteran homeschooler, you will find something helpful to your family in this book.  It is available from iHomeschool Network at the frugal price of $3.99.  Click here to get your copy.
Betsy blogs at BJ's Homeschool about high school and college and all the fun of homeschooling the early years too.  As a veteran homeschooler and the mom of a homeschool grad, Betsy also offers free help to homeschool families.  She is the author of Homeschooling High School with College in Mind, a simple guide to homeschooling your teen.
Save
Save