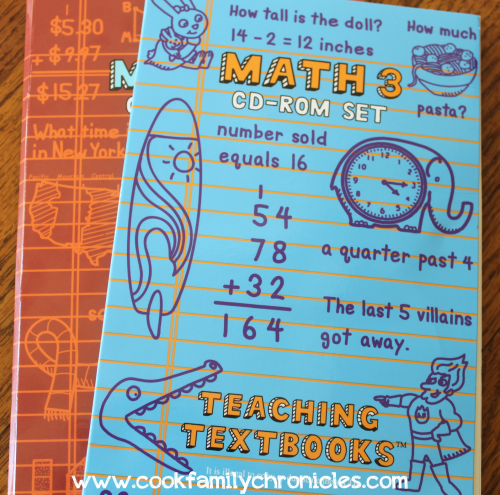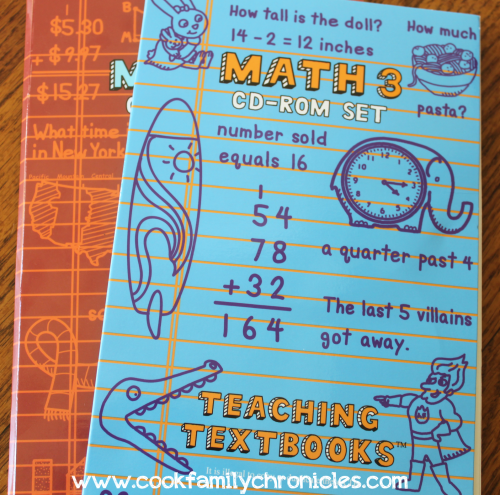 My oldest son is in 4th grade this year. Math has always been the dreaded subject in our house. He is a very bright boy, but when you hand him a worksheet with a ton of problems on it, he immediately tunes it out. We have tried several math programs over the last few years and with each one came more discouragement. We were both beginning to get very frustrated. After searching high and low, Teaching Textbooks was introduced to my family.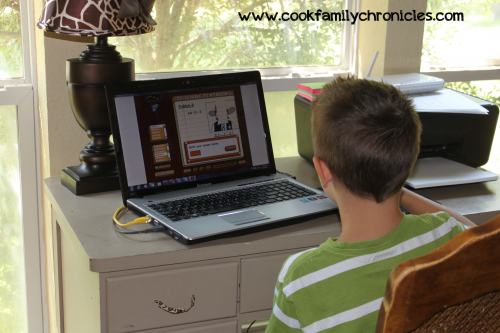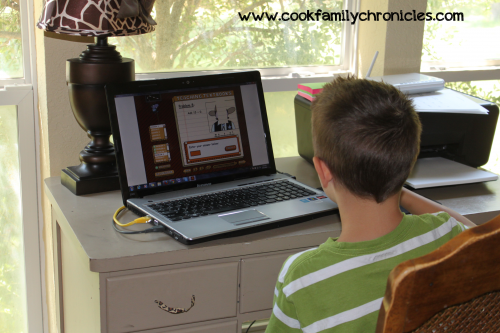 I loved the idea of the kids getting to work online for one of their subjects. For my son, this is what sold him on the program. Like most boys, he likes working on electronic devices.

What is included:
Teaching Textbooks starts at level 3 and goes all the way through Pre-Calculus.
A self-grading cd-rom package of 4 disks.
A full size textbook with answer key for those who would like to work on paper as well.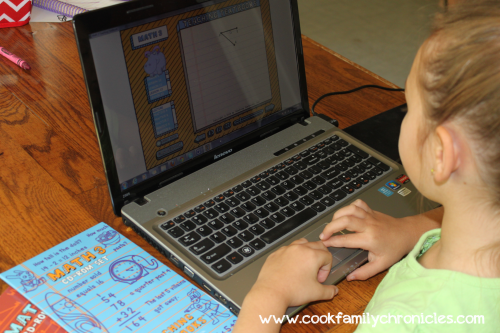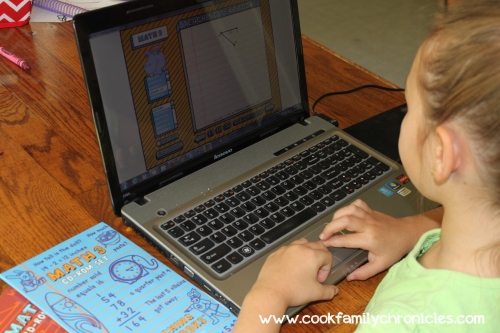 What we like about this curriculum:
My kids love that they can work independently, and from the computer.
The entire lesson is right there on the computer. It starts with a lecture then moves to practice questions, and finally to the actually questions for the lesson.
The parent and student sections of the grade book are password protected.
I love that the disks are self-grading, and keep fantastic records without a fuss.
Another great thing about this curriculum is that when the student gets a problem incorrect it gives them the option to view how to do the problem, rather than just giving them the correct answer.
In the parent section I can see exactly which questions were missed, and if my student viewed the solution, or just skipped ahead.
A favorite with my kids is the bonus rounds where the problems are turned into a fun game for extra points.
The only semi-negative point about Teaching Textbooks:
I have to admit the price seemed a bit high at first, but it is worth every penny. Plus you can reuse the disk for younger siblings later on, another plus!
Teaching Textbooks is available by going to www.teachingtextbooks.com
~Heather is a homeschooling mom of 5 years to 4 incredible children! She lives Oklahoma with her husband of 11 years. Heather enjoys reading and blogging at Cook Family Chronicles with a hot cup of coffee in hand.