Over the years we have used many story Bibles, but Teach Them Your Way, O Lord by Amanda de Boer is the best one I have come across. Written by a gifted mother and former teacher, it has several features that make it unique.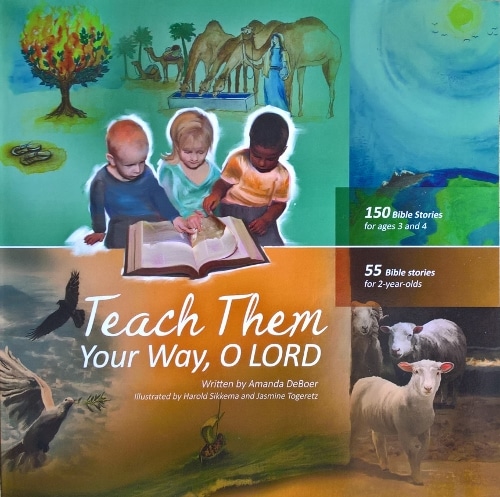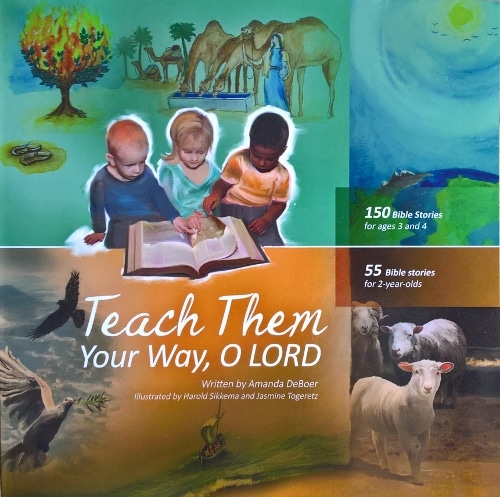 Teach Them Your Way, O Lord by Amanda DeBoer
First of all, it is two story Bibles in one. The first part, 55 stories covering the whole Bible, is written for 2-year olds. The second part again teaches the whole Bible, this time in 150 stories for 3 to 4-year olds. Occasionally there are cross references between the two parts.
Secondly, Teach Then Your Way, O Lord presents the gospel, not merely the narratives. The Bible is, after all, the gospel, telling us about how good, powerful, and loving our saving God is, and not just a collection of interesting stories. Sin is explained and so is salvation. Blessings, suffering, prayer, forgiveness, faith, our deep need for Jesus, and even death are all discussed at a child's level. The story Bible's focus is on God and, related to the stories, it encourages children to trust, love, be thankful, and live obediently, yet it does so without excessive moralization.
Thirdly, this is a teaching book. It is gently interactive, encouraging little ones to repeat key phrases, asking questions, and tying in to a child's life. Often a story begins with a review of concepts from the previous one.  Amanda DeBoer was obviously a teacher and is obviously a mother. Her love for the little hearers of her story Bible is evident.
Finally, Teach Them Your Way, O Lord has two unique approaches to its illustrations. Firstly, Jesus is not portrayed at all. Not portraying Jesus makes sense since the standard story Bible pictures of him are undoubtedly inaccurate and we don't know what he looked like; this choice is also related to the second commandment about not making images of God. The two illustrators manage this challenge effectively, giving a unique view of some of the New Testament stories. Furthermore, one artist, Harold Sikkema, illustrated the section for 2-year-olds, and another, Jasmine Togeretz, illustrated the section for 3 to 4-year-olds, giving the two parts of the book quite a different flavor.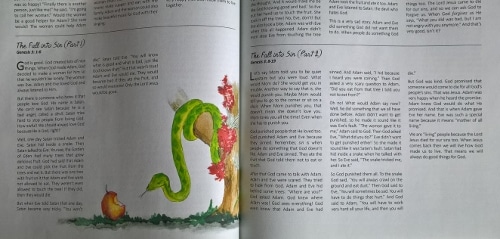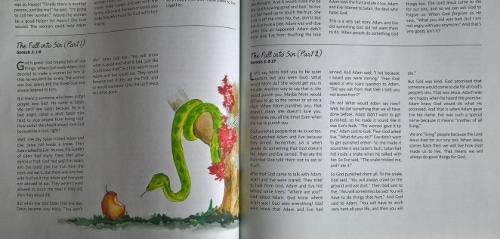 I wish Teach Them Your Way, O Lord had been written years ago when my five children were small.   It is now becoming my favorite gift to Christian families with little ones.
If you are looking for a story Bible to help you teach your preschoolers the gospel and what it means for everyday life as well as Bible narratives, you will be thankful for Teach Them Your Way, O Lord. I think it could be used with children who are slightly older as well.
Notes:
Leading Little Ones to God would be a good follow up to this story Bible. For more information about that book, read Tricia's review.
The outlook of this children's Bible is Reformed, with a strong emphasis on God's goodness, greatness, faithfulness, and promises. It teaches the children about salvation, prayer, trust, the Holy Spirit, and more in a child-friendly way appropriate to the story being told.
Disclosure: I bought Teach Them Your Ways, O Lord as a gift and was so impressed that I wanted to tell others about it. I am not compensated for sharing my opinions.