Our authors here at The Curriculum Choice are bringing you all their homeschool screen time ideas. From tips on managing screen time, to their own thoughts on screen time, and what they are using in their homeschools!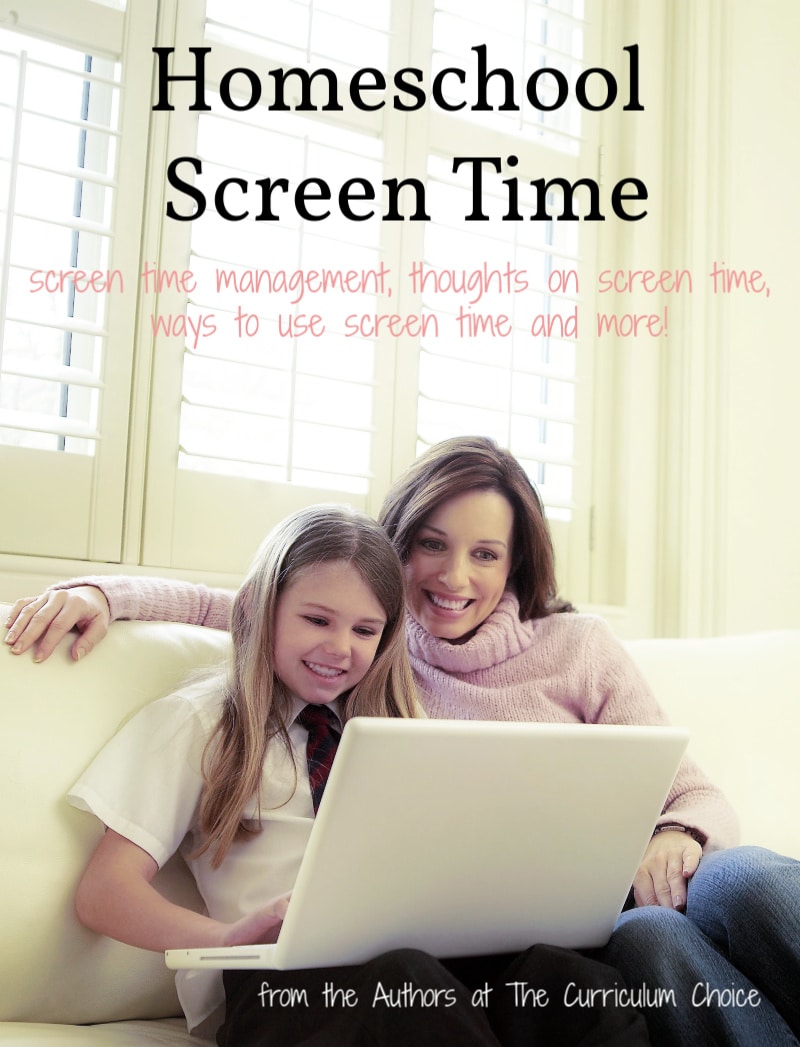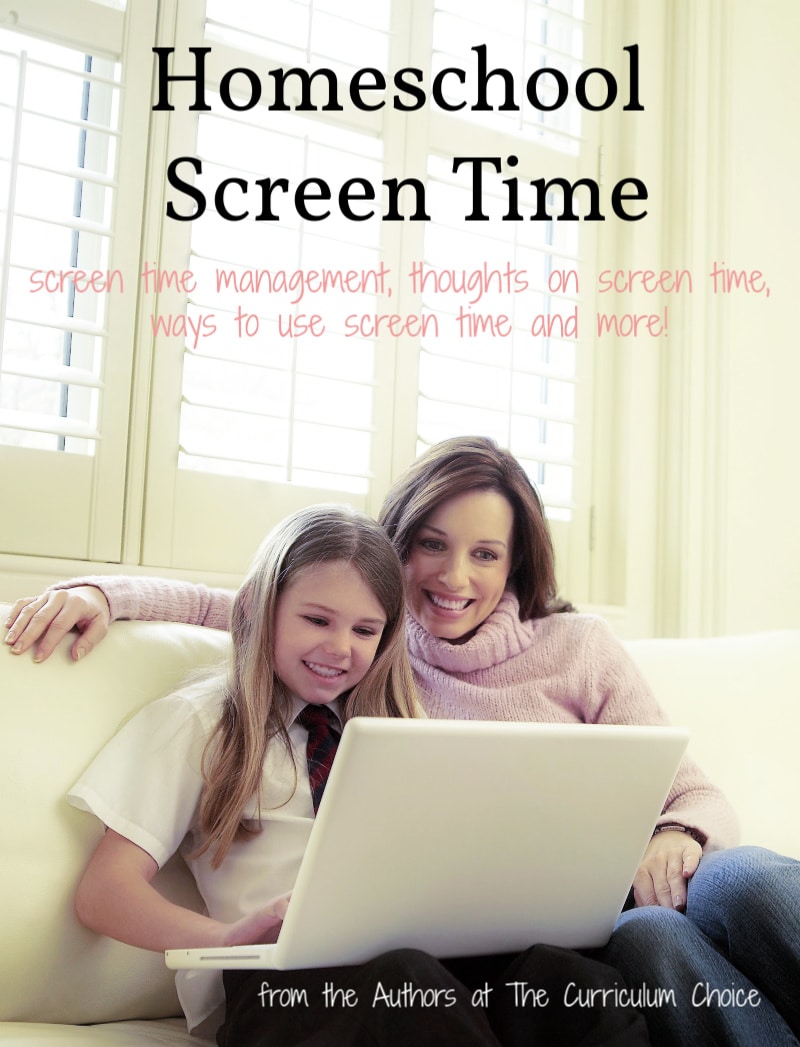 In this age of technology there is lots of talk about screen time. How much is too much? What do you consider screen time? Is screen time harmful to our children?
To be honest, I'm not sure there is a clear right or wrong answer to many of these questions. What I do know is that this age of technology has opened up a world of experiences and opportunities to homeschoolers. From curriculum options, to online classes and virtual field trips to support groups, online technology offers many great benefits. As with anything, I think a dose of moderation may be in order!
Let's talk screen time in general for a quick second. In my mind screen time would include any time spent in front of a screen, thus including television, computer, phone, iPad, Kindle, and so forth. Usually when I talk screen time hours for my children with others I don't include the time they spend in front of a screen for educational purposes.
For instance, any educational television, Kindle reading, or computer based curriculum would not be included when I talk about how much screen time my children get. Why? Well, because to me screen time seems to have a negative, gaming connotation attached to it and when used for educational purposes I choose not to count that homeschool screen time against them!
Homeschool Screen Time
So now let's talk specifically about homeschool screen time, in other words, the time your children spend in front of a screen for homeschool purposes. Here is what the authors here at The Curriculum Choice have to say:
HEIDI FROM STARTS AT EIGHT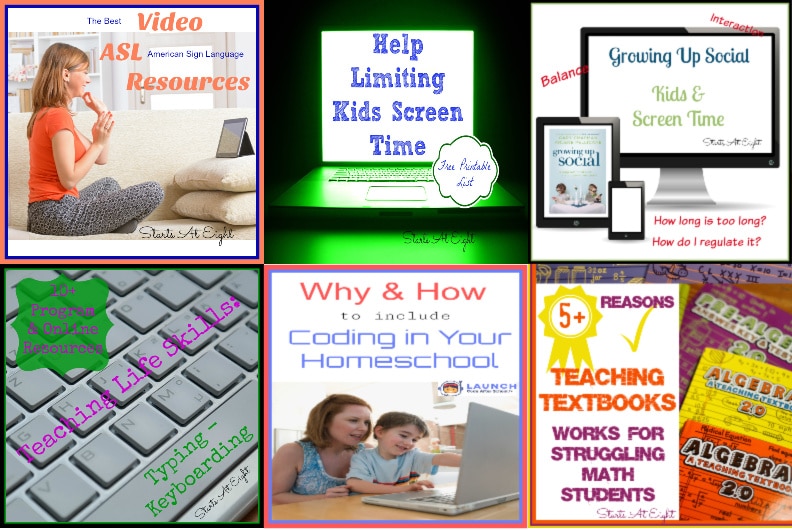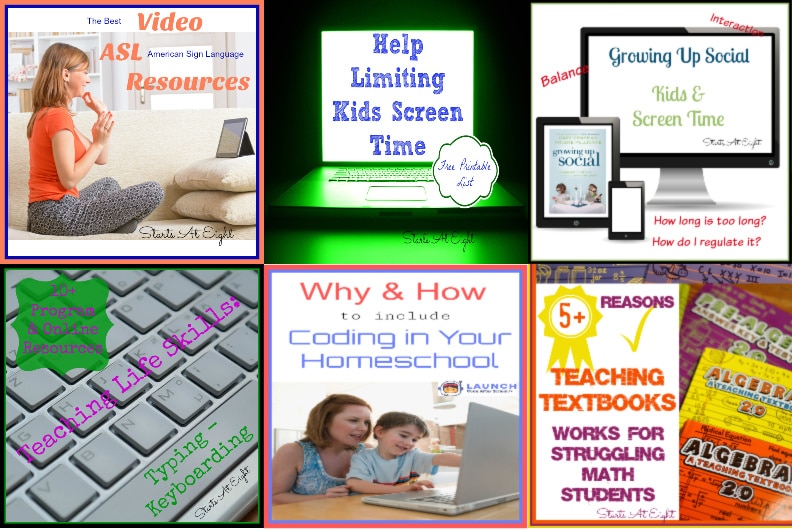 In regards to screen time in general:
Growing Up Social – Awhile back I read a great book about kids and screen time called Growing Up Social. In this book the authors focus on raising kids who know how to relate in our screen driven world. They offer practical advice on how we as parents can better relate to our children, thus helping us to help them navigate this world. Then they go another step beyond that by giving REAL LIFE examples, conversations and real words to use with your kids in your own house.  Here are my thoughts on the book as well as how we manage screen time in our house.
Help Limiting Kids Screen Time – Includes a FREE Printable List. For our house we make a distinction between educational/productive screen time, and just for fun/gaming screen time. When we talk about time engaged in screen time, we feel it matters what you are doing with that time in front of the screen. On that note we created a system that has two components: the responsibility part, and the reward part. You can read all about it here, and get the free printable too!
When it comes to homeschool screen time here are some of the things that have occupied my children's educational time:
HEATHER FROM BLOG, SHE WROTE
At our house, we evaluate screen time in terms of being a producer versus a consumer. Producer time doesn't usually count against their total screen time because we have some big learning going on at computers.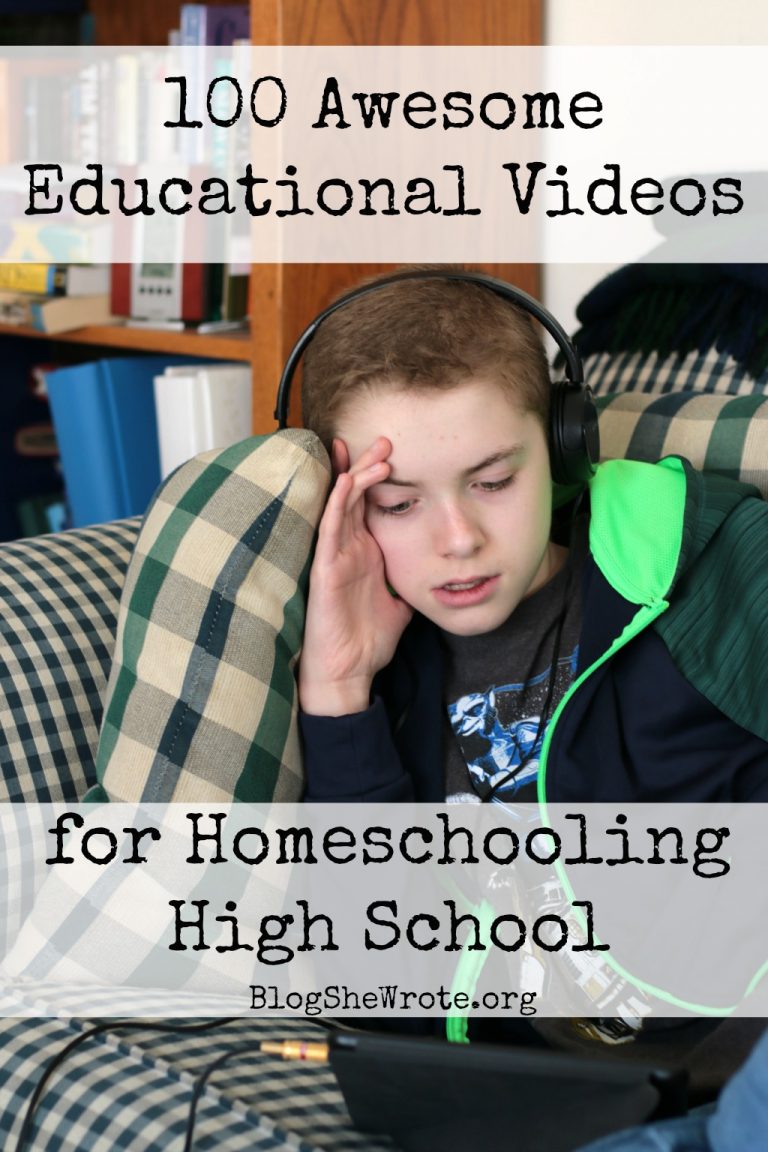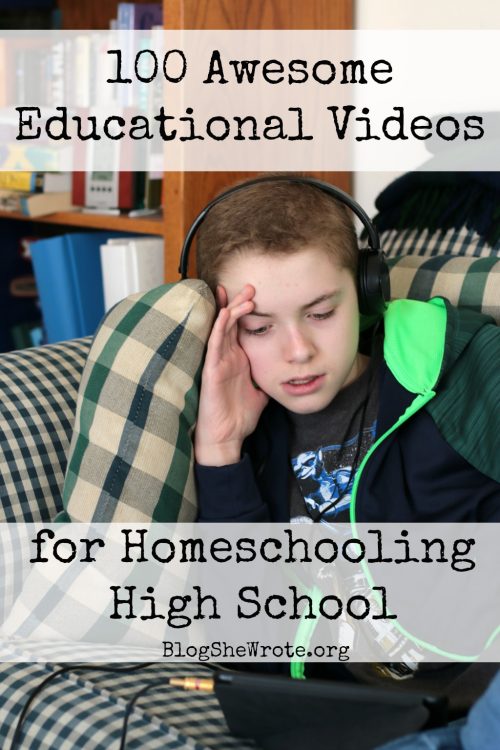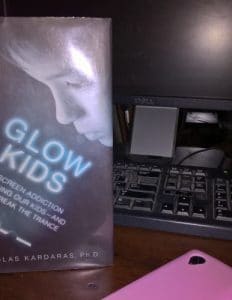 Over the years I have become more and more persuaded that screen time is neither as beneficial for our kids nor as educational as we have been led to believe. In fact, it is often counterproductive and may actually interfere with the business of learning and living. In our 20+ years of homeschooling, screen use has been helpful for older teens, but not at all for little ones and rarely for middle schoolers. I recommend you seriously ponder the place of screens in your family, homeschool, and personal life so that you can use them well and wisely. I have provided links to some helpful resources I have reviewed or discussed.
"Glow Kids, Screens, and Education," discusses the benefits and dangers of screen use in education, based largely on Kardaras's Glow Kids. In conclusion, "I encourage you to reconsider screen use in your homeschool, eliminating it for little ones and minimizing it for all."
"Screens and Our Kids' Mental Health with Tips for Parents," explores the interplay between screens and youth mental health, with practical tips for parents and a resource list.
Growing Up Social: Raising Relational Kids in a Screen-Driven World by Gary Chapman and Arlene Pellicane.  "Is it possible for children to learn about relationships and responsibilities when the vast majority of their time is spent absorbed in a screen?"
Captivated: Finding Freedom in a Media Captive Culture, directed by Phillip Telfer and Colin Gunn, is a Christian documentary about the effects of media on us, our society, and the church. Although it is a few years old, its message is more relevant than ever.
"Reflections on The Tech-Wise Family by Andy Crouch." My reflections on a thoughtful, biblical, research-based attempt to both understand the proper place of technology in our families and to actually put technology where it belongs.   I completely agree with the author that 'the pace of technological change has surpassed anyone's capacity to develop enough wisdom to handle it'; that is one of the reasons I have been reading and reviewing about this topic.
52 Ways to Connect with your Smartphone Obsessed Kid by Jonathan McKee gives practical ways to connect or reconnect with our kids. Lots of fun in this book!
Glow Kids: How Screen Addiction is Hijacking our Kids—and How to Break the Trance by Nicholas Kardaras, a detailed and harrowing account of screen addiction from a secular psychiatrist specializing in youth addiction, with suggestions for treatment and recovery.

Tricia Hodges from Hodgepodge.me and ChalkPastel.com
"Managing the explosion of technological devices making their way into our homes needn't be a daunting task. Here is a compilation of technology management posts–both from around the web and from our own archives." Technology Habits by Steve Hodges
This one is an oldie but goodie. From the time our children were little, we built a habit of screen time. Basically, after 4 pm when all school work and service opportunities are finished.
Like my fellow authors, we have several screen time-based curriculum favorites. Those are:
Of course Nana's You ARE an Artist art curriculum is video based and designed to complement your homeschool learning!
FOR YOUR HOMESCHOOL SCREEN TIME FROM THE ARCHIVES
Feel free to browse these wonderful homeschool screen time ideas right here at The Curriculum Choice
Did you know that our Curriculum Choice review team features a different homeschool topic each month? You can see what they have shared on various homeschool topics under Review Team Features.