As our homeschool year winds down I am looking to the coming year. I spend June cleaning out the homeschool room of this year's stuff. Tying up loose ends, putting away curriculum we are done with, throwing out all the stuff that inevitably accumulates, etc. Then I dig in to my homeschool planning for the coming year. Even with only two left to go (one that is mostly attending college classes) there still feels like plenty to do!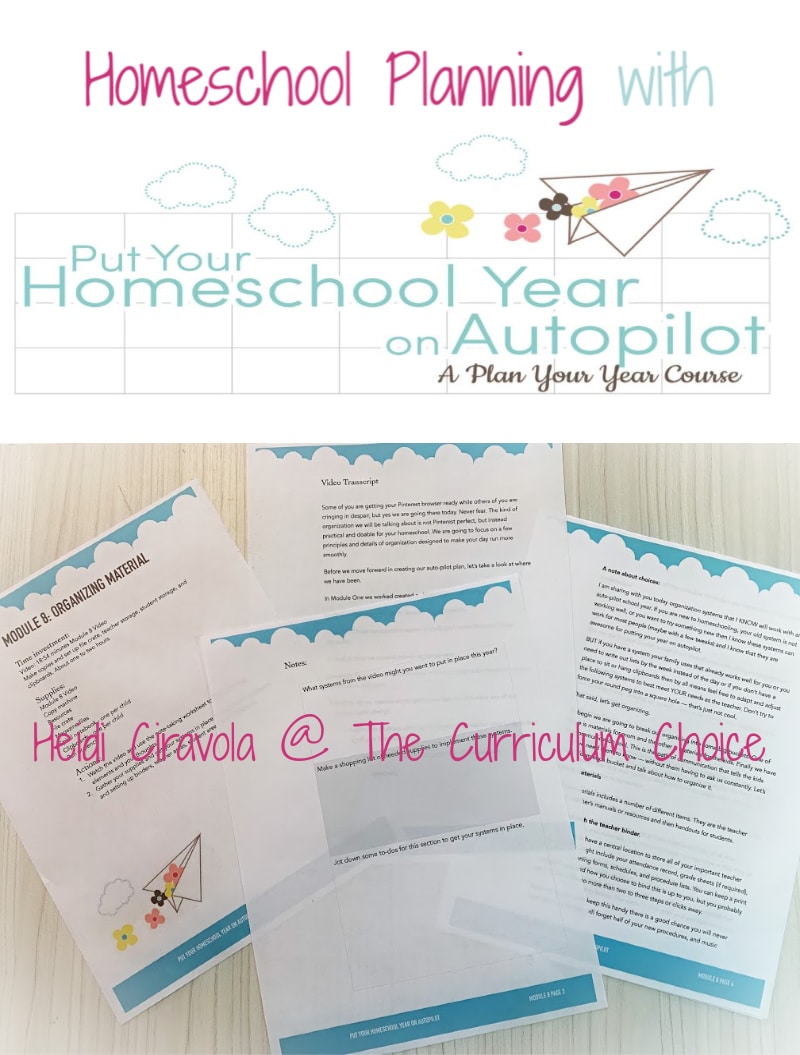 I am a list maker, a box checker. I love color coded calendars and planners, but inevitably the plan gets disrupted, and then what? I am stressed about being off task, and certainly don't want to mess up my pretty book! Each year I have made changes to becoming more flexible with my homeschool planning. This year I am thrilled to have some help with that via Pam Barnhill's Put Your Homeschool Year on Autopilot and Plan Your Year.
Homeschool Planning: Put Your Homeschool Year on Autopilot
When I was looking through the Put Your Homeschool Year on Autopilot homepage, wondering if this was something that would benefit me, what really got me was #5 of Pam's Reasons You're Still Stuck Without a Perfect-Fit Homeschool Plan. I AM #5! I am "Type A all the way!"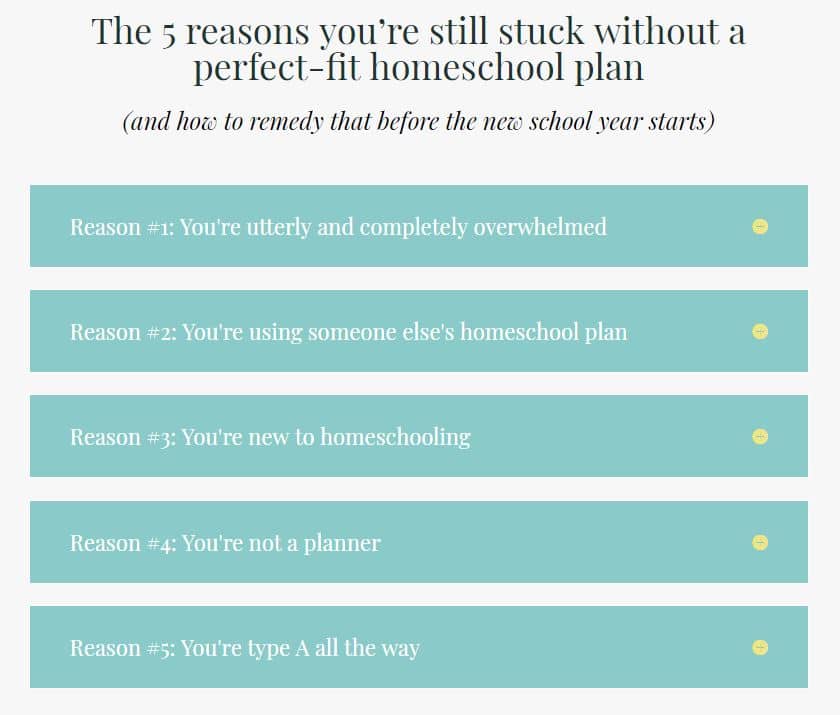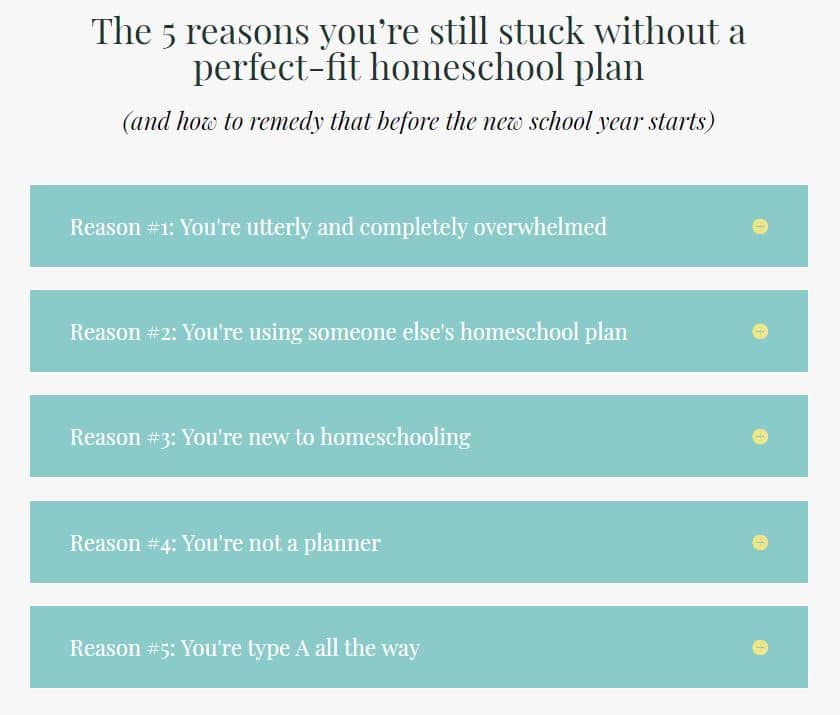 It's easy to get stuck in the weeds and focus on color-coding, pretty pages and having the "perfect" plan. And you do need a way to plan your year that's step-by-step and organized so you feel on top of things. But you also want a planning method that helps you focus on the big picture so that when plans go off the rails you can adjust and keep it all in perspective.
Put Your Homeschool Year on Autopilot is a self -paced course designed to walk you through creating a custom homeschool plan for your family. These videos take the most important information and examples from each chapter of Pam Barnhill's Plan Your Year, add Pam talking you through each step, and includes a workbook, a forum, planning worksheets and more!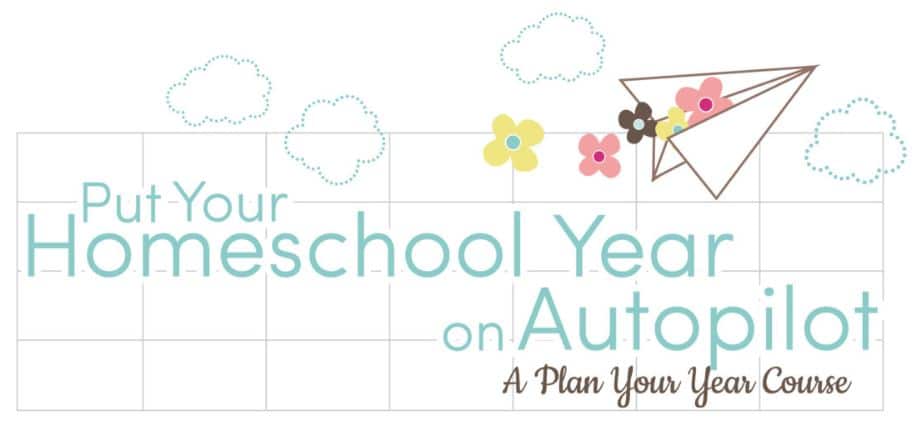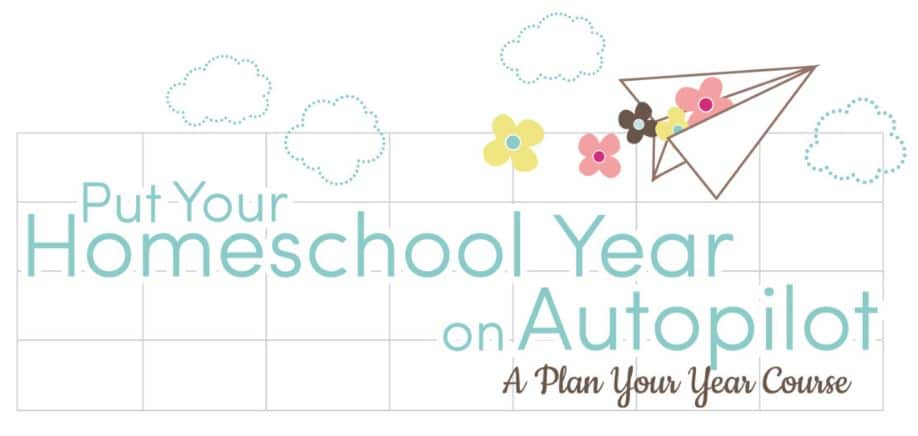 Put Your Homeschool Year on Autopilot Video Module List:
Module One: Vision
Module Two: Goals
Module Three: Subjects and Resources
Module Four: Annual Schedules
Module Five: Weekly and Daily Schedules
Module Six: Procedures
Module Seven: The Lesson Plan List
Module Eight: Organization
Module Nine: Visualization and Implementation
Module 10: Periodic Review and Maintenance
BONUS MODULE : Innovative Looping (if you order by June 21)
What's Included in Each Video Module: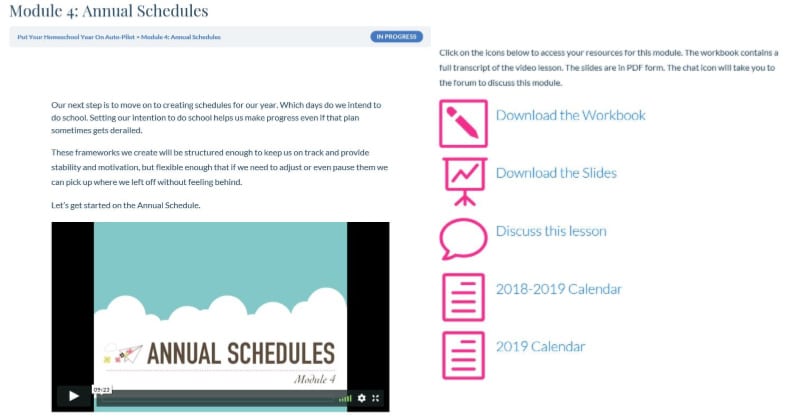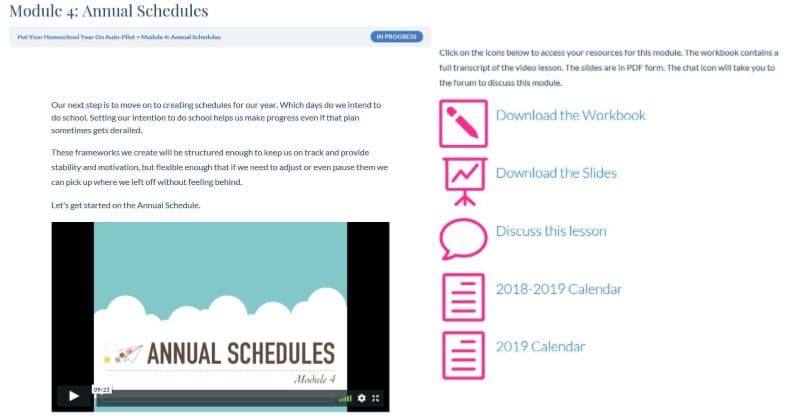 In the image above you are looking at the home screen of Module 4: Annual Schedules. Each modules looks similar and contains these links:
Download the Workbook
Download the Slides
Discuss the Slides – the forum
In some modules you will find extra relevant links (such as the calendars in Module 4)
Autopilot Course Benefits:
Self-paced – This means you can do it anytime day or night, in 2 days or one month from now, whatever suits your needs.
Flexible – You can jump ahead in the course if you choose. You can go through all of it quickly and then go back and dig in more deeply. Once you finish one module you aren't locked out so you can come and go as you need to!
Lifetime Access – You will have access to this course for life! This means you can revisit each year to help you through your homeschool planning!
Forum – Along with the course you have access to a private forum where you can get answers to your questions from Autopilot mentors and community members.
Want more direction than the self-paced course provides?
Then you can sign up for the Put Your Homeschool on Autopilot Intensive 2019!
Over the course of two Saturdays, June 22nd and July 13th, you will plan your upcoming 2019-2020 school year.
June 22nd covers modules 1-3 over a 4-hour session.
Then order your material, grab your curriculum, and come back on July 13th to finish modules 4-9 over a 6-hour session.
You'll get special mentoring in the forums all summer long!
Purchase Put Your Homeschool Year on Autopilot today!
Homeschool Planning: Put Your Homeschool Year on Autopilot vs. Plan Your Year
So why choose Put Your Homeschool Year on Autopilot or Plan Your Year?
While both include similar content, each have unique features that might make one more suited for you than another.
For those that may struggle to commit and follow through with a book on their own, the Put Your Homeschool Year on Autopilot course takes you through step by step, doing the planning and workbook along the way. Plus you have access to digital downloads of all the forms, as well as the course forum where you can ask questions and get answers from mentors and other community members.
Plan Your Year is in print format and contains more details and examples. Those of us that still love pen and paper, and want an easy, portable way to access the information may appreciate having the book over the course. If you love this option, but wish you also had access to the forum and digital downloads, never fear! There is an option for that too! The Plan Your Year Bundle includes the print version of Plan Your Year PLUS the forms and community add-on!