Although we are not a homeschool family that schools through the whole year, nature study is something we do as a family no matter what time of year it is. As I type, I'm looking at a whole basket of pinecones collected by my sweet, little, pre-pre-schooler, Sophia; my boys are carefully observing a little frog they caught; and to my left is a tiny tadpole we're attempting to raise.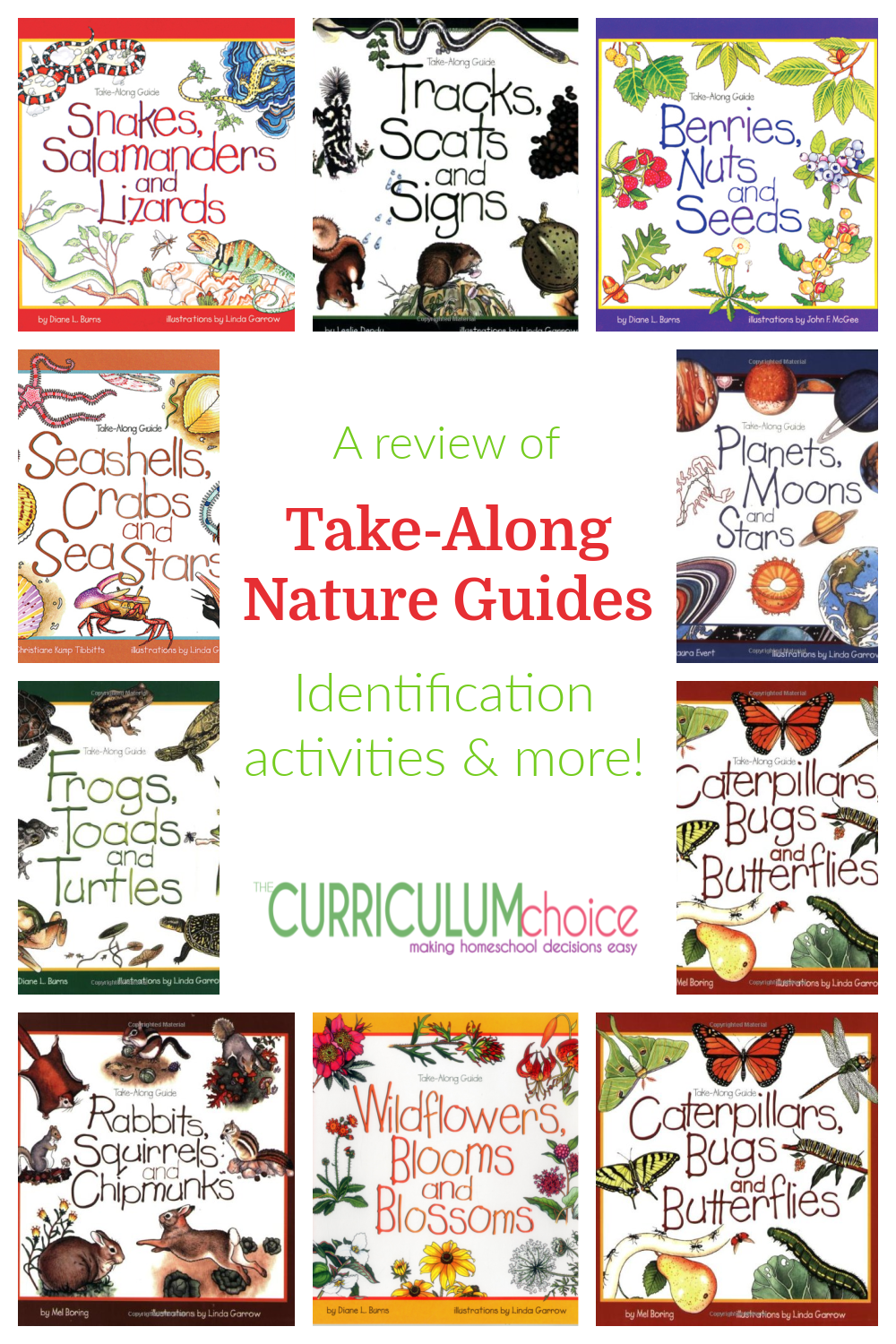 No, nature study is not something we take a break from during the summer. So naturally, I'm always looking for appealing books to help us out in our nature study to help spark my kids' interest in all things outdoors. When I found my first "Take-Along Guide" at a used book store, I was interested so I purchased it. But it was later when I began really reading it that I became really interested.
"These books are so perfect for any part of nature you are studying!"
All the titles in the Take-Along Nature Guides series for homeschool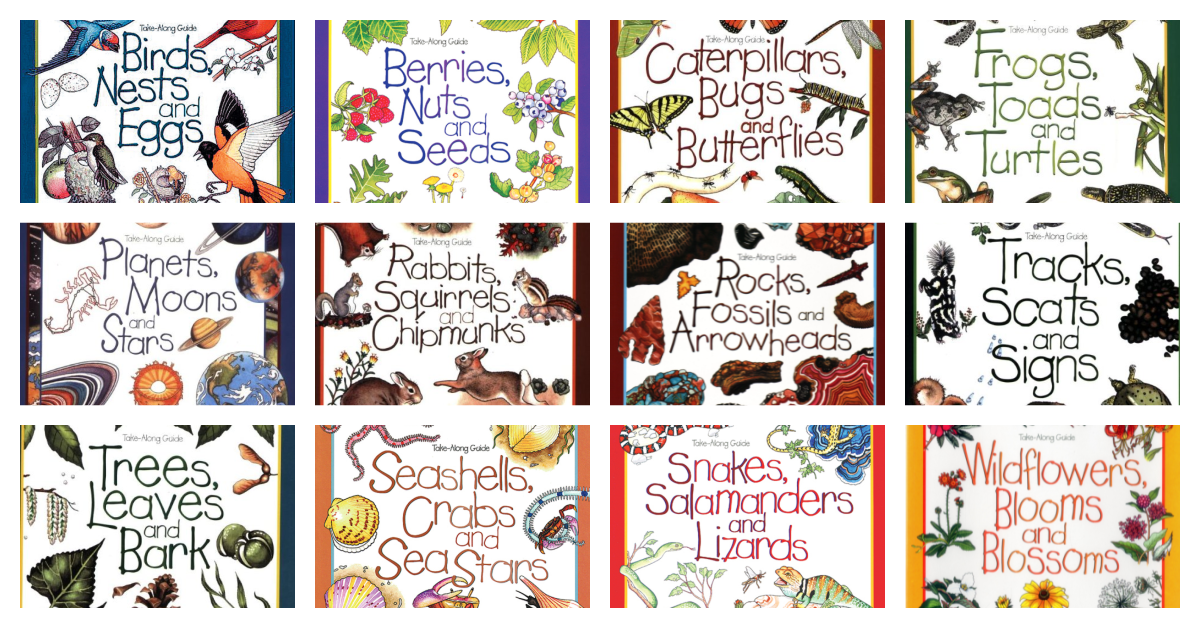 Birds, Nests, and Eggs – this guide that will help children identify 15 birds. Kids will also learn how and where birds build their homes and all about their young.
Berries, Nuts and Seeds – This fascinating title helps children locate and then classify wild blueberries, walnuts, hickory, seeds of sycamores, and more. The hands-on activities featured include learning how to make berry paint, bird feeders, and seed scrapbooks.
Caterpillars, Bugs and Butterflies – This title offers a delightful overview of common butterflies and other insects. Information on what each insect eats, where to find it, and a host of other interesting facts and activities are provided, including making cricket thermometers and moth sugar.
Frogs, Toads, and Turtles – identifies 30 fascinating North American wet and wild creatures. Discover the gray tree frog whose skin resembles tree bark or find the 200 pound alligator snapping turtle that lures fish into its mouth by wriggling a wormlike part of its tongue!
Planets, Moons and Stars – This title includes activities, charts, diagrams and fascinating cross section images of planets to show what they are made of. Discover what a shooting star is, which planet has the most moons, and how asteroids are created.
Rabbits, Squirrels and Chipmunks – describes 29 fascinating species. Children learn about jack rabbits that can escape predators by going from zero to 45 miles an hour in an instant or about the cliff chipmunk that escapes predators by jumping from heights, twirling its tail like a tiny helicopter until it lands softly. The activities featured include building "rabbit refuges" and making squirrel treats.
Rocks, Fossils & Arrowheads – introduces children to the world of geology. The book describes fifteen common rocks and minerals, five fossils, and seven different arrowheads and artifacts. The activities featured include making rock candy, creating fossils, and making scrapbooks and displays.
Tracks, Scats and Signs – You may not know where to look, or what to look for, but animal signs are everywhere and this guide will help you learn how to read them. You'll learn how to spot and identify common clues that 17 wildlife species leave behind in the woods, in the fields and along ponds.
Trees, Leaves and Bark – In addition to offering full descriptions of common North American trees, this book discusses tree life-span, common uses, anatomy, identification, and seed dispersal. Discover trees that produce sticky gum for bees, trees whose bark peels off like puzzle pieces, and trees used by Native Americans for pain relief.
Seashells, Crabs and Sea Stars – explores the seashore, describing living and skeletal specimens of fish, mollusks, crustaceans, and echinoderms. Explanations of the behavior and ecology of seashore animals is provided.
Snakes, Salamanders & Lizards – offers descriptions of common reptile species, tips on locating them, and discussions on food habits and ecology.
Wildflowers, Blooms and Blossoms – introduces children to "reading" who lives in a given environment by looking for clues. This title introduces children to thirty different wildflowers and features activities such as making a simple flower press.
There are also two compilation books: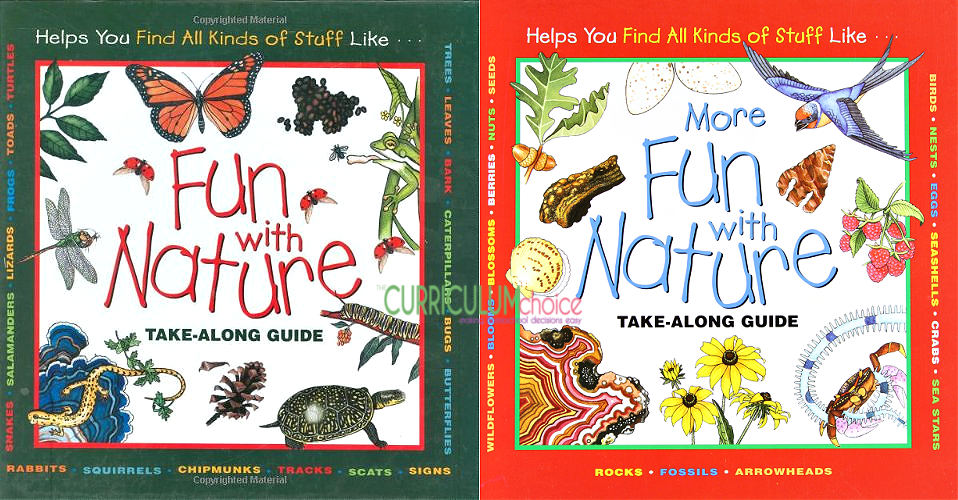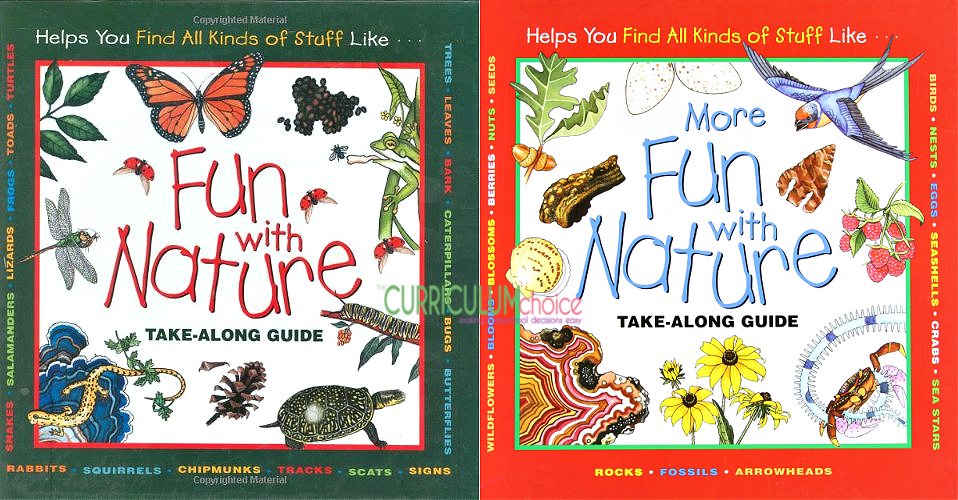 Fun with Nature Study – is a compilation of seven Take-Along Nature Study Guides: Caterpillars, Bugs and Butterflies; Frogs, Toads and Turtles; Snakes, Salamanders and Lizards; Rabbits, Squirrels and Chipmunks; Tracks, Scats and Signs; and Trees, Leaves and Bark.
More Fun with Nature Study – is a compilation of five Take-Along Nature Study Guides: Berries, Nuts and Seeds; Birds, Nests and Eggs; Rocks, Fossils and Arrowheads; Seashells, Crabs and Sea Stars; and Wildflowers, Blooms and Blossoms.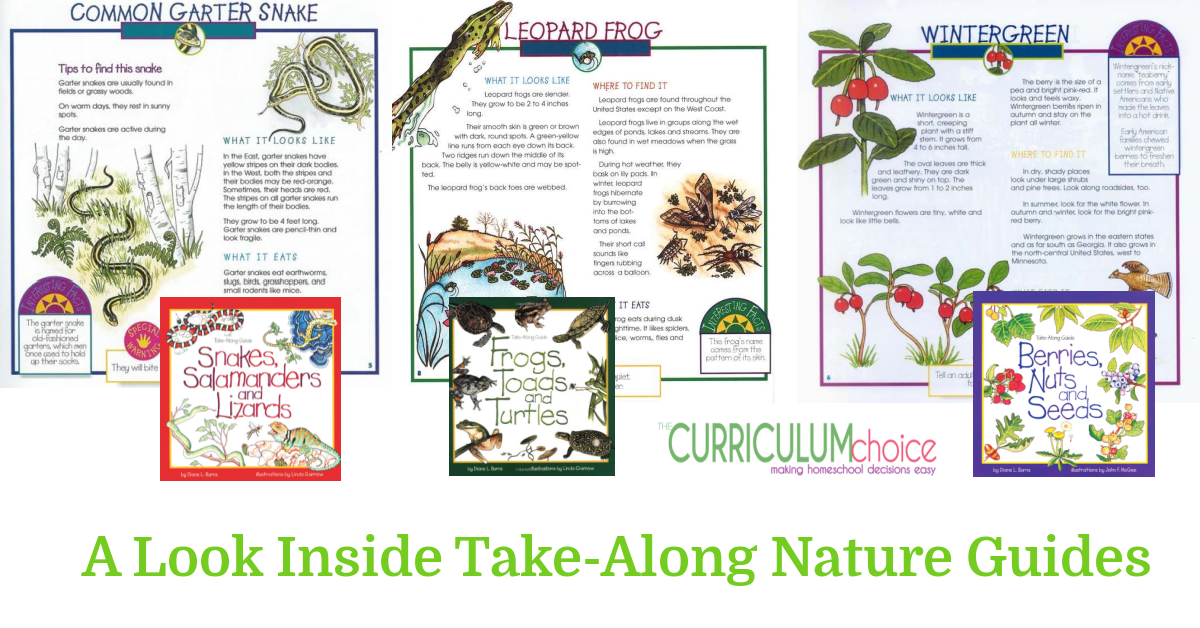 Although each book is a little different, here's why I love them so much:
Series available in pretty much every subject you'd want
Each page is laid out very nicely with great illustrations and just enough text to keep an elementary student's attention
Very informative facts on all subject matter
Each book includes several fun and simple projects
Small enough to take with you on nature walks
Great tips for nature walks throughout the books
I would recommend reading through your Take-Along Guide before taking off on your nature walk. Then you can put it in your bag and bring with you on your walk and use it to identify things as you go.

I highly recommend these books for all elementary students. They are terrific for inspiring you in your nature study!
More Nature Study Resources for Homeschool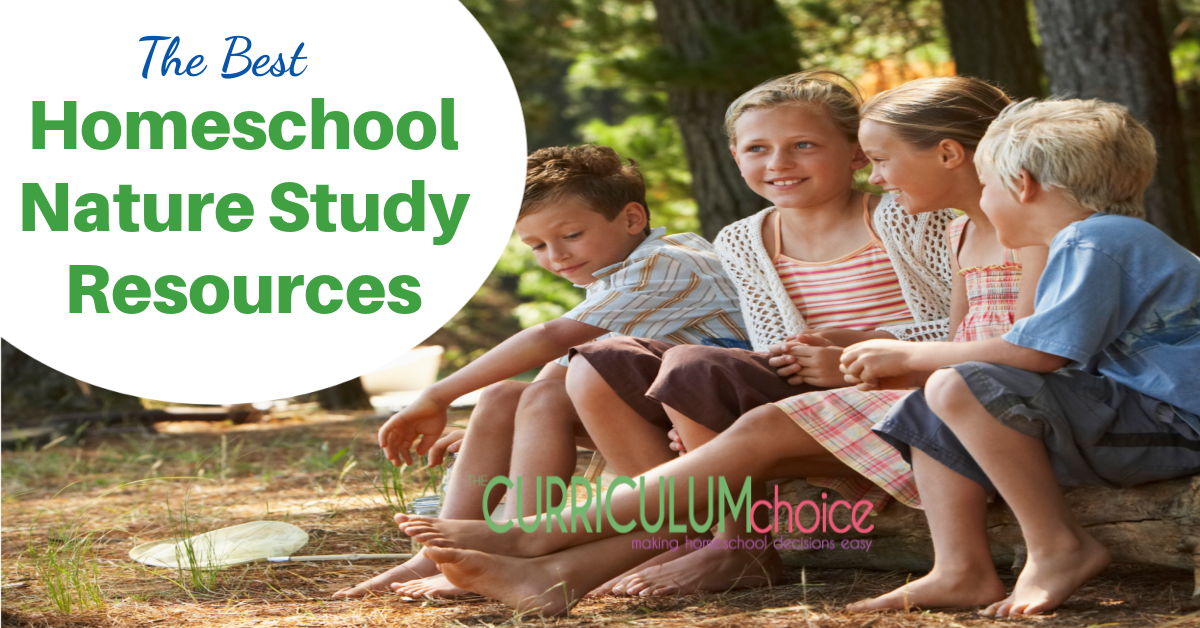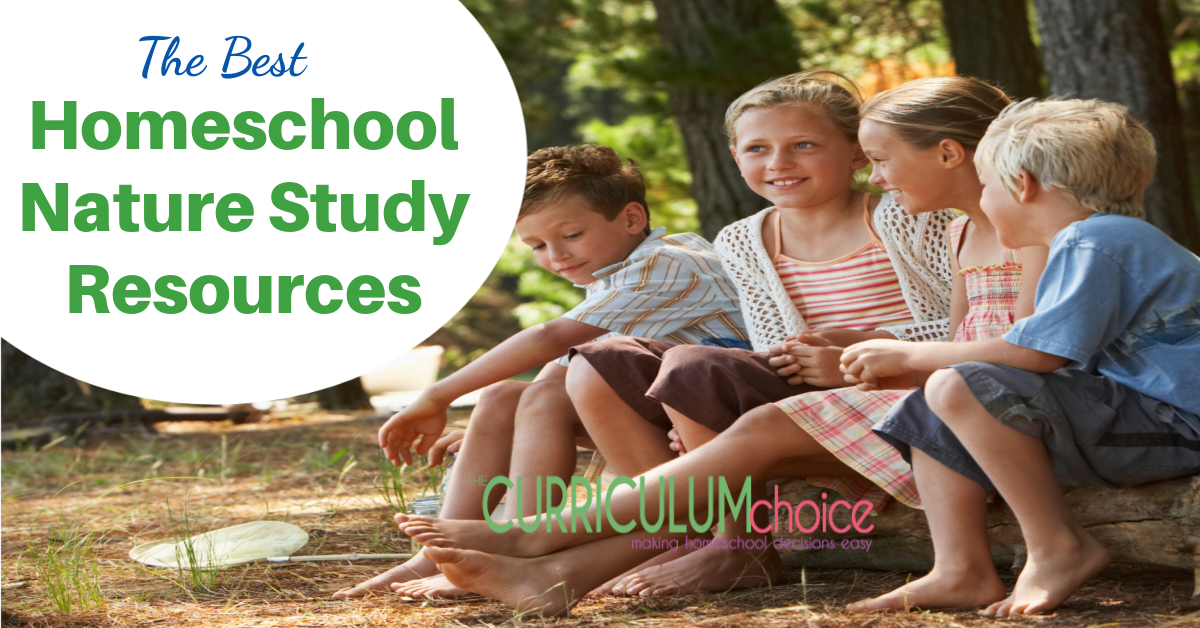 The Best Homeschool Nature Study Resources – a collection of unit studies, full curriculum and reference books for homeschool nature study.
Farm, Food and Nature Anatomy – These Julia Rothman nature study books are beautifully illustrated and are sure to hit the mark with curious kids.
NaturExplorers Nature Unit Studies – NaturExplorers Nature Unit Studies are 19 different, complete nature based science studies for 1st – 8th grades.
Homeschool Nature Study Membership – This is from our sister site, Homeschool Nature Study this site helps bring the Handbook of Nature Study to life!
Everything You Wanted to Know About the Handbook of Nature Study – The Handbook of Nature Study was originally written by Anna Botsford Comstock in 1911 for those elementary school teachers who knew little of common plants and animals, and even less about the earth beneath their feet and the skies overhead! It was revised in 1939 by a group of naturalists. In 2020 it was updated to include full color images, as well as to break the 900+ page book down into 7 smaller volumes.