Banish the science text this year and use Tabletop Scientist in your homeschool for a hands on approach to science with experiments and projects.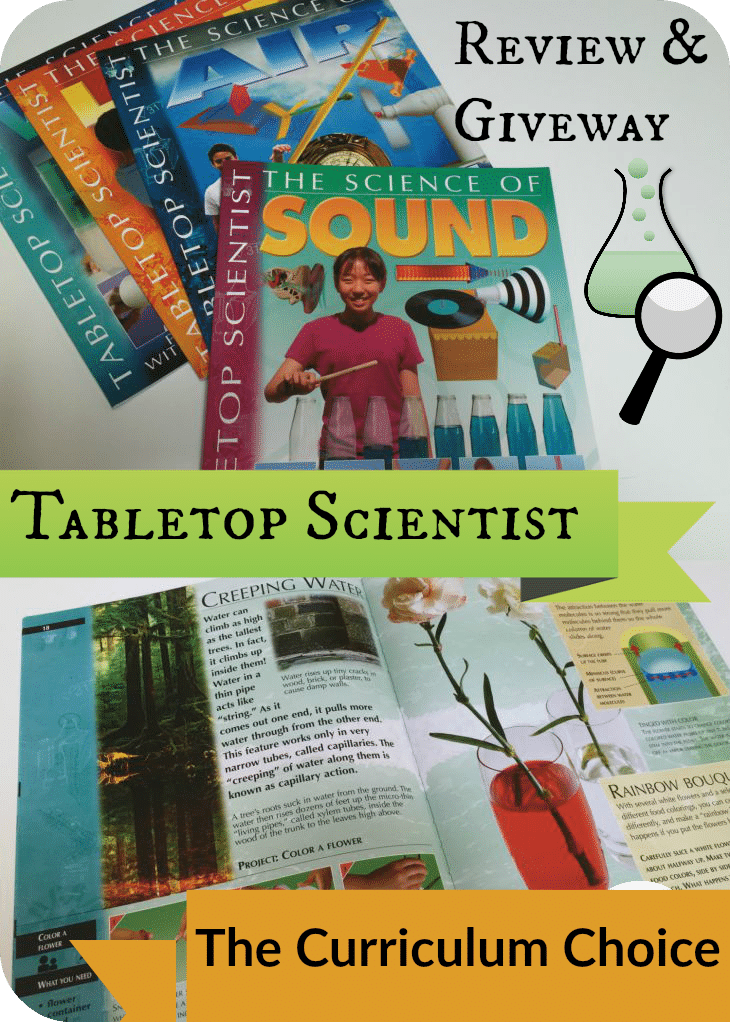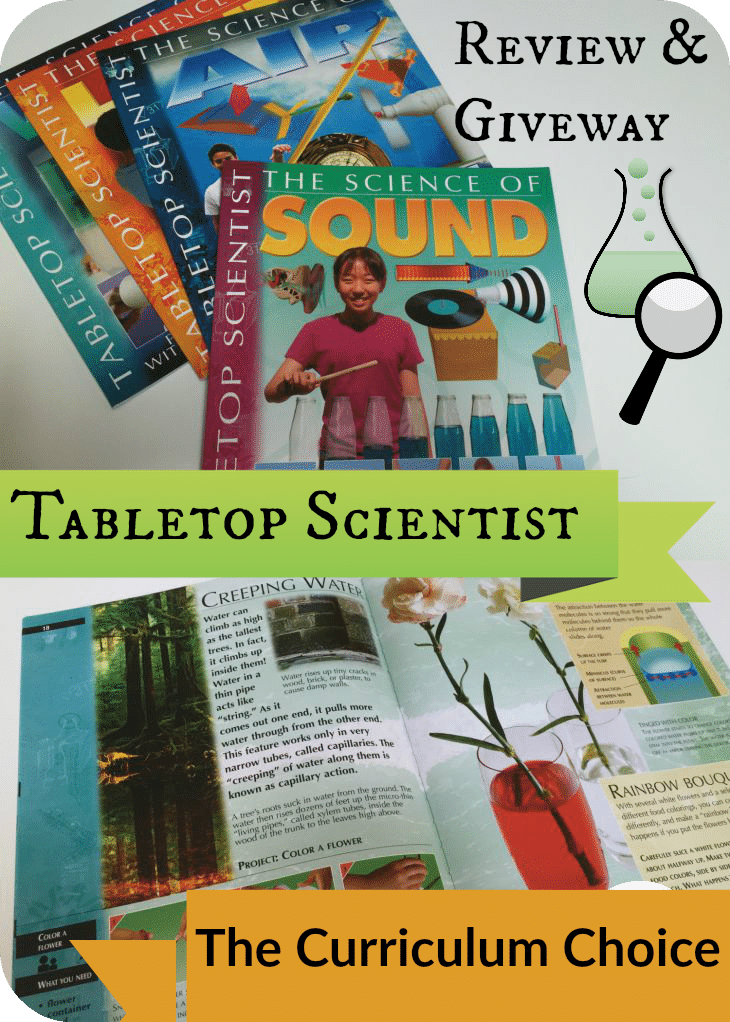 Tabletop Scientist is a 4 book series from Dover Publications which comprises the basics of experiments for an elementary physical science unit. This series is a perfect collection of easy experiments used to demonstrate the main concepts for units on sound, light, water, and air.

Be sure to Enter the 4 Book Giveaway Below…
The books are high quality with helpful images that demonstrate each experiment. They are an excellent value containing 12 well tested experiments in each book priced at $6.99 ea.
The four books in the Tabletop Scientist series are:
The Science of Water- Includes but not limited to topics such as the water cycle, buoyancy, water pressure and propulsion, surface tension and more.
The Science of Light- Covers color spectrum, mirrors, bending light, lenses, etc.
The Science of Sound- This one was my son's favorite! Discusses sound waves, frequency, speed of sounds, etc.
The Science of Air- Includes wind and air pressure, air flow, flight, etc.
Ways to Use Tabletop Scientist in Your Homeschool
These books are for a wide age range and are perfect for your homeschool library collection. You could use them in conjunction with a full science text or on their own as unit studies. They can be used year after year with different children and are an easy to use guide for experiments. Though simple enough for a second or third grader to read and understand, the content is interesting enough for middle schoolers to explore eagerly.
Science Experiments for Kids with Tabletop Scientist
Each book in the series contains instructions for conducting twelve experiments. Each book is complete and additional text or instruction is not required.
The experiments are safe and in most cases a child who is driven could conduct the experiments with just a little guidance and minimal supplies. Most experiments require only simple materials such as scissors, tape and cardboard and the occasional balloon or straw. Each experiment has a "What You Need" section making it easy to provide your child in advance with the supplies needed for all the experiments.
How We Used Tabletop Scientist in Our Homeschool
My son is seventh grade this year and these books made the perfect quick and forthright review for him on the physical science course we completed last year. It was a fantastic way to begin the year and a fun way to ease into our science program while reviewing last years material in a fresh way.
Each book also includes a glossary and timeline in the back of the book. I had him focus on writing vocabulary terms and adding the "History of" section to his timeline. In addition, I loved how the books incorporated historical discoveries and scientists. It's one component that I felt made the books of value for all ages up through middle school.
What I liked best about Tabletop Scientist
My favorite thing about these books was their easy format. They are affordable and you can spend as much or as little time as you want on the concepts. Excellent as an experiment guide (enough experiments for a whole year), but also a nice structure or "spine" for building units around. Whether you use them as a supplement or the foundation of a course of study to build on, you'll be pleased with the bright images and gentle approach.  Banish the textbook! They are truly lively and inspired- simply perfect for the hands on homeschool!
Where to Buy Tabletop Scientist
Tabletop Scientist is available from Dover Publications. You can  sign up for free samples,  join the rewards program, and more. Now enter for a Chance to Win The Tabletop Scientist 4 Book Series for Your Homeschool:
Save
a Rafflecopter giveaway
a Rafflecopter giveaway

Save
Save