I can't help it. My thoughts are already turning to summer. Our eldest is graduating from homeschool and we are celebrating and looking forward to summer fun! This year we are going to enjoy some summer learning with coloring books.
As you know, homeschoolers are always learning. And, like me, I am sure that you are always on the look out for simple, frugal and fun tools for just that – learning. Throughout the year, but especially during the summer months, I like to emphasize summer learning with coloring books. We also love to supplement our regular studies with these quality coloring books. They are simply fun.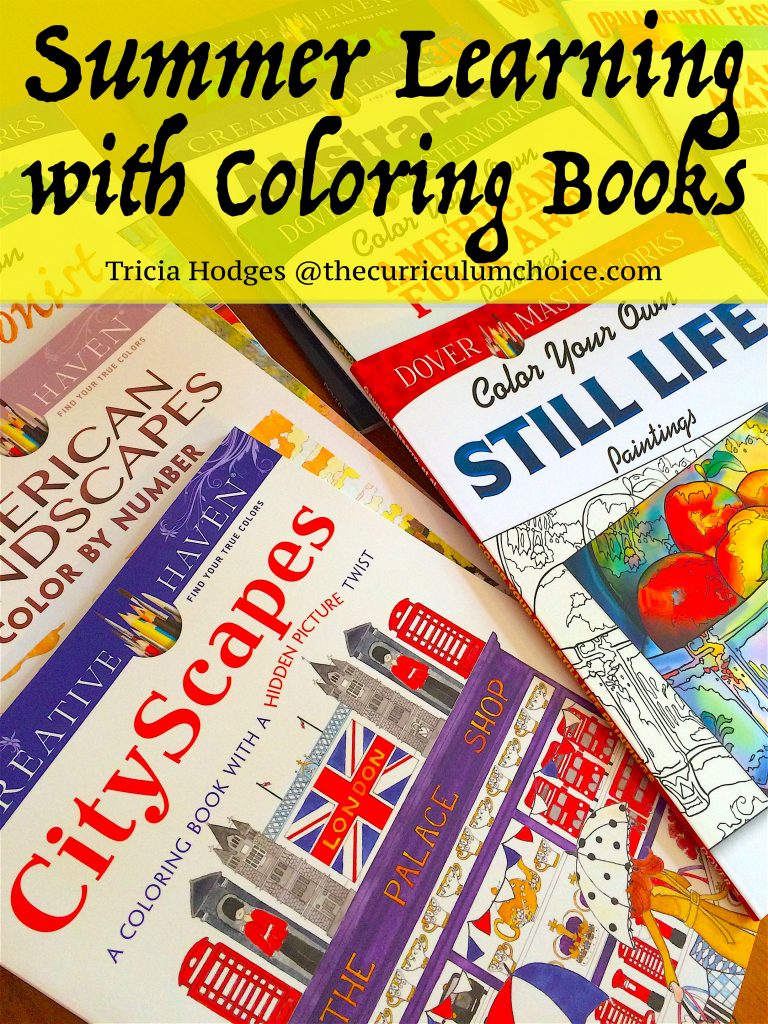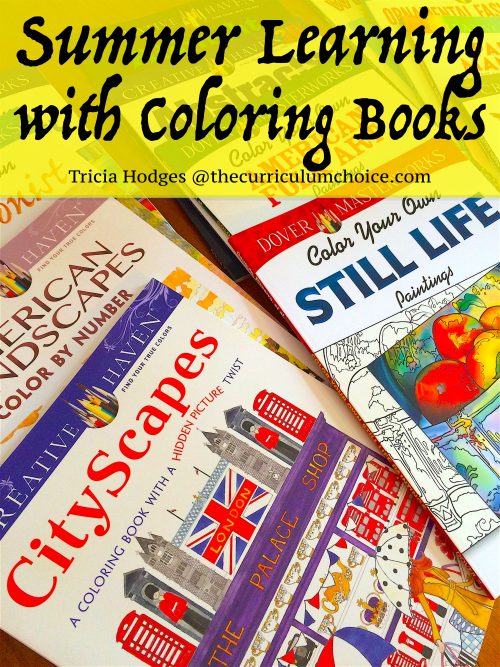 We received this stack of summer learning with coloring books from Dover Publications in exchange for an honest review. All opinions are our own and we are so excited about the summer stretching ahead and a stack of coloring books for all! Please see our disclosure policy.
Summer Learning with Coloring Books
Dover Publications has some excellent resources for homeschool learning with coloring books.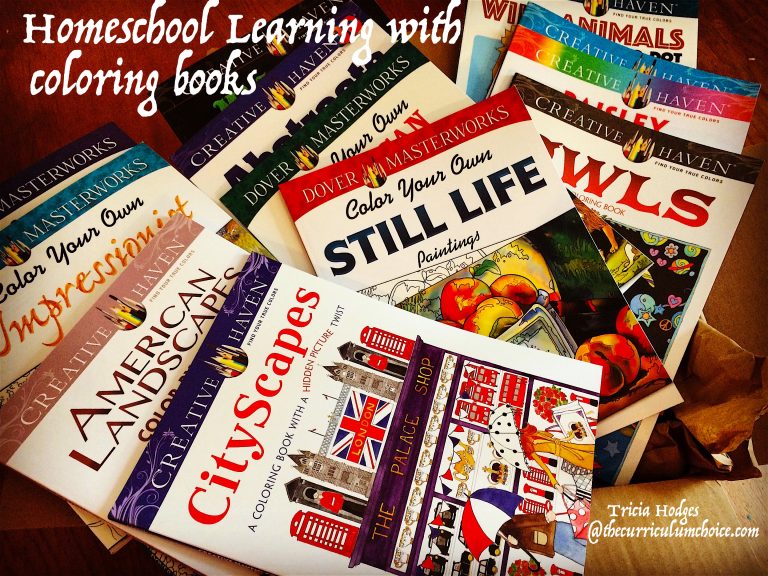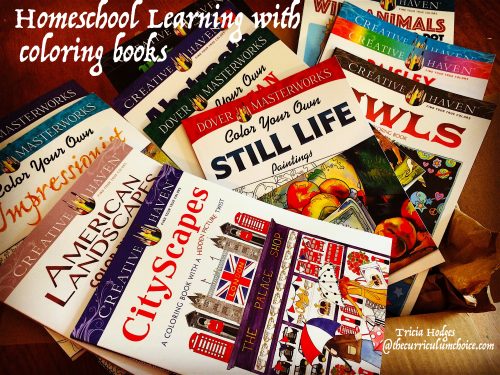 High quality, sturdy books that are easy to take with us. Take a look at this box of awesomeness from @doverpubs 📚 Yes I am already thinking of long summer afternoons, road trips, around the town errand days. Plus ART afternoons. 🎨 Oh the FUN and the learning for all our ages!
Coloring Books – Supplies Needed?
You likely have colored pencils, sharp-tipped markers and/or crayons at home that you can use. We decided to splurge and swing by the local arts and crafts store for a new pack of sharp-tipped markers. Because by the end of the school year ours are looking a little ragged and dried up. Guess what we saw in the 'Trending Now: Coloring Books' section? Many of the Dover Publications coloring books in our wonderful stack! But, you can order directly from Dover Publications, using the 25% discount code, and save money on the already frugal books – without even leaving home.
With these wonderful resources, you can see why adult coloring books are all the rage. We call them coloring books for all ages. We keep them stacked within sight so it is easy to pick one and sit and color.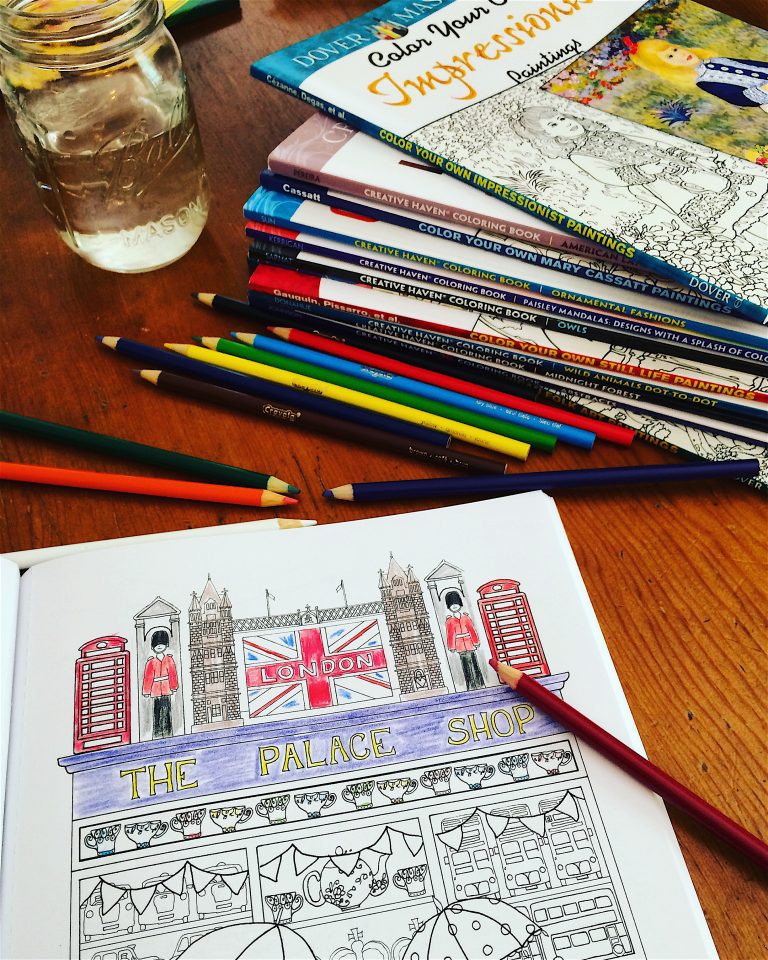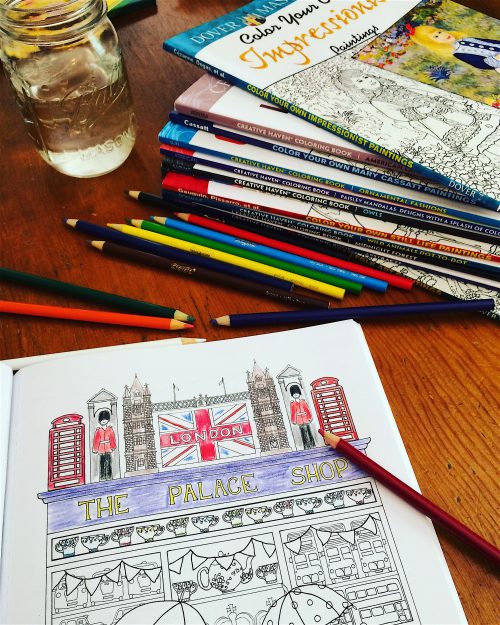 It's a Dover Publications coloring sort of art afternoon! 🎨 This CityScapes book with a hidden pictures twist is such fun. My 'Where's Waldo' girl loves to find the crowns, hearts, cats… And there is plenty of geography learning in the mix. CityScapes from the Creative Haven coloring book series.

We love:
the variety of topics for our Hodgepodge homeschool
that most books have perforated pages – easy to tear out and display or mail as a surprise for grandparents
the high quality, thick paper
Easy Art Appreciation
Dover Publications has two series of coloring books that we particularly love. These are Creative Haven and Dover MasterWorks.

Coloring The Corner of the Table by Victoria Dubourg in Dover Publication's Color Your Own Still Life.
Dover MasterWorks
You, our fellow artists, will love the simple art appreciation of the MasterWorks series. Color a page in the style of your favorite master artist! Notice the detail, the shading the artist used and build your skills.
Creative Haven
Each book is centered around a topic or theme. This Midnight Forest book is full of beautiful animal illustrations! The American Landmarks book has gorgeous color by number pages that are so sturdy you can even mount and frame one. The perforated edges make them easy to pull out. American Landmarks even has a page for Providence Canyon in our own state of Georgia!

We have been displaying these beautiful coloring books on our family room mantel so that we can choose a coloring page a day!