With spring upon us and homeschooling beginning to wind down soon, I would begin to ponder and day-dream about summer. I loved that my daughter and I would have time to get out in nature more, and do all those fun summer things together, without the daily work of homeschooling. I started to think about nature study fun for the whole family.
At the same time, I also wanted my daughter to keep her mind stimulated during the summer break, and not loose the gains that she has made during the year. In the summers,  I wanted to find something fun for us to do that was challenging but also totally different from what we usually did during the rest of the year.
"Hi Diddle Diddle, Read a Bird Riddle" Book
And one year I found just the ticket. I found a fun, interesting and fact-filled book about birdwatching – one which engaged my daughter with complex riddles to solve and was all about birds.
The book is called Hi Diddle Diddle Read a Book Riddle and it is written to middle schoolers, but it can be enjoyed by all ages. The book consists of 28 accurate and complex riddles that cleverly describe each of the 28 birds that are featured in this book. What a fun way to keep your nature study going during the summer months! Each riddle describes the bird that it features, with exacting detail.
Here's an excerpt from riddle 15…
"I am a brown colored bird with a long neck and a shaggy tail.  I have a unique blue skin behind my eye, which looks striking against my pale spotted feathers.  I have a long beak and I love to run.  I run more than fifteen miles per hour.  I have powerful legs and strong feet. I love to each snakes lizards, spiders, scorpions, eggs…I am a reluctant flyer.  When I sense danger, I can fly but would rather not.  Sometimes I sunbathe by lifting the feathers on my black back.  The warm heat feels so good.  I an considered one of the ground birds of the county roads…and more."  
I won't tell you the answer…so as not to spoil the fun!  All of the answers to the riddles are in the back of the book, with beautiful photos of each of the 28 birds that match each riddle. Here's a nice one of the American Goldfinch…
Each of the  photos include both the common name and the scientific name of each bird.
Solving these riddles together as a family is such a fun way to keep your nature studies going during the busy summer months!  It also may inspire your kids to look up lots of bird facts in a birdwatching book, and get out and do some serious birdwatching! 
The illustrations are beautiful and may even inspire your kids to do their own art or start a summer nature journal.  Here's one of my favorites…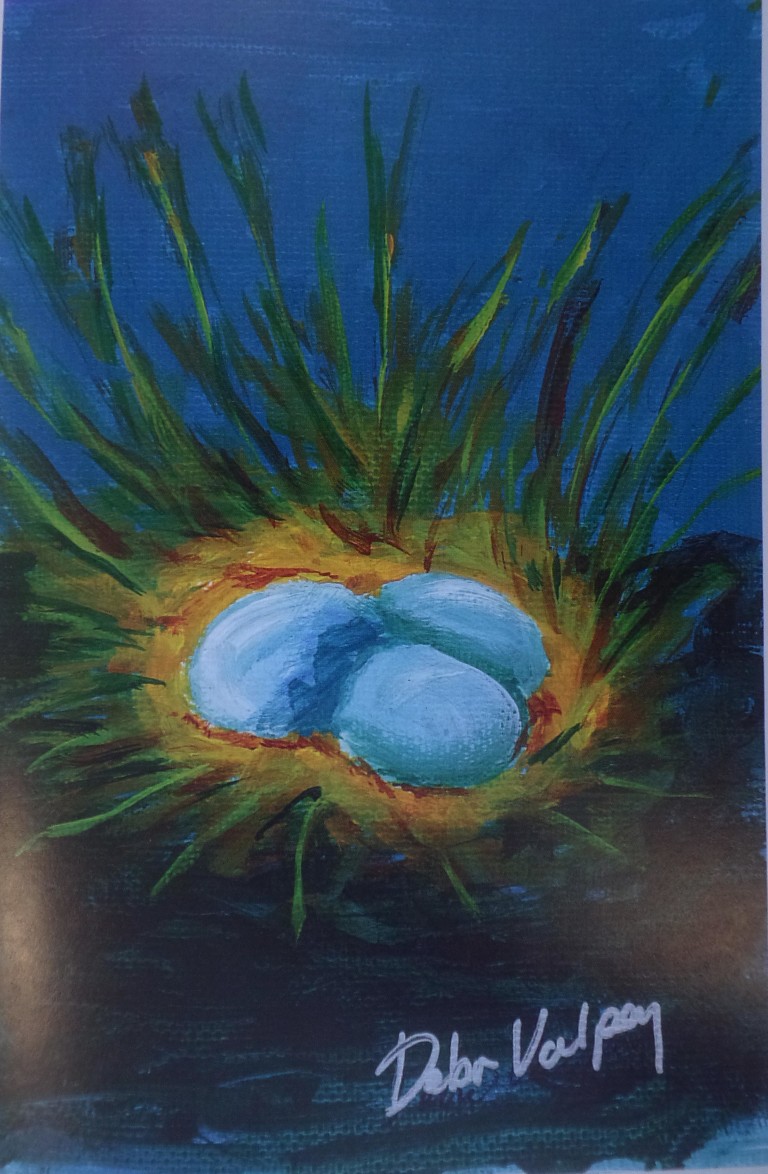 When I brought Hi Diddle Diddle, Read a Bird Riddle  back home last week, my daughter, now a college sophomore, picked it up and could not put it down.  I am so glad that she has developed a love of nature through the years.  She still loves taking photos of the birds around our area…
If you are looking for a fun way to challenge your kids and teens this summer, my family recommends  Hi Diddle Diddle, Read a Bird Riddle.  This book is written by Georgette Vikingstad Valle, one of our former state legislators, and is illustrated by Debra Valpey,

 an up and coming artist. Both of them attend our neighborhood church.
They have put their book on Amazon for sale at a frugal price and can be reached here.  I hope that you enjoy the summer months with your kiddos and make many good memories along the way.
Betsy's most important role  is mom to her college student whom she homeschooled from day one.  She blogs at BJ's Homeschool about the early years, high school and college, and is the author of "Homeschooling High School with College in Mind".  She offers free homeschool help through messages at BJ's Consulting.
.