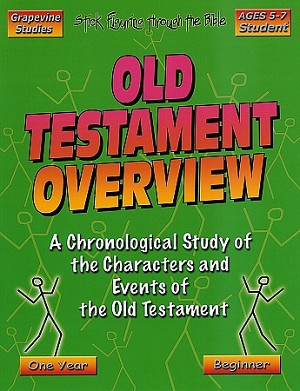 I had the opportunity to review Grapevine Studies Old Testament Overview for ages 5-7 and teen-adult.  I was intrigued by the idea of stick figuring through the Bible.  I have to admit I was not quite sure what to expect.  If you take a look a their website, you will find wonderful products for homeschooling, churches and Christian schools.  I knew my kids and I were in store for something fruitful after visiting Grapevine Studies online.
This curriculum can offer so much to Christian families.  The studies are mirrors of each other with simple adjustments for the younger aged book.  So, a family, group at church, family bible study, or multi-aged homeschool children, can all study the Word of God at the same pace and on the same theme.
This is a chronological study of the characters and events of the Old Testament.  Both studies, 5-7 year olds and teen through adult, will begin at the same point and end at the same point.  Each group will explore the Old Testament by creating a visual timeline using stick figures and symbols to reinforce the lessons and the events or the Bible.  Each study has review questions, memory verse and as mentioned that timeline.  The questions in each book are age appropriate and perfect for discussion or encouraging deep thinking and searching.
I highly recommend these books to anyone in need of a solid Bible Study.  These books do not tell you what to think about scripture but challenge you to think about what it means to you.  As your student develops an understanding of Biblical history and geography, he will also learn memory verses, and explore how God worked in the lives of those in the Old Testament.  This provides a nice springboard to any bible study or Christian history curriculum you may use as time goes on.