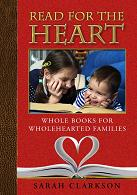 I have yet to meet a homeschool family that did not love books.  On my quest to find wonderful books to be read to or by my children I have read quite a few 'books about books'.  One volume has earned a place on my personal shelf to be used often.  That book is Read for the Heart: Whole Books for Wholehearted Families by Sarah Clarkson.
Read for the Heart is 384 pages full of information and ideas.  The first four chapters give the reader an in-depth look at the author's personal view of books, a guide for becoming a reading family, as well as a chapter on the state of literacy in America today.
The next eight chapters are booklists divided into the following topics:
Picture Books
The Golden Age Classics
Children's Fiction
Fairy Tales and Fantasy
History and Biography
Spiritual Reading for Children
Poetry
Music, Art, and Nature
Each chapter begins with a story and treatise by Miss Clarkson on the book genre at hand, giving you an even better idea of what qualities she has used to select books for that chapter. I love this part.  It makes me feel like I've just sat down to chat with a good friend, and she is sharing adventures she has had with books.  The lists in each chapter are generally arranged alphabetically by author, with the main exception being the history and biography section arranged by time period.  That has been a big help when I am looking for books to go along with our current history studies.  Most of the books have a review telling more about the story, awards won, general age guidelines, and any cautions if necessary.
The end of Read for the Heart has six appendices of book lists such as Newbery and Caldecott Award winners and special favorites of the author.  There are two indexes, one sorted by author and illustrator, one by title, giving a quick way to check on a specific book or to find more by an author or illustrator my children enjoy.
You can view a 32 page excerpt from Read for the Heart on the Apologia website.  The book can be purchased there or on Amazon for $17.00.  I bought mine through Amazon with some gift cards I had.
My only complaint about Read for the Heart is that she stopped at 384 pages!  Sarah Clarkson's guide has been a huge help as I have navigated the library catalog searching for books to share with my children.  I would love if she made a second book with reviews of even more titles.
Written by Tristan, mom to 5 going on 6 children, homeschooling through unit studies with a side of lapbooks.  You can visit her at her blog, Our Busy Homeschool.