Several months ago a slim little volume caught my eye on the clearance rack at Half-Price Books.  Sometimes, the clearance rack leads me astray—all of those cheap books just screaming my name—but not this time!  Easy Make and Learn Projects:  Human Body by Donald M. Silver and Patricia J. Wynne was perfect for our study of the human body.
The cover proclaims that there are "easy how-to's for making 20 models, manipulatives, and mini-books that will wow kids and teach about the incredible human body."  I agree.  The book contains a variety of hands-on paper projects that make excellent teaching models
Each project opens with factual information pertaining to the body system or part to which the model relates.  This information was invaluable to me, as it provided the facts that I needed to correlate the project with our studies.  Next, the book provides easy-to-follow directions and black-line masters for the project itself.  All of the parts are provided.  Simply copy, cut, and tape.  Each project also contains teaching instructions, composed of questions and directions to aid students in using the project itself.  I found them useful.
Easy Make and Learn Projects:  Human Body contains the following projects:
●A body book that outlines the body's systems
●A cell mobile illustrates several cell types
●A magnification project which reveals what parts of the body look like up close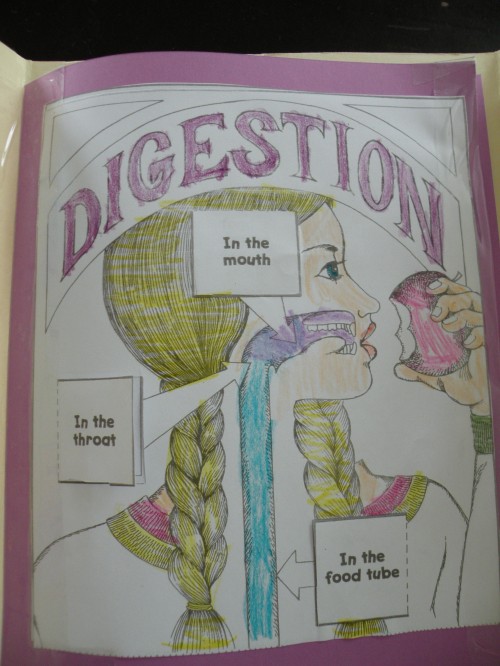 ●A brain hat showing the parts of the brain
●A nerve necklace that illustrates how nerves operate
●A sliding eye that shows the parts of the eye
●An ear accordion that reveals how we hear
●A model of the tongue that shows taste buds
●A nose model that describes how we smell
●A model that shows how our sense of touch works
●A model of skin including the parts
●A model showing how hair grows
●A model of the skeleton
●A bone that illustrates how bones grow
●A model of muscles that shows how they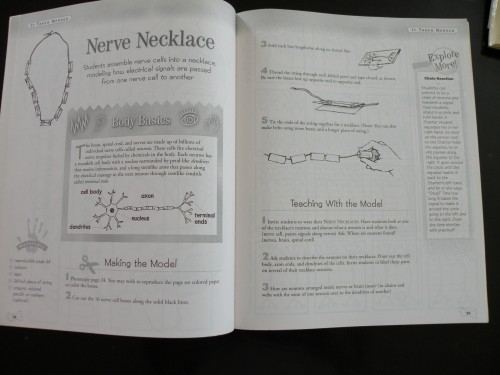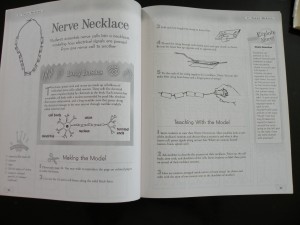 move
●Two models that illustrate breathing
●A heart model that reveals how blood circulates through the heart
●A model of the body that shows how blood circulates through the body
●A large poster that reveals the path of digestion
●A model of the esophagus
We created the majority of the projects as we studied the human body.  They were very do-able for my first grader and her preschool-age brothers, though I was also very involved.  The book says that it is for 2nd to 4thgraders, but I think it is applicable to a wide range of students.  The projects are useful and helpful in understanding the body and its processes and the directions are helpful.  Each project could certainly be completed for individual use, but we saved our projects and put them into a lapbook.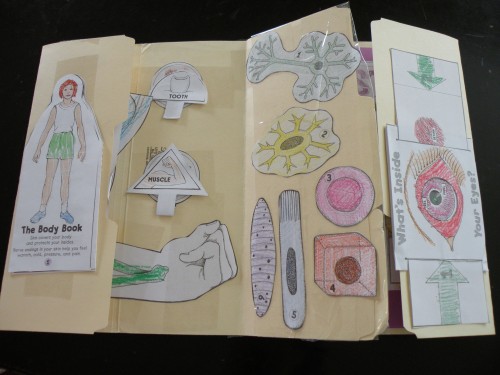 Easy Make and Learn Projects:  Human Body is published by Scholastic but can be found in lots of places, including the occasional clearance rack.  As for me, the clearance rack wielded an excellent find in Easy Make and Learn Projects:  Human Body.  In fact, had I been aware of its potential I probably would have paid full price.
-Most days find Susan on the couch reading to her children, in the floor "playing" math, and generally in the middle of a good-sized mess.  A love for the Lord, a love for her little ones, and a love of learning have led Susan and the wonderful man she married to an educational philosophy that is Well-Trained Mind-inspired classical and Charlotte Mason, with a touch of the traditional.