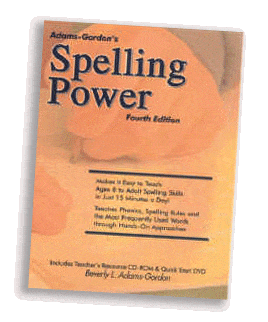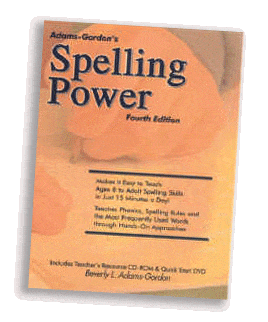 Hello, fellow homeschoolers! This is the first review I've written for the Curriculum Choice. I'm very excited to share my thoughts about and experience with various curricula and resources with the hope that someone finds them helpful. I thought I'd dive right in with everybody's favorite subject: spelling!
Like math, spelling as a subject offers a variety of methods — and madness. Also like math, some children are naturally stronger in spelling than others. For some families' mix of learning styles and levels of compliance (in both children and teacher!), spelling workbooks are the ticket. For others, copywork and dictation fill the bill. And let's not forget the myriad spelling software programs and other books. Alas, none of those worked in my family. That's why I'm so thankful a friend introduced us to Spelling Power.

Here's the daily procedure in a nutshell:
You and your child sit down together. You administer the quiz on that day's group of words.
Each group of words follows a certain phonetic rule (or exceptions to a rule), such as: "/ar/ is usually spelled ar as in jar."
You use a specific worksheet (printable at home) and follow a certain protocol in giving the quiz: You say the word, use it in a sentence of your own creation (I enjoy that part!), and say the word again.
Your child then says the word aloud, writes it the best way she can, and then says the word again, to cue you for the next word on the list.
At the end of the quiz, you grade it together, with you saying and spelling each word correctly, and your child marking her incorrect words.
She lists the correct spelling of each word she missed on a list called Words to Learn. She then studies only the words she missed on the 10-Step Study Sheet.
The next day, you quiz her on the words she missed yesterday before beginning that day's quiz. Easy peasy.
Of course, there's much more to it than that, overall:
Beverly L. Adams-Gordon, the creator of Spelling Power and a home educator, has put much thought and research into this multi-award-winning program.
When you first begin, you test each child to find out in which level he or she should be placed.
Each level includes several review tests (given after several daily tests).
There are delayed recall tests about halfway through the level. Tests again at the end of the level and end of level tests.
If your child continues to miss words he's studied previously, Spelling Power provides extra learning activities to strengthen his recall.
Don't let the "Big Orange Book" scare you, though! Once you delve into the curriculum, Spelling Power is very easy to use:
Adams-Gordon provides a Quick-Start Guide to get you up and running.
Although the program is pricier than other spelling curricula, it's designed to be used from ages eight through adult.
All the materials you'll need are included via a CD-ROM and a link to a website with downloadable forms.
Moreover, Adams- Gordon designed Spelling Power to teach not only spelling, but dictionary skills and proofreading. It really is a complete program.
Spelling Power has been great for my family. My "natural speller" child loves that she has to study only those words she misses on the quizzes, and my less able speller enjoys Spelling Power's focus on mastery of spelling rules. She's able to translate that knowledge to her everyday writing. A boon for me and an accomplishment for her.
For more information on Spelling Power, visit the website at www.spellingpower.com.

Ellen stays busy home educating two middle-grade daughters, chasing two corgis, managing the family's busy household, reading as much as she can, and writing about life at The Bluestocking Belle.