I am completely on board with the classical model of education. I love everything about it from the use of living books and primary source documents, to the studying of history chronologically. It is a fairly rigorous method, but I feel relatively confident about teaching it. There is just one facet of classical education that stumps me…Latin.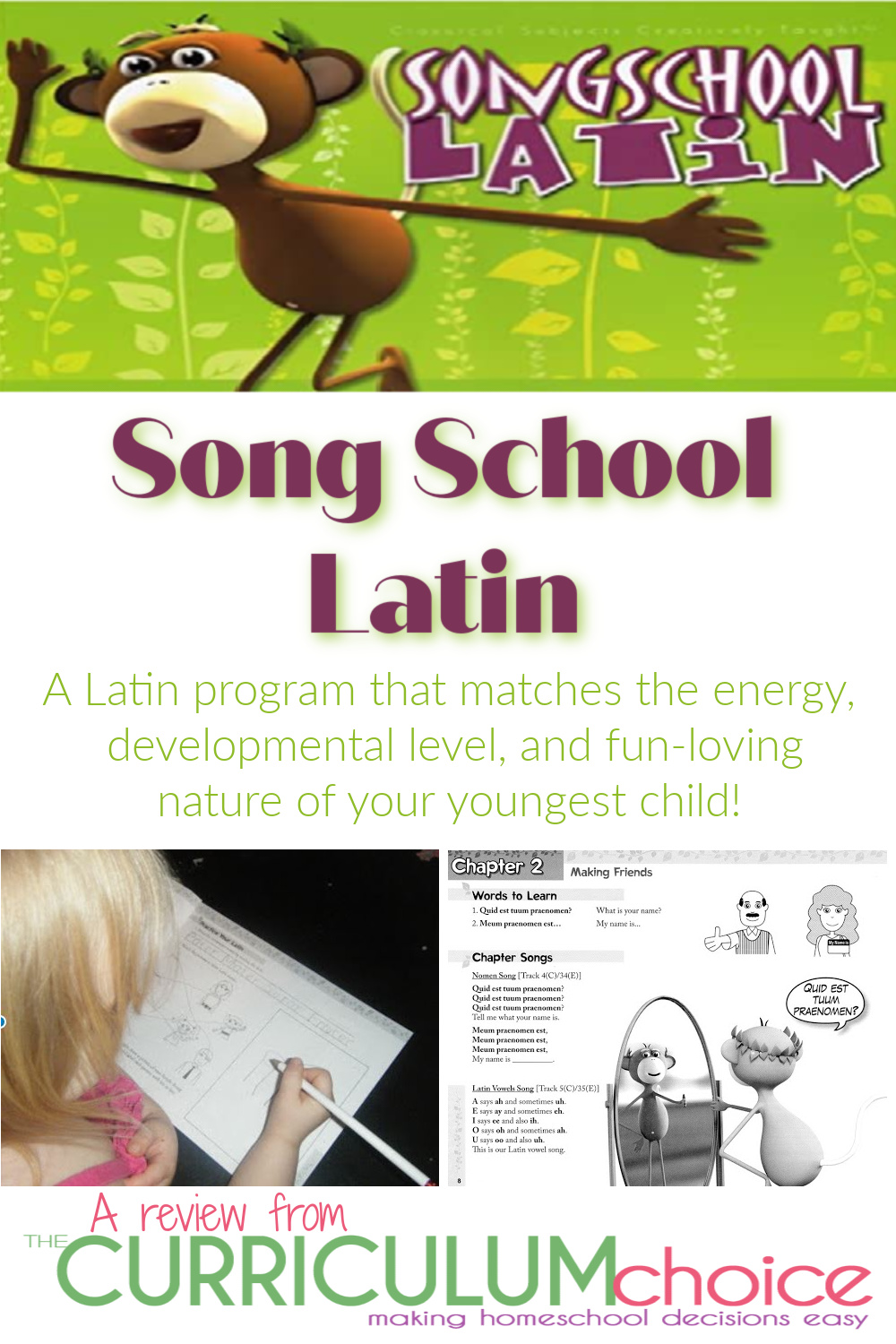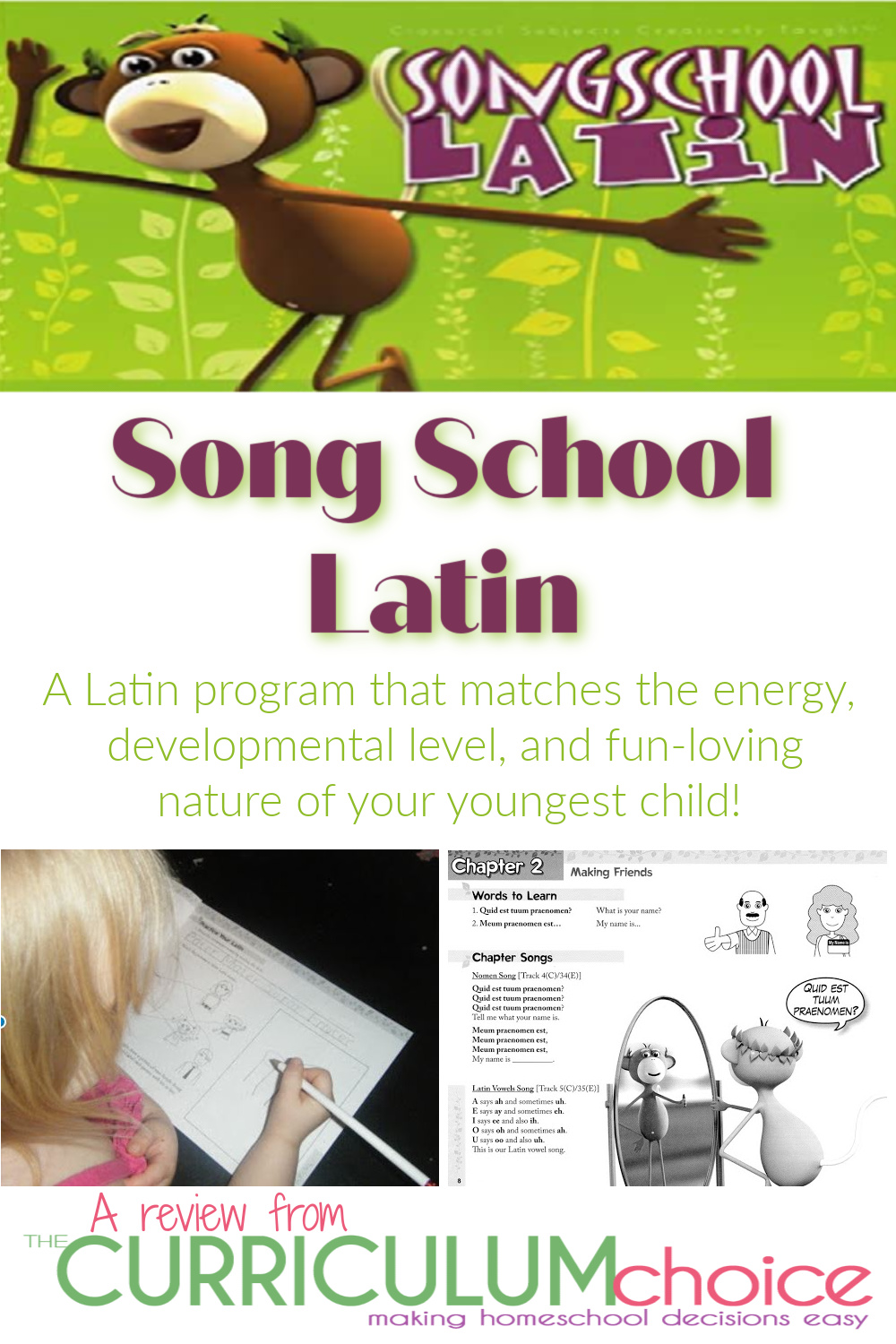 A key component of classical education is the study of ancient language, most commonly Latin. Needless to say, I know nothing about Latin. I figured that I would wait a few years and then get my kids a book that they could pretty much teach themselves from. Well, my ideas changed once I heard some other bloggers talking about this neat little program called Song School Latin.
Song School Latin is a yearlong course for students in grades 1-2.
Did you ever believe there could be a Latin program that would match the energy, developmental level, and fun-loving nature of your youngest kids?
Song School Latin does just that! Lessons are filled with songs, enjoyable vocabulary, illustrations, handwriting practice, stories, games, and engaging activities, providing students with a vocabulary-based introduction to the language.
After looking into it just a bit, I decided to contact the kind people at Classical Academic Press and ask them if I could review Song School Latin. I was thrilled when they said that they would send me a copy to review! So, thank you Classical Academic Press! (I was not required to write a positive review, nor am I being compensated for writing this other than receiving the copy to review.)
What is Song School Latin?
Song School Latin is an amazingly fun program designed to teach your youngest students Latin. I never would have thought that I would be teaching my three and four-year-old children Latin, but this program makes it simple.
Each chapter introduces a few new words or phrases, teaching them to you by song. The songs are memorable, fun, and effective. There is a workbook that helps reinforce the new words in your child's mind. The workbook has traditional fill in the blank and multiple choice questions, as well as game ideas, stories, spots to draw pictures, trace words, and more. Most chapters even have sections that you can read to your children (or have them read themselves) that help them see the Latin words they are learning in our English language, and include very gentle introductions to Latin grammar.
How to Use Song School Latin
We do a Latin lesson a few times a week. If it were up to my children, we would do it every day (or multiple times a day)! Here is what we do:
We start off by listening to the previous lesson's songs. The is pure fun! My kids love the songs and they don't drive me crazy at all =) My daughter loves to dance around the room as she sings and I'll often hear my son singing the songs even when it is not lesson time.
This is usually when I will have them do their coloring page. Each vocab word has a corresponding coloring page and you can get these FREE on the Classical Academic website! Just scroll down and click on Free Song School Latin Coloring Pages!
Next we introduce the new vocab. There are usually about 4 new words per lesson, all hinging on a theme (animals, family members, parts of a house, etc.).
After that we sing the new song for the week, making sure to listen for the new words in the song!
Then I read to them the short 'Chapter Lesson.' If you have a good reader, they could read this part themselves if you'd like these lessons to be more independent.
Finally, they will do the activities in the workbook. My kids are on the young side of being able to do this program, so I usually break up the activities over two days. This lets us spend more time on each set of vocab words and also helps them not get fatigued doing the work.
If you have kids a bit older than mine, you will find the extra practice sheets in the Teachers Guide to be very helpful! Each chapter has an additional page or two of activities that will help your child remember what they have learned.
I mentioned the free coloring pages above. If your children are older than mine, they might not be interested in the coloring pages, but they are a perfect way to include little brothers and sisters who love listening to the songs and want to be a part of the lesson! Have your 3 year old color the picture while your 6 year old is doing the workbook, or whatever works for your family.
Why I LOVE Song School Latin
Recently I had a friend ask me if I would consider joining a homeschool group with her. While I really do like the group she wanted me to be a part of, it would have required me to do some major curriculum changing. I thought about this for a long time, but ended up with the conclusion that I just love where we are at right now too much to change it. Song School Latin is one of the reasons that I love what we are doing for school so much! Here are some of the things that I love so much:
Learning through song. Lately I have seen how well my children can learn by singing, so I am trying to incorporate songs into as many subjects as possible. Not to mention that these songs (all 30 of them) are really cute and fun to sing!
Stories in the review chapters. My son absolutely loves the stories that are in the review chapters! Each story is a well-known tale reworked to fit Latin words in. He loves listening to find the words he has learned!
Fun introduction to Latin. The idea of studying Latin could be daunting to anyone, but if you start your child with Song School Latin, they won't be scared!
My kids beg to do it. How could I not love a curriculum that my kids can't get enough of? My daughter often wakes up asking if it's time to do Latin. When people ask my kids what their favorite thing to learn in school is, they reply (to the questioners surprise) LATIN!
Free coloring pages. My daughter is a major drawer. She loves the new coloring pages each day! I love that they are simple to print right from my computer. My son isn't a huge fan of the coloring part, but he loves looking at all the pages on the wall which help him remember what he has learned.
Open and go. Most of the studies we do for school require a bit of prep work on my part. I love that all I have to do is print off the coloring pages and I'm ready to teach! We just work our way through the workbook. Introducing the vocab when it says to, singing the song when it says to, and doing the activities right in order. I know nothing about Latin, but simply reading my kids the little 'Chapter Lesson' makes me sound like I know what I'm talking about!
Here are my kids showing off some of the Latin vocabulary they have learned from Song School Latin. As you can see they get a little bit excited about Latin! Sorry it got a little crazy at the end, they really like watching videos after we take them!
Thank you, Song School Latin! I can't wait to start Song School Latin 2!
If Latin isn't your thing, make sure to check out Song School Greek and Song School Spanish!
If you have any questions about this great curriculum, please don't hesitate to ask! I'd love to help you figure out if Song School Latin would be a good fit for your family (I bet it would be!)
Anther Song School Latin Review