Textile Learning offers online high school elective courses to homeschoolers and independent learners.  Each semester long course includes academically rigorous and engaging content as well as various options for tests and assessments.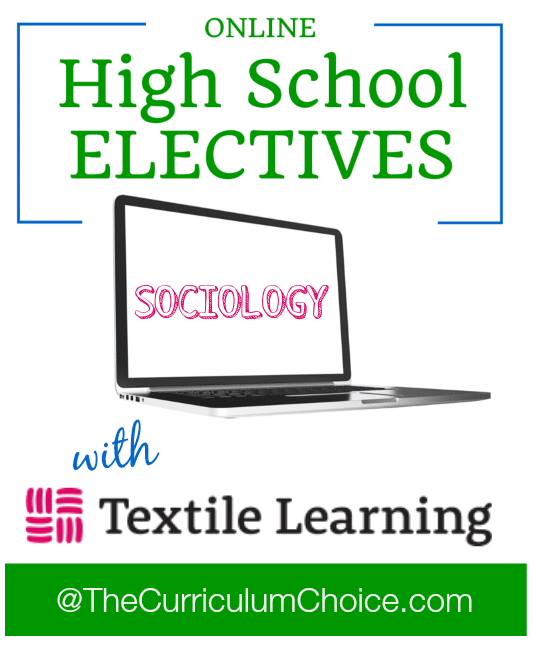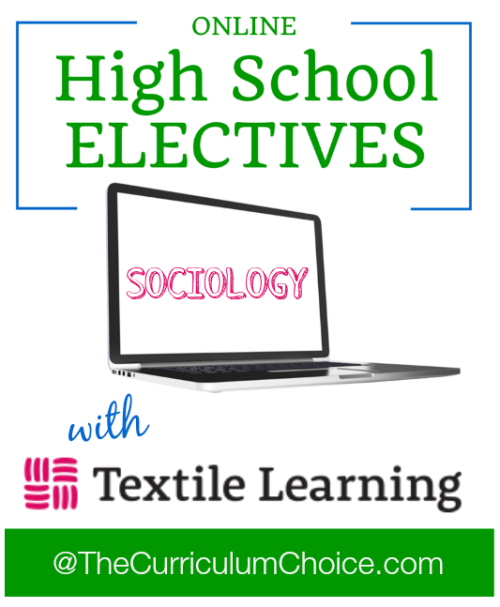 This year I have been reminded that beginning the homeschool high school journey can be a bit overwhelming!  We have been homeschooling all along and this year, when my son officially began his high school coursework, I felt like I was starting all over again.  Trying to figure out course content, finding curriculum to fit my child's learning style and challenges, and learning how to document courses has my head spinning.
We knew which core courses we needed to cover this year, but my son immediately began asking about elective courses.  He loves to study history and geography and he is particularly interested in cultures and civilizations.  I was not surprised when he asked to take Sociology as a high school elective course.
In my "pre-homeschooling" life I taught Psychology and Sociology at the college level (obviously I understand where his interest in these subjects comes from!).  I was excited about the idea of teaching a high school level Sociology course, but I already had a lot on my plate and I knew I wasn't going to be able to gather adequate resources quickly.
I was thrilled to be offered an opportunity to take a look at an online high school level Sociology course offered by Textile Learning.  I am very happy to share that this course has all of the academic content I would hope for in a high school level course and the delivery method has been a wonderful fit for my technology savvy son.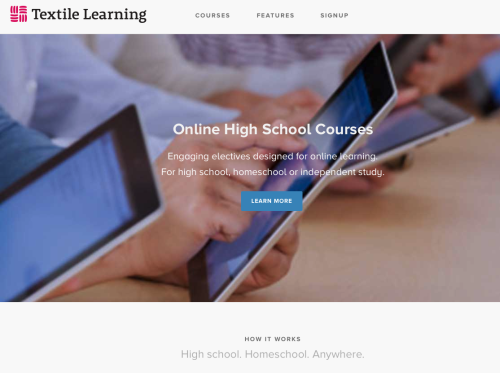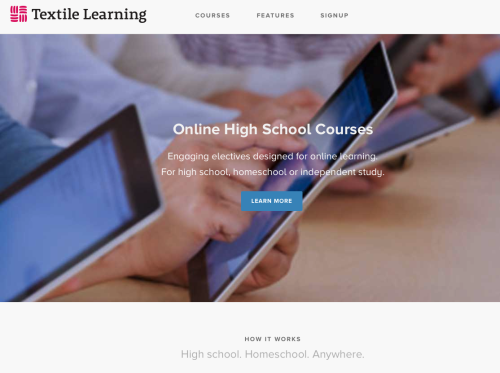 Textile Learning is a relatively small team, clearly focused on creating high quality curriculum.  As a homeschool parent who appreciates a "personal touch" when it comes to curriculum options for my family, I have been very impressed by the responsiveness and feedback I have received from Textile Learning team members.  I have sent several emails with questions — not only were my emails returned very promptly, my questions were clearly addressed and personally answered (NO canned responses here!).
It is clear the team's educators and designers understand how to use today's technology to help students learn effectively.  The curriculum is definitely robust for high school students (this is NOT a "fluff" elective).  The course sufficiently covers key concepts of the field  but also keeps the material interesting and varied so students stay interested and engaged.  Courses include reading assignment (with an audio option) and videos to deliver information.  Students demonstrate their understanding of the material by responding to critical thinking questions and completing quizzes/tests.
What is included:
Textile Learning online elective courses are designed for students in grades 9-12.
Courses are one semester in length (.5 credit elective), offer open enrollment (students can enroll at any time), and are self-paced (once enrolled students have 12 months to complete the course).
For every student enrolled, students receive a unique login to the course AND parents receive a separate login which provides access to all course materials and grades.
Courses are genuinely mobile – the learning software system does not use Flash, therefore courses work on desktops, laptops, tablets, iPads, and iPhones.
11 high school elective courses are offered including – Sociology, Psychology, Personal Fitness, Art Appreciation, Media & Communications, and more.
Sociology Course Structure:
The course includes 8 Modules
Introduction to Sociology
Socialization
Social Institutions
Class Differences
Race
Gender and Gender Issues
Social Deviance
Population, Urbanization, and Collective Behavior
Each module includes these components
Learning Objectives
KeyTerms
Lesson content – Student can read or listen to this material.
Reflection questions – There is a reflection question at the end of each lesson.  These help students understand the learning objectives, these are not submitted for grading.
Web Activities – There are 2 web activities in each module.  Web activities involve visiting an external website or watching a video, and answering a few questions.  These are not submitted for grading.
Module Quizzes – Each module ends with a 20 question, multiple choice quiz.  These are submitted for grading.
Extended Response Questions – There are 2 extended response questions in each module.  These questions test critical thinking skills and are submitted for grading.
Final Exam – At the end of the course is a final exam with 50 questions.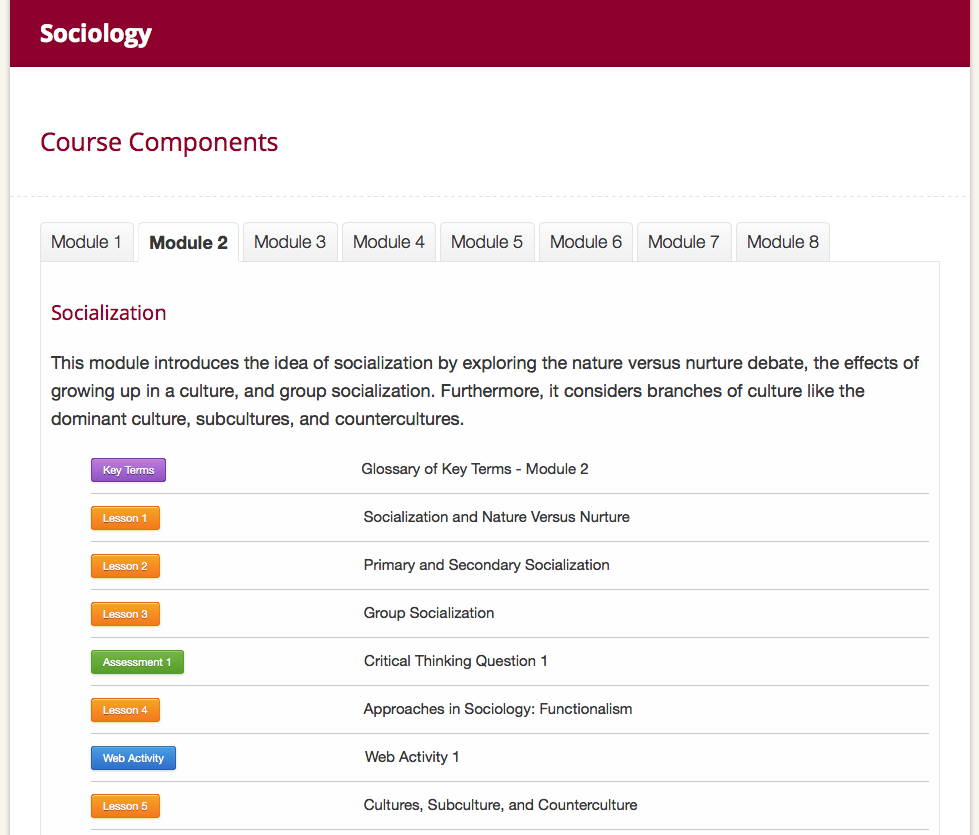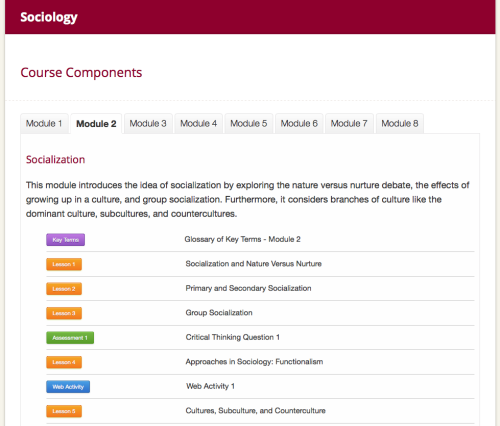 How we use Textile Learning in our home & what we like about this curriculum:
Quality content
Having a background in this field of study I can honestly say and am very pleased with the scope of the material covered.  This course offers a thorough introduction to Sociology and through the Web Activities includes relevant examples tied to current societal issues. The Web Activities were my son's favorite part of the course!
Sound technology
My children do much of their school work on a laptop or Surface tablet.  We also have an iPad that we share and use for school lessons.  This is one of the few programs we have tried that actually works on all of the platforms we use.  This saves all of us a lot of frustration.
Independent learning but also great for initiating discussions
This course could easily be an independent study course – my son would have a good grasp of the material by completing the activities as outlined in the course.  However, during these teen years I think it is important to use topics such as Sociology as a springboard for discussions.  I worked together with my son create a schedule for completing the course (we determined how many lessons and assignments would be completed each week and marked that on his school planning calendar).  Once a week we meet to discuss the material in the lessons he has covered – this gives me a way to gauge his understanding of the materials, answer questions, and talk about how the material relates to real-life applications.  The reflection questions are great discussion starters!
Ease of use
The Textile Learning system has made my first experience with a high school elective course go very smoothly!  It offers quality content, assessment tools, and the documentation needed to add to our high school records.
Learn more about Textile Learning by visiting their website: Textile Learning.com


I would encourage you contact the Textile Learning team with any questions you have — they are eager to answer your questions and provide any information you need!
We are very happy to have found this resource early in our homeschool high school journey.  My son has already identified additional elective courses he would like to take with Textile Learning and that will make our planning much easier in the future!
I received this curriculum in exchange for an honest review.  I was not compensated in any way for the time spent telling you about this resource. Read our full disclosure policy.
As a veteran educator, Susan is always looking for new ways to bring learning to life for her family.  Her family's favorite subjects to study together are history, geography, and literature.  Susan shares her family's educational adventures at Education Possible.