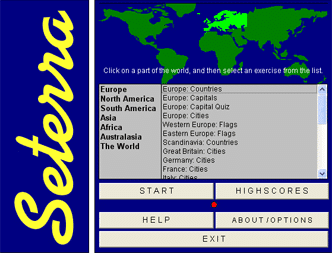 My kids can easily locate many countries, cities, and landforms on the map.  Part of this is because we like atlases and we look places up when we read about them.  The main reason, however, is that we like to play Seterra.
Seterra is an addicting and highly educational geography program.  What's more, it is free.
Here is how it works.  You open the program and decide what area of the world to focus on:  Europe, North America, South America, Asia, Africa, Australasia, or The World.  Each of these has various options.  For example, 'Australasia' has two options, 'Australia: Surrounding Countries' and 'Australia and New Zealand:  Cities.'  On the other hand, 'Europe' has many choices, and focuses on individual countries as well as the continent as a whole.  'North America' also has a large number of options including US states, capitals, large cities, and cities in different regions.  There are also two choices for Canada that are just right for my Little Misses, one about cities, and one about provinces and territories.  You can even study flags!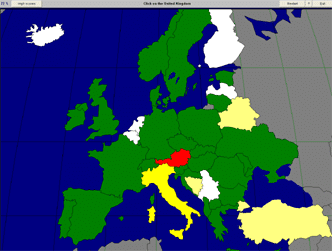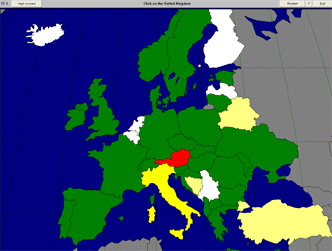 Once you've clicked on your choice of game, the screen fills with a green map and a name attaches itself to your cursor.  The object is to quickly click on the correct location on the map which then turns white.  If you get it after one error, that part of the map turns light yellow, and if you make two errors, it turns bright yellow. If you get it wrong three times, the correct area turns bright green as a hint, and when you click on it, it turns red.  The upshot of all of this is that you will soon have a brightly colored screen that clearly shows what you know and don't know.  At the end of a game, you can click on the colored areas to learn their identities.  If you're like our family, you will then immediately restart the game to see if you can get it correct this time.  Or the next time.  Or the time after that.
To increase the addiction factor, your time is measured to the second, and your score in percents is recorded.  The ten fastest and highest scores are permanently listed, together with the names of the players.  My children and I tend to choose a topic and then practice, practice, practice until we can get 100%.  Then we work on reducing the time, aiming for a place among the top 10.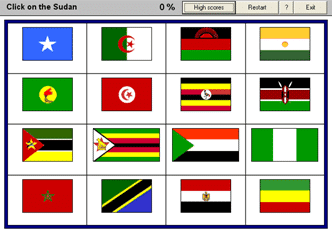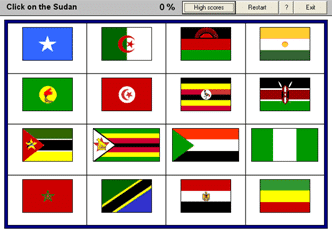 In the past the older children did so well that the little ones could no longer make the top 10, so we downloaded Seterra onto everyone's account.  This way each of us can compete against ourselves, which is probably a good idea.  Now, after more than a year of no competition among us, I think we might download Seterra to a public account so that anyone who wants to compete with siblings (or Mama) can.
I was surprised that even prereaders can play Seterra using pattern recognition. Probably little actual learning goes on in their case, but they certainly become familiar with maps.  On the other end of the age spectrum, I also learn a lot from the program.
We discovered that it is easy to forget the places we've memorized with Seterra unless we learn more about each location, whether from books, DVD's, or first-hand stories.  Such in-depth knowledge is, of course, the goal of geography. Without knowing the maps, however, the stories often don't make sense.  That's why we think Seterra is an invaluable component of any person's education.
Disclosure:  Seterra, developed by Marianne Wartoft from Sweden, is freeware that we have enjoyed for years.
-Written by Annie Kate, a Christian homeschooling mom of five great children, who blogs at Tea Time With Annie Kate.