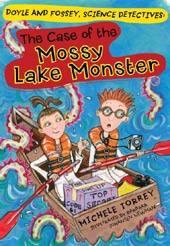 As many moms out there can probably relate to, I have a son that's obsessed with SCIENCE!!  Or maybe more accurately, I have a son that's obsessed with reading science books.  He can fly through a book in a day and if I can't find him, I can almost count on the fact that he's off somewhere reading.  I know, only a homeschool kid, right??  No, it's not just because he's homeschooled and I make him read…this public schooled girl was just like that too!
With that said, when Sterling Kids Publishing Company asked me to review the  Doyle and Fossey Series, I knew who would love diving into those!  So, to share with you a bit about the content of these books, I asked my little science-reader, Noah, a few questions…
What is this book series about?
It's about solving science mystery cases.
Who are the main characters and what are they like?
Drake Doyle and Nell Fossey are a boy and a girl in 5th grade.  They live in Mossy Lake.  They are lab rats, which means they are in the lab a lot.  There is lab in Drake's house where they hang out there after school and when they are working on a mystery.
                                                          Out of these five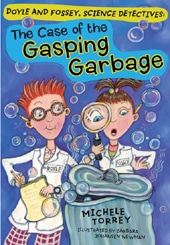 books, which mystery is your favorite?
I like the Case of the Graveyard Ghost.  It teaches you about reflection.  I like this book because the story is really cool and there are fun experiments in the back of the book about how to make your own ghost reflection.
Tell me about the other four books and what areas of science they talk about…
In Gasping Garbage you learn that if you mix certain things together there's a reaction.
In the Case of the Mossy Lake Monster they talk about oil spills and water and how things float.
The Case o the Barfy Birthday is about bacteria in the food we eat and other places.
The Crooked Carnival is all about magnets.
What is your favorite part about these books and what is your least favorite part?My favorite part about the books is that they are funny and all about science.  I really like science.  My least favorite part is when they don't have a mystery, but that doesn't really happen very much.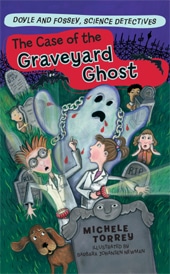 Thanks, Noah.You're welcome, Mom.  Is this going to be on the internet?
Yes.Sweet!!
🙂
These books are terrific not only because they are full of great science information, but they are entertaining!  Each book is all about a mystery these two kids need to solve and what kid doesn't love mysteries??!!
Being the "learning obsessed" homeschooling mom that I am, my favorite part of the books is that they each have a great section in the back that tells the reader how to set up their own science lab.  This section also has lots of super fun experiments to do in your science lab that pertain to what they learned in the book.
For example, in The Case of the Barfy Birthday, they talk all about bacteria. So at the end of the book, they explain how to chart common things that could make people sick and find the most common places for bacteria.
As a homeschool mom and mother to an avid reader, I would recommend these great books to anyone! 🙂
Alicia is a literature loving homeschool mom of 3.  You can find her blogging at La Famille.