We have a new resource in our homeschool: Answers in Genesis' History Revealed. I am learning about spiritual revivals that occurred in the United States in the early 1800s. It is the Biblical basis of history that I now realize I never had in my schooling. I'm so thankful my children are learning HIS-story the first time around. Not only that, Diana Waring and her resources have them excited about it!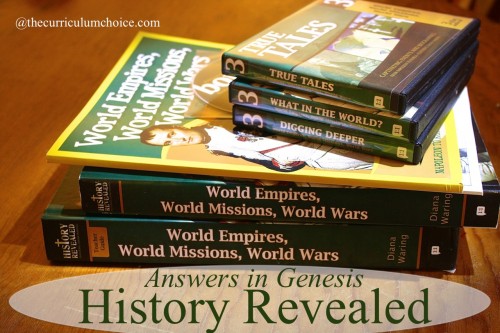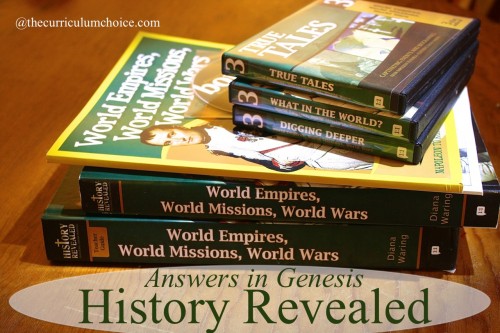 ~Don't miss the giveaway at the end!! We received these Answers in Genesis History Revealed resources in exchange for an honest review. All opinions are our own and we love the benefits and blessings we are continuing to see from this multi-age study. Please see our disclosure policy.
What is Answers in Genesis History Revealed Curriculum?
History Revealed is written and recorded by Diana Waring and published by Answers and Genesis. Ms. Waring is known as a "history evangelist". Just take a listen to her audio lessons and you won't be able to wait until it is time for your history studies either!
What is Included in the Family Curriculum Pack?
Teacher Guide – this is gold! Complete with structural overview, goals for the teacher, goals for the student, traditional schedule and alternatives, evaluation and assessment (thank you, that really helps with high school!), worldviews in the study of history, teachers as followers of the Lord. Plus the teacher guide explains the foundation of learning for History Revealed (more explained below under How We Use History Revealed in Our Homeschool)
Student Manual – this is your main text with suggestions for additional resources. Read aloud from it or hand it to your older child to read independently.
Test Kit
History Revealed: Digging Deeper audio
History Revealed: True Tales audio
History Revealed: What in the World? audio
Links to additional online resources
How We Use History Revealed in our Homeschool
We have been enjoying the Full Family Curriculum Pack – World Empires, World Missions, World Wars. What I love about this history and Biblical worldview resource is that I can use it for all of our ages. Yes, for kindergarten, second grade, sixth grade, ninth grade and tenth grade. In our homeschool, we do the basic three Rs in the morning.
Then during lunch or immediately after, we enjoy all our other subjects (on a rotation throughout the week). On our history days we follow the teach guide suggestions  – listening to the audio CDs, doing a hands on activity or project…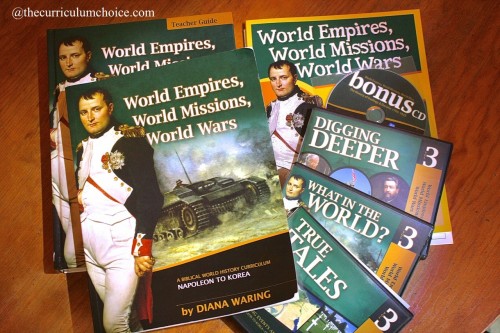 Author Diana Waring's description via her Pinterest pin: " Napoleon to Korea (1800 AD to 1950 AD): Napoleonic Wars, the Modern Missions Movement, William Cary's work in India, the Industrial Revolution, the British Empire, the growth of the United States, and the World Wars, the Korean War, and Jim Elliot. Discover not only the kings and politicians, the artists and musicians, the scientists and inventors, but also the amazing fingerprints of our redeeming God and His people during one of the most tumultuous times in world history."
Now some of you may remember that we are big Tapestry of Grace fans. Yes, yes we are. And History Revealed is a beautiful complement to all of our Tapestry studies. In fact, the History Revealed student manual has taken center as an anchor text. We are studying the same part of history. And I happen to have a thing for curriculum that meets the needs of multiple ages while making it easier on mom! We shall continue to use both.

The Foundation of History Revealed Curriculum
Well, not only is it Biblical, take a look at what are called the phases:
Phase One: The Introductory Week (this week appeals to your 'feeler' learners). You will talk together, gather resources for digging deeper.
Phase Two: The Exploration and Discovery Week (appealing to your 'thinker' student) There is research and reporting, brain stretchers, time line work and vocabulary.
Phase Three: The Hands-On Week (your sensory learners will thrive!) Maps and mapping, art appreciation, architecture, science, music and cooking.
Phase Four: The Expression Week (the intuitor among you will be loving it) This phase leans heavily "In Your Own Way" with suggestions for activities and projects in linguistics (journalism, poetry, prose), art (painting/drawing, graphic design, cartooning, sculpting), music (compose, perform), drama (comedy, puppetry), movement (miniature action, pantomime, dance) and even conceptualization.
Each phase ends with a Student Self-Evaluation.
There is so much that appeals to each of our ages in different ways. Which leads me to…
History Revealed Speaks to Learning Styles
In our home we have all kinds of learners.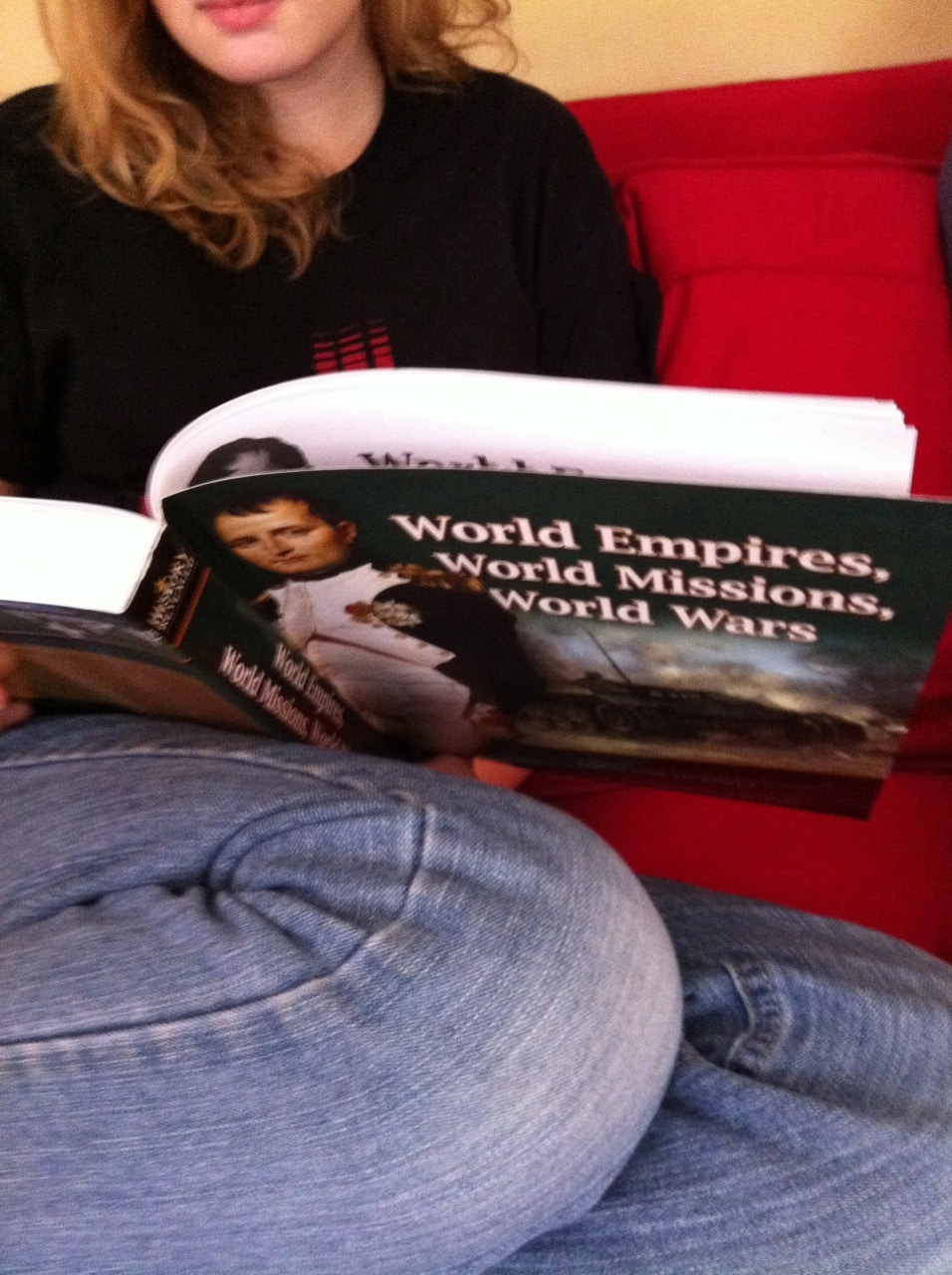 Visual learner: "I like our new history. I love reading the book and listening to the recordings – I love how excited the author gets. You can tell it is what she is really passionate about." ~ 16-year-old
Auditory learner: Eldest Son (14-year-old) thrives on hearing anything read aloud. Precisely why he enjoys Teaching Textbooks math – the lecture. So, when those CDs come on, he is close by for sure.
Kinesthetic learner: Middle Girl (11-year-old sixth grader) squealed when she saw that she could choose to act out a story. She loves to make visual display boards and reports of what she is learning.
Where Can You Find History Revealed?
You can find it spread out on the floor of our family room, on the end table – and the audio CDs often are found in the family van. But you can find your copy of History Revealed is available from Answers in Genesis. Each volume is $99 and all three volumes are available for a special price of $269 (a $423 value!) Spend some time on their site exploring the different volumes. Listen to audio samples and more.
–>> Find Answers in Genesis Homeschool on Facebook, Twitter, Pinterest, Google + and Instagram
Now for the Giveaway!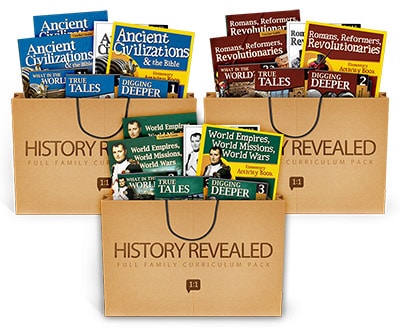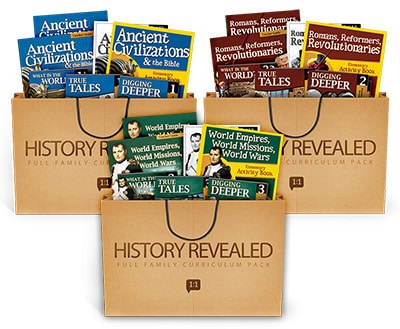 Answers in Genesis is offering one (1) set of History Revealed – winner's choice of volume – to a Curriculum Choice reader (a $99 value!)
Just follow the directions in the rafflecopter widget below…
a Rafflecopter giveaway

Homeschooling for over a dozen years now, Tricia faces a daily dose of chaos with five children from preschool to high school. She is author of art curriculum for all ages and a series of cookbooks at Hodgepodge. She and her husband, Steve (who writes app and technology reviews), are co-owners of Curriculum Choice.