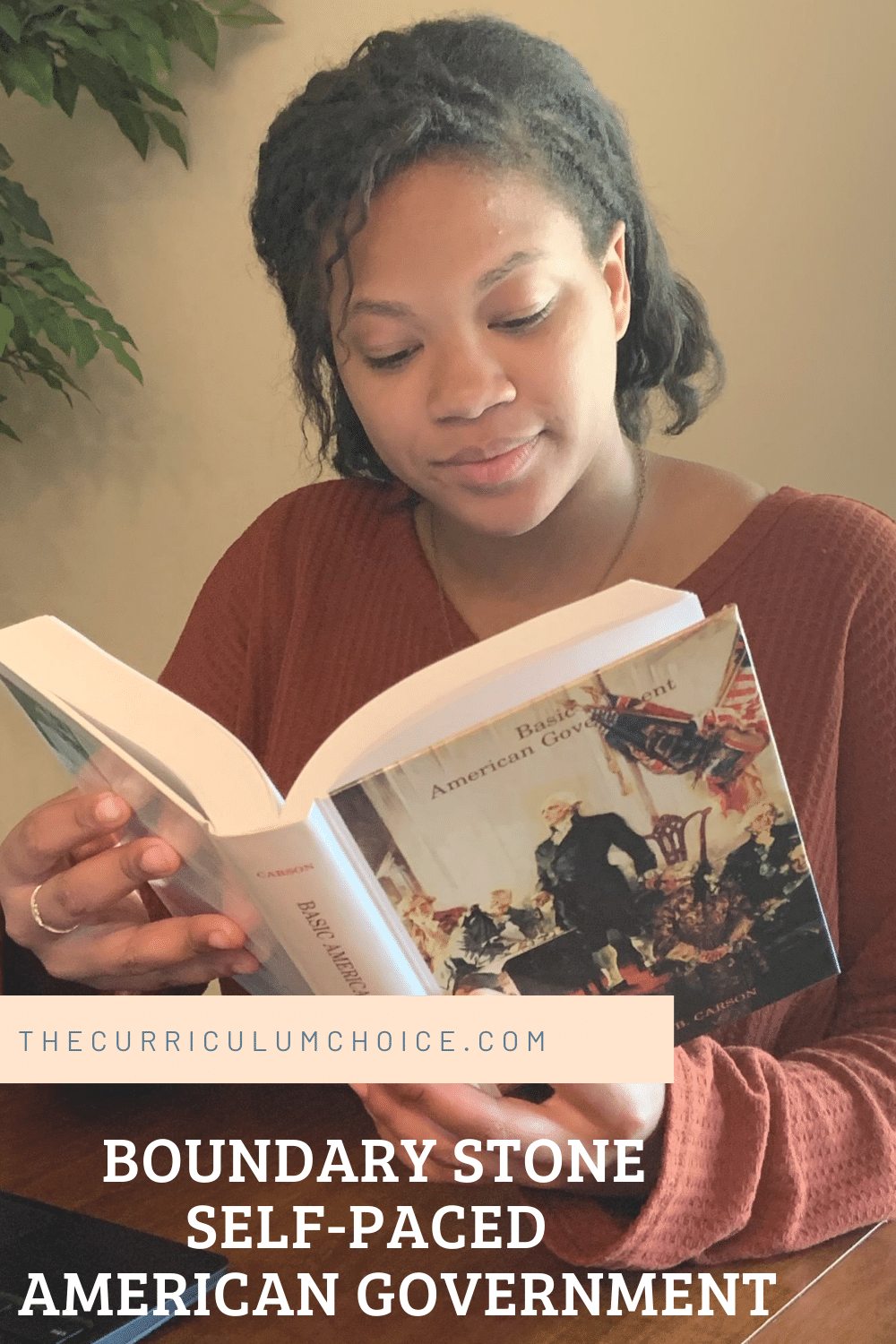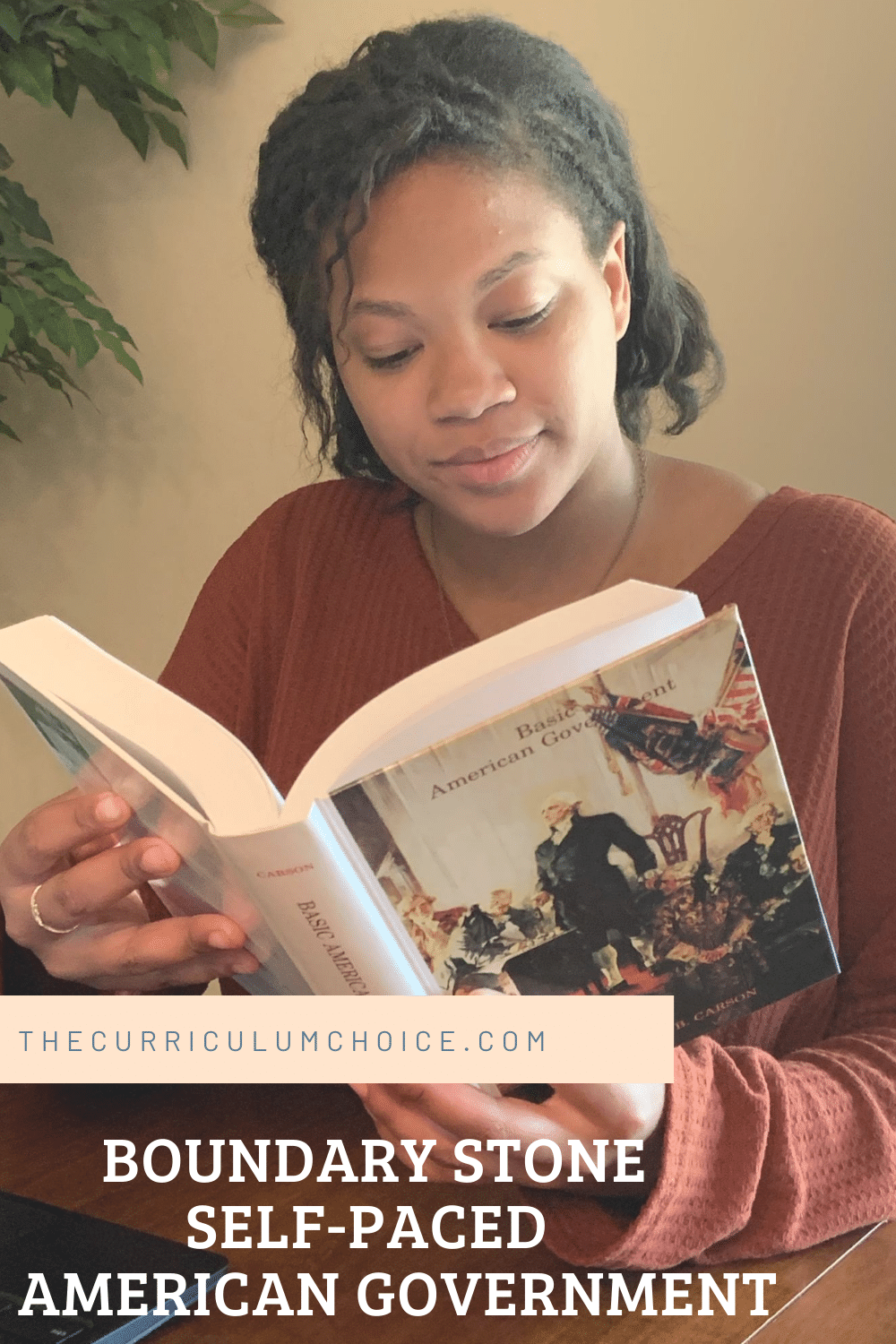 I'm a child of Haitian immigrants and the first-born. Many times after school, I remember sharing my newfound knowledge of America with my parents.
They came to earn degrees in Chemistry and Engineering and to offer their children new choices. Those goals were met! But everything from this country's language, its customs, culture, and yes its government, was a brand new experience.
So it felt exciting to be a student and a 'teacher' as our family learned together!
Years later and deep into years of homeschooling, I feel the same. I'm both a student and a teacher as I lead my kids.
Especially for my high schoolers, I keep a lookout for interesting curriculum. I like less repetition of what we did before. So I took the opportunity to review a new-to-me government curriculum (and to be compensated for my time). I wanted to check it out and offer my honest thoughts.
On that note… introducing Boundary Stone's American Government Course!
American Government in Our Homeschool
In general, our homeschool focuses on American government from early on.
In hands-on ways, we touch on branches of government, the president's job, and general info on citizens.
Moving to Junior High, I introduce more. Citizenship, political parties, and details about federal, state and local governments find their way into our studies.
By the time my kids reach high school, we have covered basic facts.
In this phase I feel they are ready for thought-provoking reading and ideas about America's government. I'd like them to think about their place in society. I want them to learn to live their citizen role rather than being an observer. Worse yet, simply a consumer!
It feels like a tall order at times, but also important.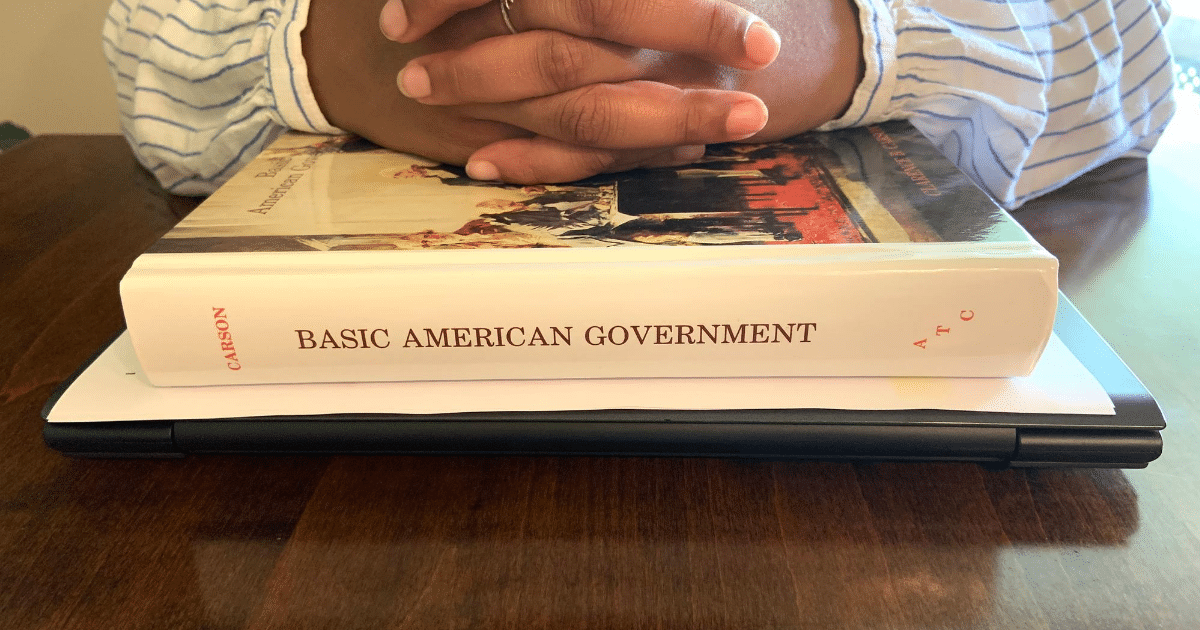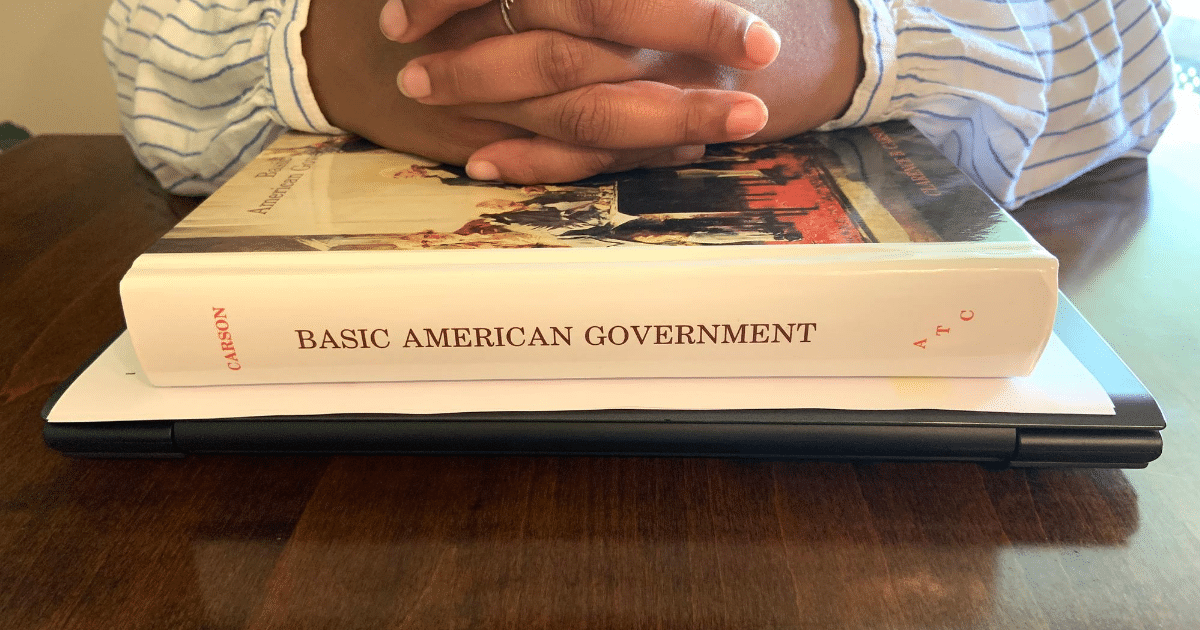 Introducing Boundary Stone Self-Paced American Government
Boundary Stone's American Government feels a good way to meet this tall order of mine. I'm excited to share the curriculum with my 12th grader!
Boundary Stone is:
a textbook based curriculum – the textbook flows like a collection of essays. They focus on theory and application. Not just a bunch of facts! The textbook holds a well-developed glossary and documents such as The Constitution and Articles of Confederation.  There are no pictures, chapter reviews, or other typical features of a textbook. Download a 32-page sample here.
an online curriculum – I feel this is where Boundary Stone shines! The bulk of work is located online. Textbook reading is assigned and online includes videos, quizzes, vocabulary checks and reviews. PDF worksheets for each lesson can be downloaded. Visit the site to try a sample of online government lessons.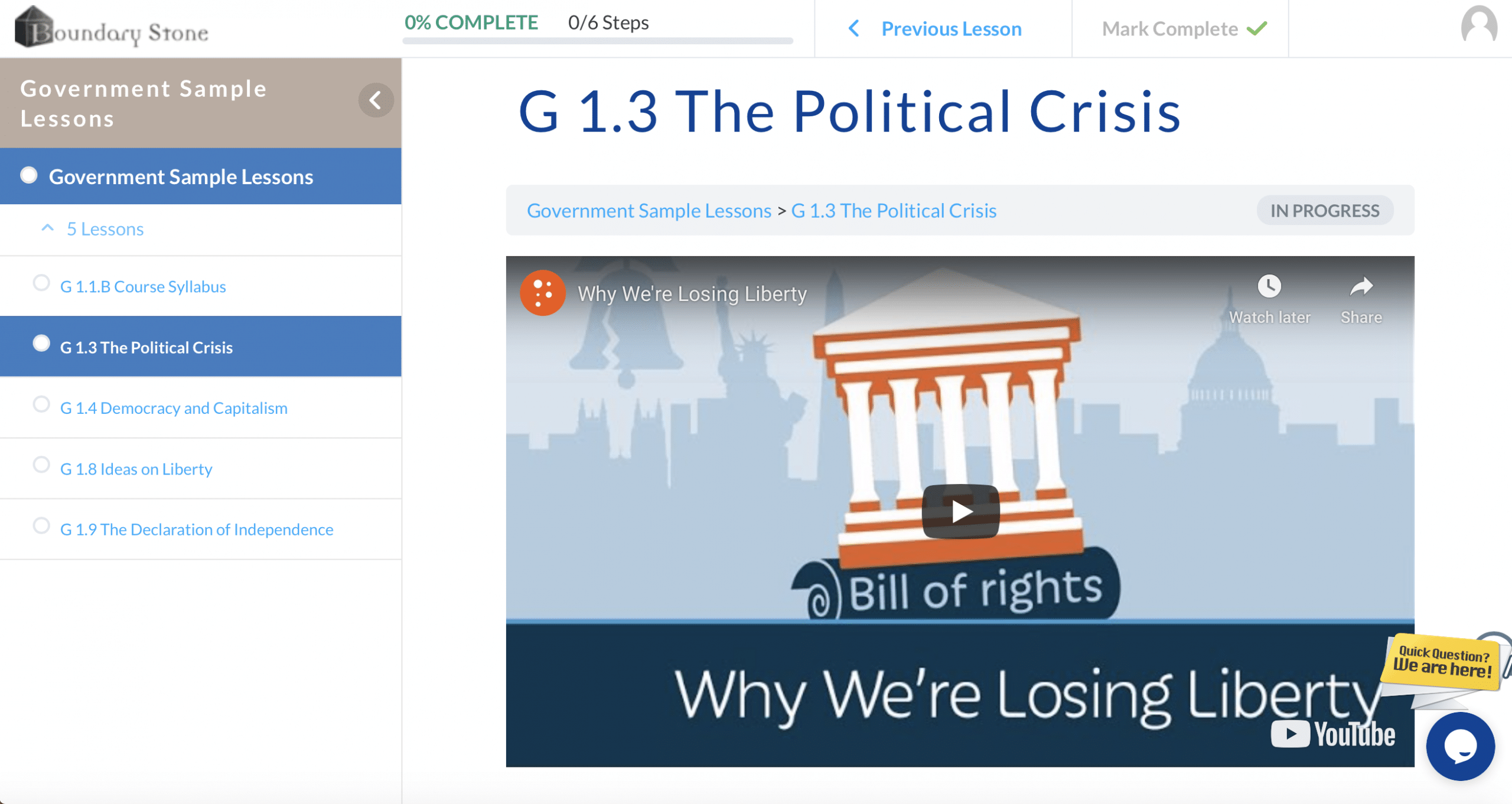 Boundary Stone is also:
a self-paced curriculum – while the company offers a semester outline for 18-20 weeks, the teacher and student decide the pace.  You receive one-year online access. Consider combining government in one semester with Boundary Stone's Economics Course the next semester for one full high school credit.
a time-saver for the homeschool parent! Parents receive a separate login to access the teacher's guide and the dashboard. This is a place to see how your student is moving through the course. Grading, assignments still due and more are included. All is neatly organized to access and print reports.
While I plan to use this American Government course at home, Boundary Stone offers a multi-print license for homeschool co-ops — very handy!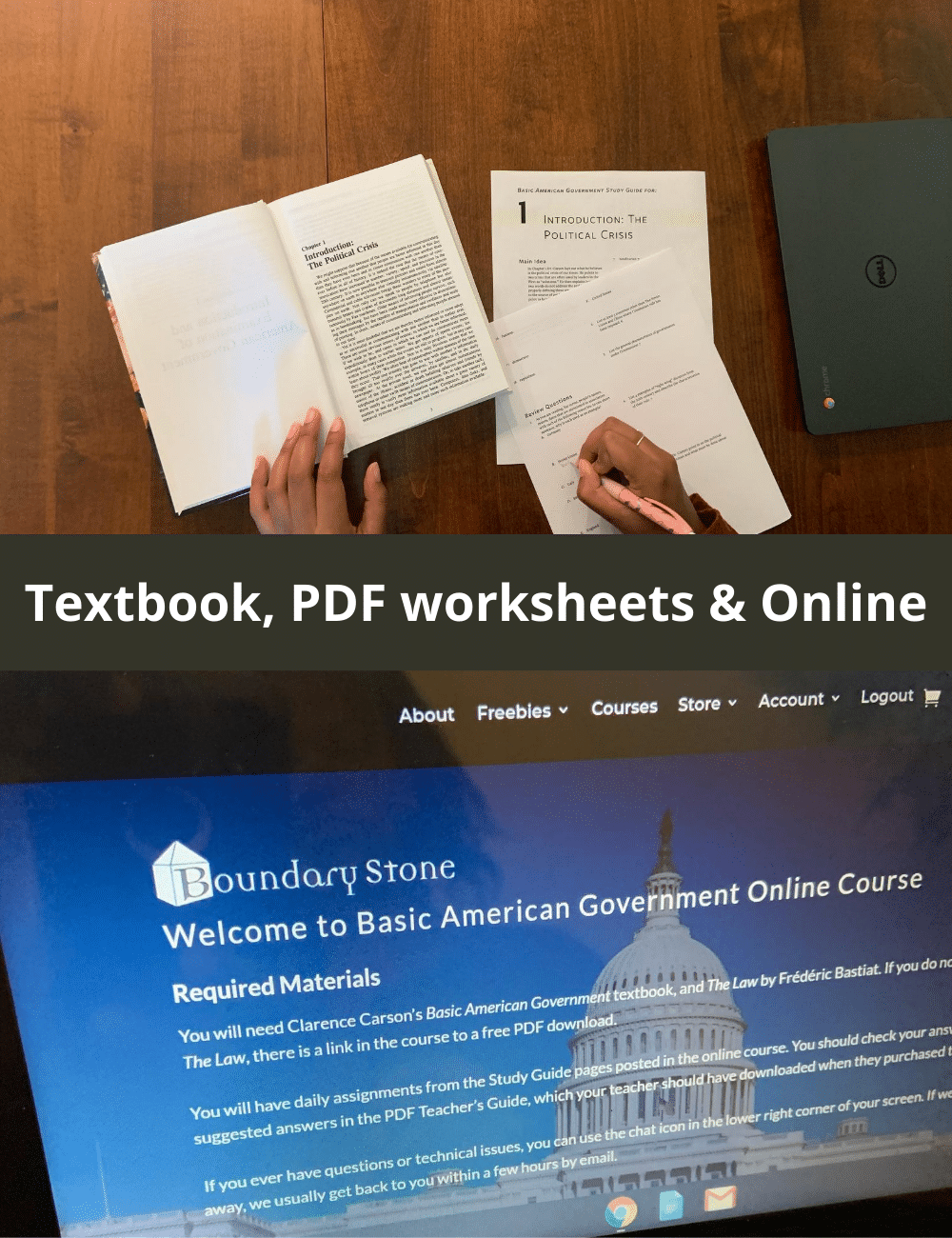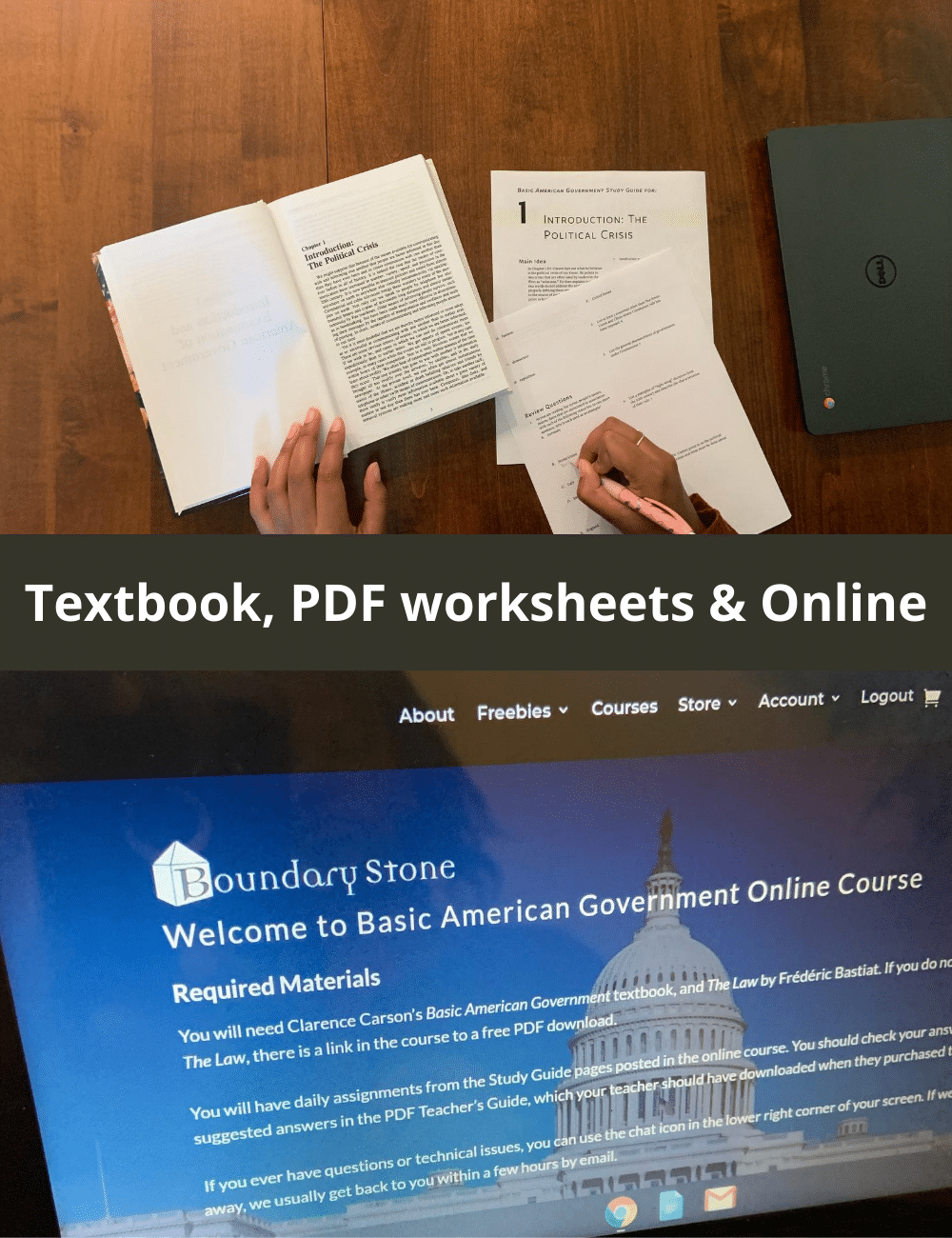 Other Notes on Boundary Stone Government
When speaking of government heritage, Boundary Stone includes Judeo-Christian background. I found this more educational. There were no real attempts to change anyone's mind.
I also find the curriculum cost-effective. Options to receive it with or without the textbook are available, so be sure to check out the purchasing plans.
As an extra bonus, use the discount code StoneReward2020 by 8/23/2020 for 15% off.
As an extra, EXTRA bonus — visit Boundary Stone's freebies page. Things like a free budgeting course are available and much more!
Keep track of any additional freebies or curriculum helps by signing up for the company's newsletter.
Giveaway of Boundary Stone American Government Curriculum
Valued at
$265
this set includes everything to complete both courses and earn one high school credit. Bundle shipped to US addresses only and giveaway entries close 8/23/2020.  
Enter HERE
.