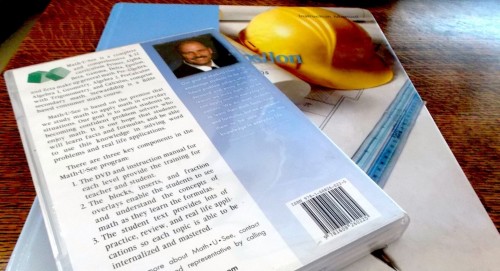 A few years ago, after enduring a handful of math programs that did not work for our home school family, I began teaching from Math-U-See and breathed a sigh of relief.  Thanks to Math-U-See, I became a proficient math instructor and my children started enjoying numbers.  So much that we lived to tell about it . . .
Author and founder, Steve Demme, implements three key components in his program:
Unique instructional videos and manuals for teacher and students
Manipulatives such as blocks and fraction overlays for hands-on learning
Student text with practice, review, and real life applications
Before every new lesson teachers review video and written instruction by Steve Demme.  Mr. Demme's instruction is clear and concise, he utilizes manipulatives for visual learners, explains how math skills apply to real life and incorporates an arsenal of tricks to master difficult concepts.
Students usually watch Mr. Demme's instruction video with their teacher. They are privileged to watch a veteran math teacher who is outstanding at explaining primary to higher level mathematics.  The video, teacher's manual and kinesthetic (hands-on) learning are excellent elements of Math-U-See.  Students master the presented math in about a school week (depending upon the child and the difficulty of the concept), by completing student and online worksheets. Completing the first daily worksheet together helps home schoolers discover confusing steps in the math process. Students progress after mastery with a test or lesson evaluation.
Steve Demme reminds us of how well this learning process works.  He reiterates Confucious's words, "Tell me, I forget. Show me, I understand. Let me do it, I will remember."   He also recommends that students "reteach" the concept and adds, "Let me teach it and I will have achieved mastery!"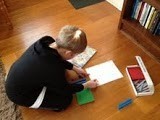 Math-U-See offers a unique approach to teaching math.  Rather than teaching several math concepts in one grade level, Math-U-See requires mastery of one concept (and review of earlier concepts) in thirty lessons. For example, students master fractions in approximately one school year, before they study decimals. Younger children spend a school year mastering addition before they learn to subtract.
Steve's solid background in math education helps parents, like me, who are not naturals at numbers. Now that I am teaching from Math-U-See  I understand concepts I never understood before.  Steve explains why certain numbers and operations are being used. Do you know why 3.14 (pi) is used to measure the area of a circle?   After learning with Math-U-See, I discovered the answer and was excited to explain pi to my children.
My third grade son is learning how double digit multiplication can help him multiply large orders of items in an occupation someday.  He recommends Math-U-See because "The videos make multiplying clear to me."  My eighth grade student likes Math-U-See because, "The program applies math to real life.  Although we perform drills in Math-U-See we also get to answer story problems that apply to real life and that makes math more interesting."
Everything about Math-U-See is interesting.  It will be our curricula provider from counting to calculus, and everything in between.
Have you seen the wonderful Math Resources from our Curriculum Choice authors?
~written by Julia