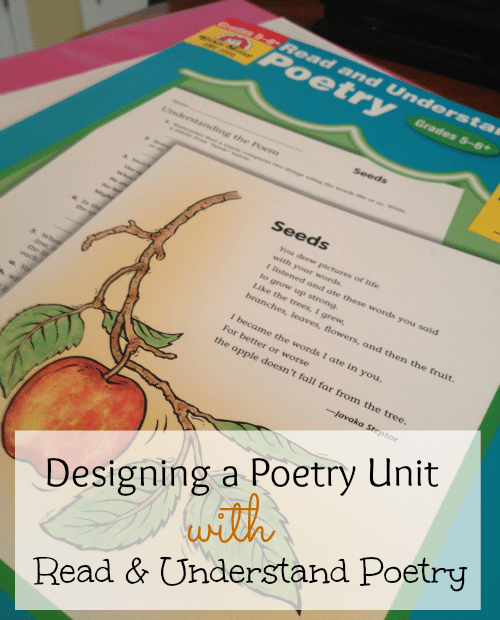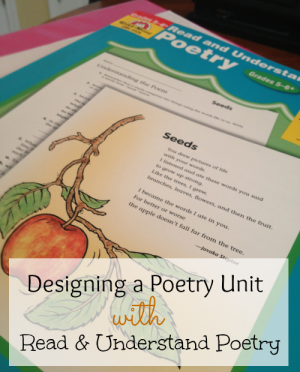 April is National Poetry Month. My sixth grader has been creating a poetry notebook, using Evan-Moor's Read & Understand Poetry as the guide.
Since we don't use very many "workbook" curriculum pieces in our homeschool, we are pulling bits and pieces from this book and creating our own unit. It's working quite well! Using Read & Understand Poetry  as a guide is the perfect way to create a introductory poetry unit (which just might inspire your children to learn further on their own!) for my middle grades child.
About The Book
The book is divided into five large sections, each containing five or six poems, for a total of 27 poems. Sections included are:
Generations and Legacies

Seasons of Life
Outside My Window
War & Peace
Mirth & Magic
A glossary of important poetry terms is included, as well as biographical information on each of the poets included in the book.
With each poem is an explanation, one or two highlighted poetry concepts, and two pages of comprehension exercises. This format allows you to pick and choose the poems you want to use.
My daughter, Anna, looked through the book and chose a poem she wanted to include in her notebook. "Youth, I Adore Thee" by Shakespeare was her selection.
The pages in Read & Understand Poetry are perforated and tear out easily, and all we have to do is three hole punch and insert in her notebook.
She read the poem, completed the written exercises. She also copied the poem in her neatest cursive. Best of all, she is including art with each of her poems.
This post contains an affiliate link because I believe in this curriculum. See our disclosure policy for more details.
Using A Simple Start in Chalk Pastels, Anna worked her way through a chalk pastel tutorial of a tree to go along with the poem.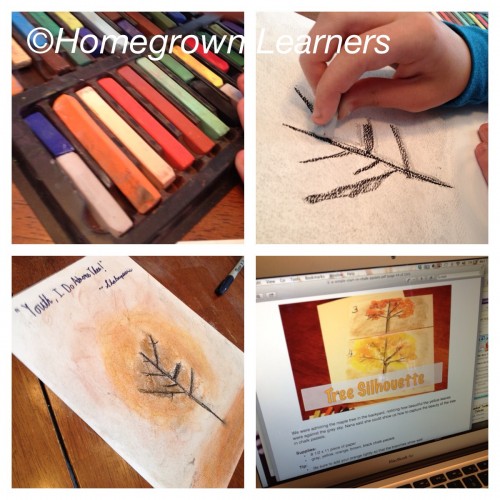 The next week my daughter chose the section with Haiku. She learned all about the structure and history of Haiku, then wrote some of her own and included them in her notebook. We also printed a free Haiku notebooking page  for her study.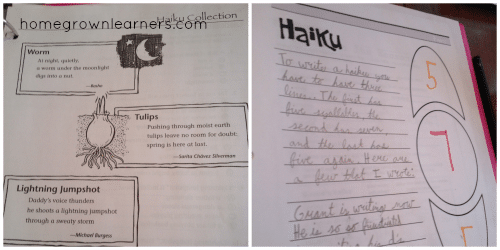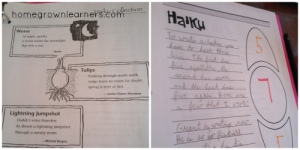 We plan to continue through this book for the rest of the school year, creating activities as we go along. It is the perfect guide for our ongoing poetry unit.
* Read & Understand Poetry (Grades 5-6+) has been a welcome addition to my daughter's middle grades curriculum this year.
~ Written by Mary, of Homegrown Learners