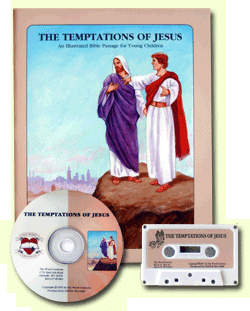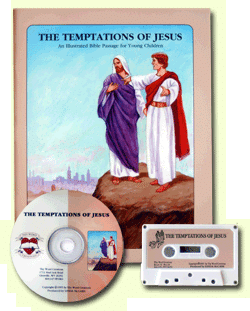 Temptations of Jesus (book and CD)
Softcover, 37 pages
ISBN: 1-879099-08-X
Price: $14.95
Are you looking for a fun, easy way to teach your little ones Scripture? If so, this may be a tool for you! This Bible memorization "system" is geared toward kids ages 3 – 8 and uses the many senses to "get the message across." It uses reading, listening [to the reading and to the music] and playing the music (if you have a method to do so) to help train children scripture. I love this!
The book is large in size (10 x 12) with a heavy cover and pages. Although the pages are black and white, they are not intended to be colored. However they provide ways in the back for coloring without ruining the book (*added bonus*). The book and the CD are identical – meaning you play the CD and follow along in the book. You start with a song (sung by kids), then proceed through the Scriptures one by one (one per page as shown below), closing with the verses sung in a song format. Both songs have the musical notes included so you can play along if you know how. And if you don't, they've included a scale pattern to help.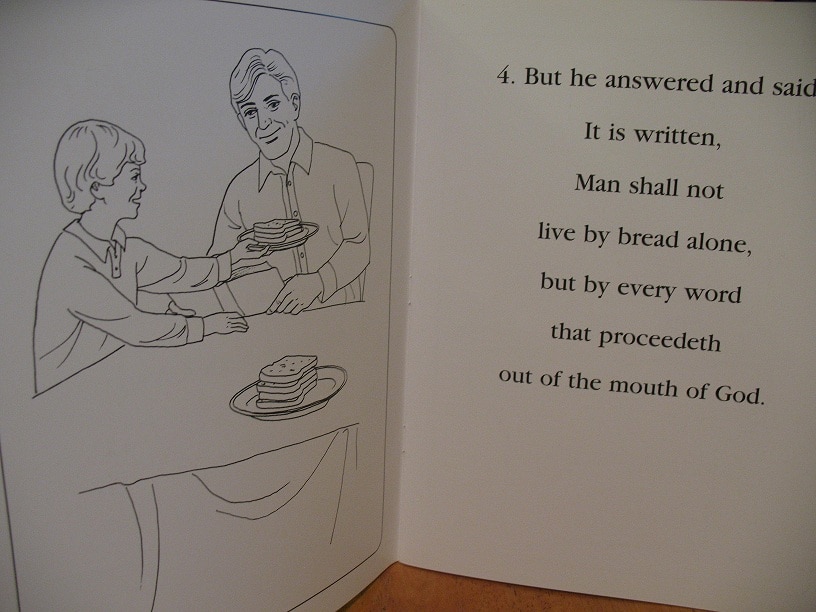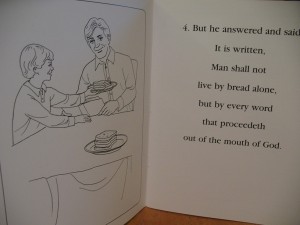 We really love this idea of mixing all the senses together for learning. Our youngest son really loves music so this is right up his alley! So, if you are looking for a way to help your young ones memorize scripture, head over to Thy Word Creations as they have several options available (they even have items for older kids and adults!).
If you would like to hear a sample of the music, click HERE.
This book with tape costs $12.95, with CD costs $14.95.
For more information:
Thy Word Creations
1711 Mud Lick Road
Glenville, WV 26351
800-347-WORD
[email protected]
Have a wonderfully blessed day!

Come visit Dawn over at her blog, Guiding Light Homeschool, on Facebook and on Twitter…friends are ALWAYS welcome!