If you are into seasonal schooling – as I have been our entire homeschooling career – nothing beats being able to download appropriate resources in one click. Enter CurrClick – endless-wonderful-curriculum and live classes at affordable prices and all available in an instant! Does it get any better than that?
Well maybe.  I absolutely love getting new curriculum delivered and un-boxing it all, but CurrClick certainly comes in a close second.
So with this month marking the start of the best season of them all – AUTUMN – I thought I would do a round-up of autumn resources from CurrClick – all available for immediate download and all at prices that will in no way break the bank.
*Don't miss the freebie at the end! Disclaimer: I have not received any of these products for free or in exchange for review. I have purchased each one of them and all opinions are my own. I am a CurrClick affiliate and if you choose to purchase any of these products I will receive a small commission from CurrClick. This does not affect the end price that you will pay. All prices correct at time of writing this article*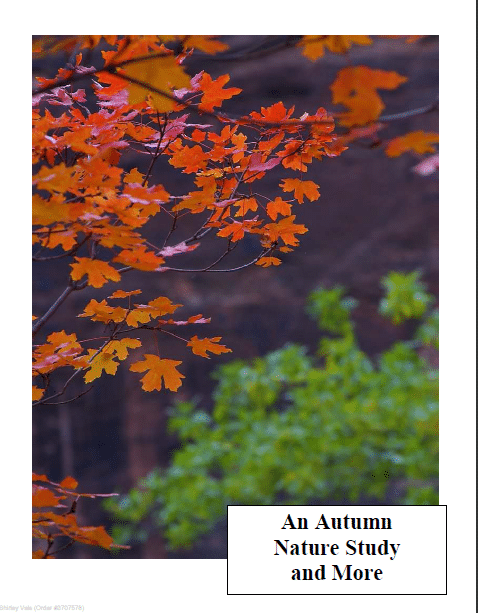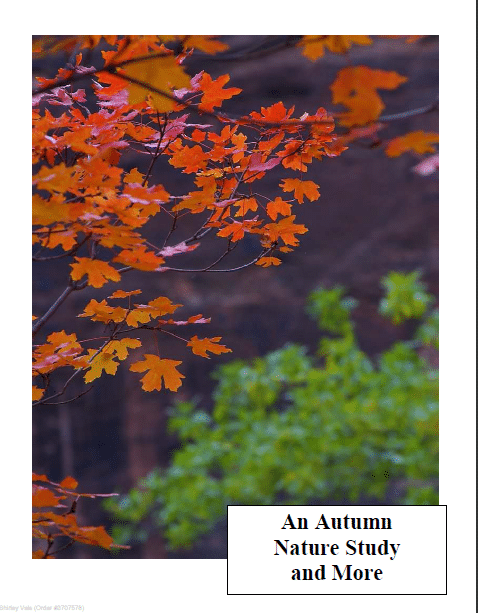 I'll start with something for the older children, Autumn Nature Study And More, This product can be purchased for £4.97.
This is a Charlotte Mason inspired product which allows you to pick and choose you own home school studies for your nature studies and journals. It has a variety of recommended 'Living Books', journal pages, links to recommended activities,quotes and poetry that you can use for copy-work.
At the beginning of the book the authors give you a run down on Charlotte Masons approach to nature study, why she deemed it important and tips on engaging your child in the study, questions you can ask etc.
This book is arranged by month, so in September you will look at leaves, trees and the autumnal equinox. In October you will cover birds and migration and in November you will look at animals preparing for winter, rocks and soil, and parasitic plants.
Being a Charlotte Mason inspired product you could use this children of all ages and just adapt it where necessary.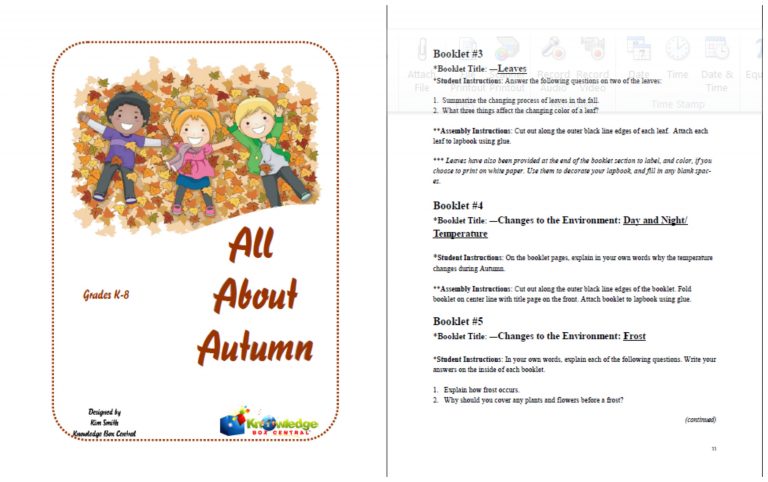 These next resources are great for younger children. First up is a sweet lapbook that your Grade K-4 or 5 will enjoy doing while learning about this beautiful season – All About Autumn Lapbook can be purchased for £3.82. The product says it's suitable from Grade K-8 but I think a Grade 8 student will find it a bit simple.
This sweet little lapbook covers a good range of autumnal topics such as: History of Autumn, Autumn Equinox, Changes to the environment (leaves, temperature, frost and Indian summer), changes in the natural world (insects, animals, migration), Plant life, Autumn harvesting, Composting and Bonfires, Preserving & Pickling, Notable Days, Autumn Vocabulary, Fall planting, Autumn sports and so much more. There are coloring pages, and fun facts and a lovely teachers guide to help you along in your autumnal themed studies. A really lovely product!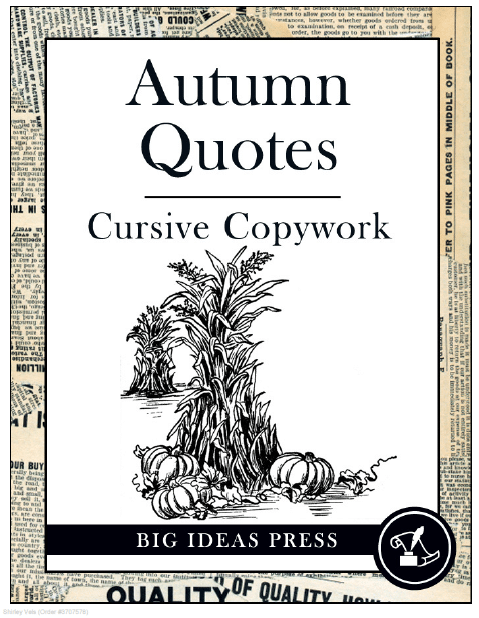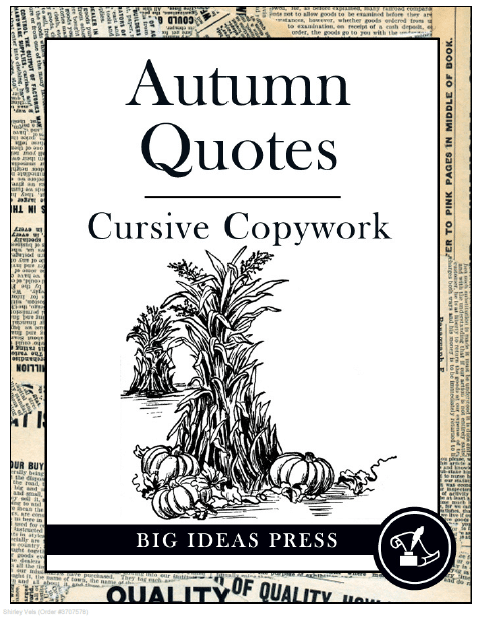 If you include copy-work in your homeschooling as we did when my girls were younger, Autumn Quotes Cursive Copy-work Notebook would be perfect for the season. You can use the quotes in this book for copy-work, narration or dictation and can purchase it for £2.29. There is a print version available too if you haven't quite reached cursive stage.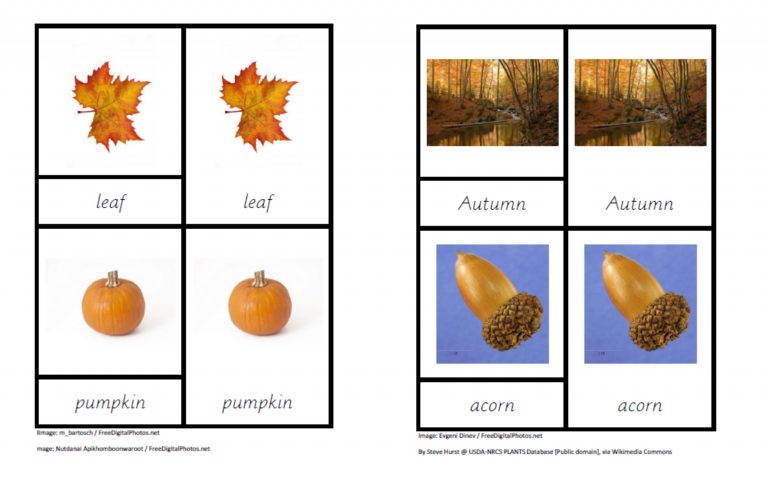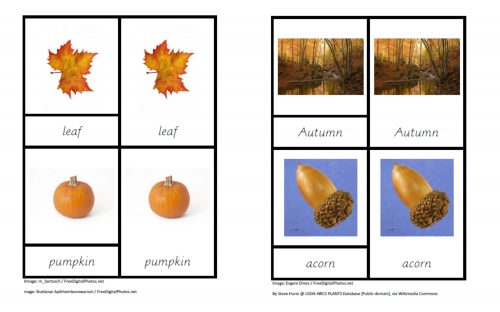 I have even found a cute little Montessori-inspired resource for those who are just learning to read. Check out these Autumn Matching Cards that you can download and print on cardstock. These cards are a fab idea to pop into work-boxes or to use with lapbooks. Included are nomenclature cards for 40 autumn vocabulary words. These cards can be purchased for £1.34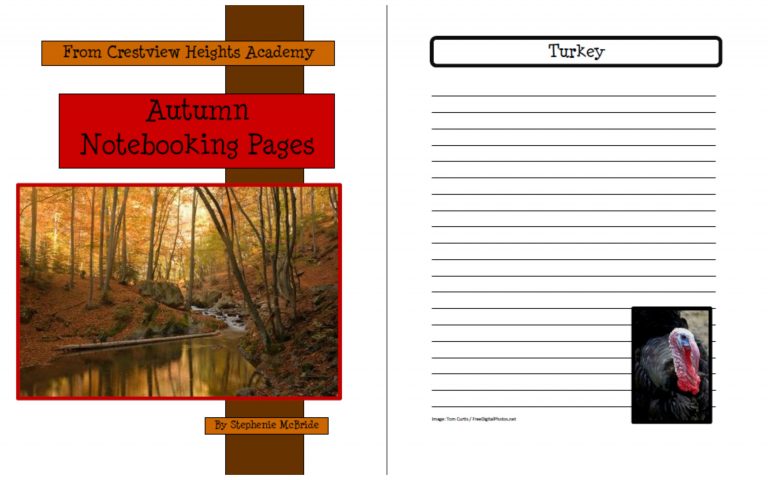 And finally – a
*

FREEBIE

*

 If the Autumn Matching Cards are just a bit young for your children you can download – for free – a set of Autumn Themed Notebooking pages.

Be sure to pop over to CurrClick and browse through loads more autumn resources for your homeschool.
Save
Save
Save
Save