Sponsored Post: Author has received a We Choose Virtues Homeschool Kit in return for an honest review at The Curriculum Choice as part of a sponsorship package. Affiliate links appear in this post.
I am very excited to share with you a review of an excellent product from my Titus 2:1 Conference personal sponsor, We Choose Virtues!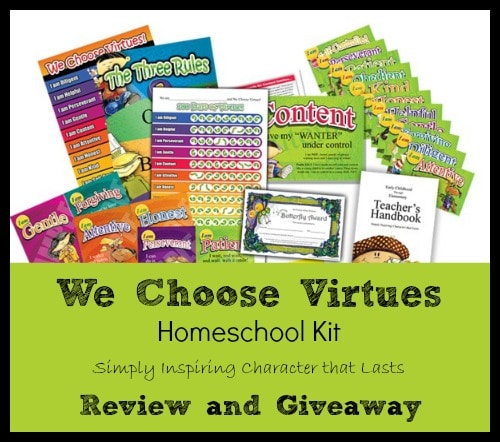 We Choose Virtues is a company dedicated to creating beautiful and fun tools for parents and teachers; empowering them to not only teach, but inspire their children and students to live a virtue-filled life.
Character training is hard work, but We Choose Virtues believes that it can be fun, too!
We Choose Virtues has given our family a common language to use when disciplining. This has been the greatest gift and feature of the program for our family.
How We Use the We Choose Virtues Homeschool Kit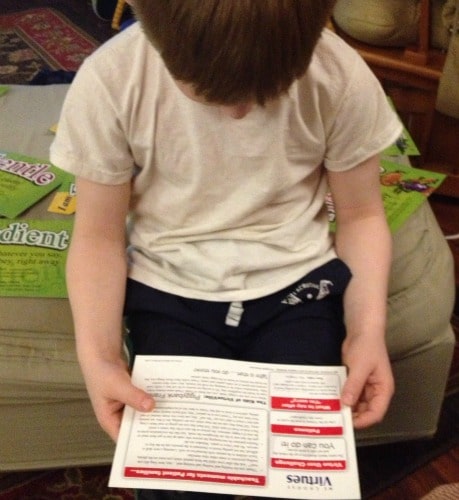 We have been focusing on 1 virtue per week. Every morning we sit down with the Parenting Cards and read through the Virtue, the catch phrase, the "I am not" antonyms,  and the bible verse*. We read the story about the Kid of Virtueville that represents our selected virtue and talk about real ways we can live out that virtue throughout the day.
Then, for example,  if Billy starts to act a little wild, all I have to say is "self-control!" or "Oboe Joe!" and he is able to recite the virtue catchphrase and understand what behavior I expect him to correct at that moment.
We Choose Virtues helps me, too! Instead of getting frustrated with Billy when I need to correct his behavior, I remember to take a breath and calmly use the We Choose Virtues language to address those moments.
The Homeschool Kit is packed with colorful, fun products to use as you teach the virtues to your children and remind them to display those virtues throughout the day.
In addition to the Parenting Cards, the We Choose Virtues Homeschool Kit includes a  "100 Days of Virtues" poster. At the beginning we chose a "prize" that Billy would earn (in our case, a trip to Dave & Busters) and each day a virtue has been successfully practiced, we add a butterfly sticker to the poster!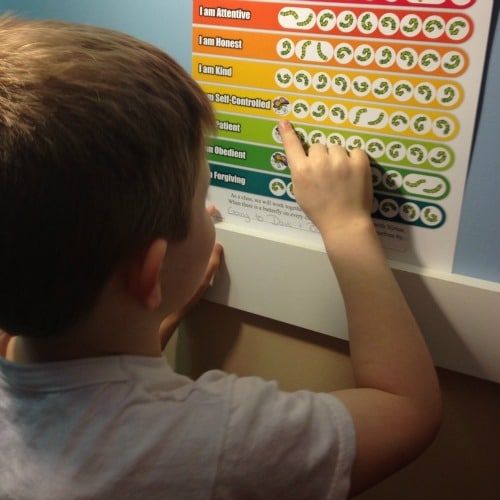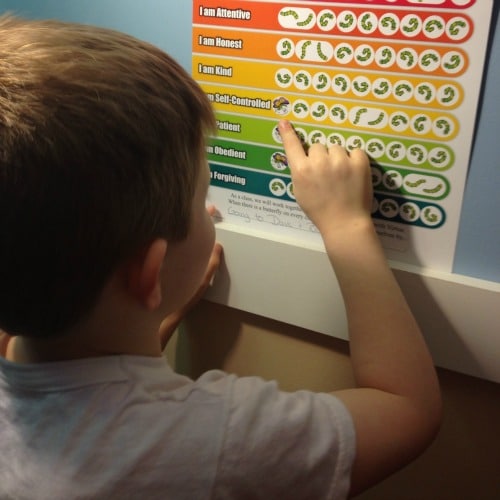 I can also use the Virtue User Review notepad as a written acknowledgement of what went well and what virtue needs work on any particular day.
We have the Kids of Virtueville Mini Posters and 3 Rules Poster hanging up in our playroom as an easy reference for reminders to practice our virtues throughout the day
The Teachers Handbook also has some fun activity ideas that can make practicing virtues just seem like playing games!
There are so many more great resources included in the Homeschool Kit that I could write another whole post about it!
The We Choose Virtues Homeschool Kit contains…
Reusable tools:
Parenting Cards (Teacher cards for families!)
Virtue Flash Cards for families
Kids Virtue Poster
Three Rules Poster
Kids of VirtueVille MINI Posters

Consumable tools:
100 Days of Virtue Chart and Butterfly Stickers
25ct pad Virtue User Reviews

Downloadable/reproducible PDF tools:
Teacher's Handbook (no need to print this handbook. Just read and save for easy reference)
Butterfly Awards
Family Character Assessment
Kids of VirtueVille Coloring Pages

*The Homeschool Kit is available in the NIV and now the King James versions and is also available in a secular/public school version which does not include the scripture.
Discount Code
The We Choose Virtues Homeschool Kit is regularly $98.99 (still an amazing price for all of these wonderful resources!) – but through the month of April We Choose Virtues has extended the sale on this awesome  kit!
Use promo code HOME20 to receive 20% off the Homeschool Kit! This sale makes now the best time of the year to buy (except black Friday)!
Click Here to head over to the We Choose Virtues shop and check the Homeschool Kit our for yourself!
 Be sure to visit and 'like' We Choose Virtues on Facebook to keep up with the latest!
Enter to Win!
Enter using the Rafflecopter widget below to Win a set of Parenting Cards ($34.99 value!) from We Choose Virtues!
a Rafflecopter giveaway