Research in Increments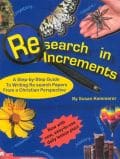 by Susan Kemmerer is a wonderful tool for your students who are learning to write a research paper.  Written directly to the student, the lessons lead your child through a step-by-step process of:
choosing a research topic
narrowing down the topic's direction
using index cards to keep track of sources and information gathered
creating a bibliography
interviewing people
including graphics
creating an outline
adding endnotes and footnotes
and more!
Ms. Kemmerer also teaches your student how to use creative writing skills to make the research paper interesting by teaching such things as hooking the reader and adding finishing touches.  In fact, she stresses to both the parents and student that a good research paper really must include not only the research skills, but creative writing as well.
I love how the book can be used in various ways.  You can choose to simply read through the 17 steps and apply them as you please.  Or you can go through each lesson in order and allow your child to actually write notes and rough drafts in the spaces provided in the book.  Or you can even choose to follow the provided lesson plan guide – this will take 63 days, but your child should come to the end with a masterpiece!
For those children who tend to draw a blank when it comes to writing, the author has included a large list of research topics to choose from.  She also does a great job guiding the ideas during each step of writing the paper.
My 8th grade daughter had never written a "real" research report before.  (Mostly because I was dreading it.)  This was a painless (okay, as painless as a research paper can possibly be) method to teach her the process, and it will be a great resource for her when the next paper rolls around.  I chose not to allow her to write in the book, so that I can use the guide with my two sons eventually.
Great resource!
-Cindy West in an eclectically Charlotte Mason homeschooling mom of three in Central KY.  You can find her blogging at Our Journey Westward and find her NaturExplorers curricula at Shining Dawn Books.  Research in Increments was given to her in exchange for her honest review.