One day, while doing phonics with my first grader, I realized that we needed a break from our regular curriculum – for both of us. My daughter understood the concepts in her phonics book but was just becoming tired of it. I wanted reading to be enjoyable and hands on! I searched our local teacher's bookstore. I found a book that worked for us: Scholastic's Reading Success Mini Books – Word Families.
This book turned reading into fun by helping my daughter make her own Word Family Mini Books. Now, I could have developed this activity myself but I liked the way this book made the whole thing easier for me and fun for my daughter! All that is needed to make the Mini Books is a pair of scissors, some crayons and felt pens, if desired. There are 20 Word family Mini Books to make in all.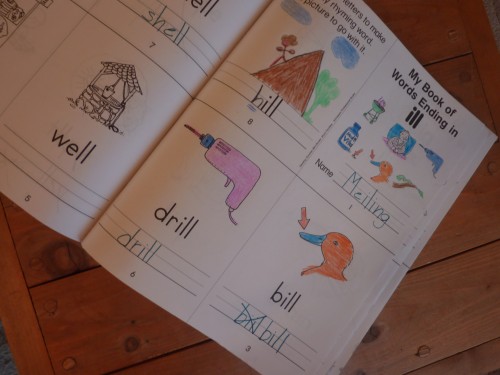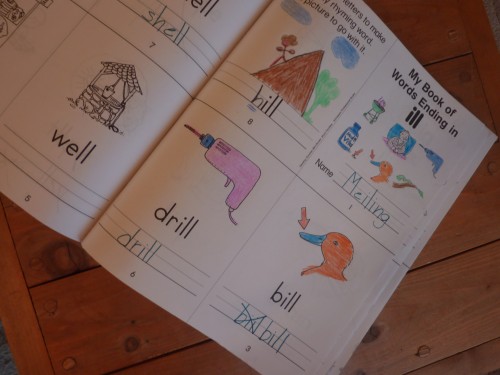 Benefits:
Builds your child's reading vocabulary through learning word families.
Includes all the pages that you need to make 20 Interactive Mini-Books to read aloud, color and collect.
Each book features the same sounding word ending, such as ack, ag, am, ape, ing, ink, ug ump, etc, thereby teaching the concepts of word families.
This offers practice in writing and reading word families, with lines to write in.
Includes illustrations of each rhyming word, ideal for students who like to color.
Builds self-confidence through hands-on learning.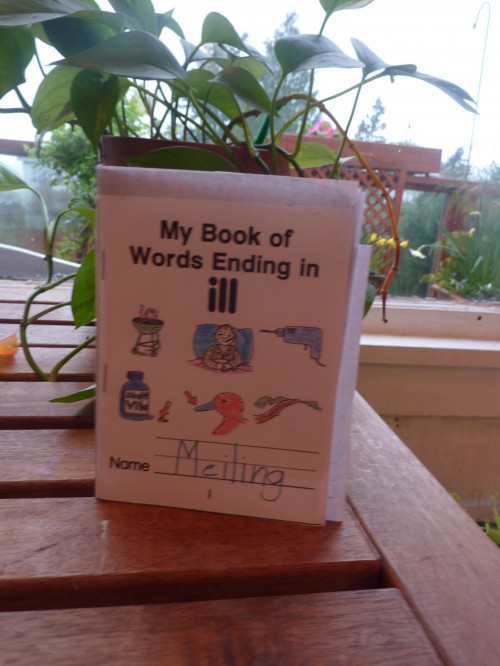 My daughter not only enjoyed making her mini books, but also loved sharing them. She prided herself on her writing, and enjoyed reading it out loud all to her family – especially to her dad at dinner!  This gave her a feeling of confidence in the sometimes difficult process of learning to read. And being the author of the book herself didn't hurt! My favorite experience with this book was when my daughter would read her word family mini books to her dolls! (I think they must have learned a lot too!)
When we returned to our regular phonics curriculum, my daughter had not only gained new vocabulary words but also brought with her new confidence to the whole process of reading!
For more information, please go to www.scholastic.com.
If you are looking for a nice, hands on break from the usual, I recommend Word Families – Reading Success Mini-Books for any of your early readers.
Look for more reviews of other Scholastic books for young learners by this author.
Betsy is mom to her now college junior, whom she homeschooled from day one. She blogs at BJ's Homeschool, about the early years, high school & college and wrote the book – Homeschooling High School with College in Mind.   She offers free homeschool help through messages at BJ's Consulting.