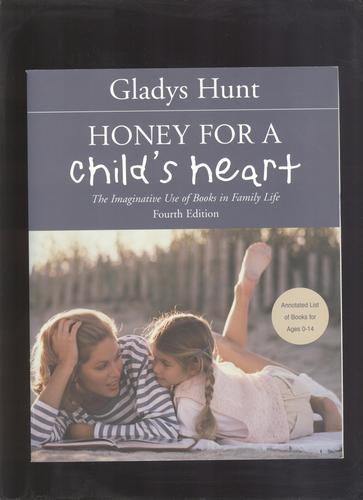 Let's be honest. In the ocean of children's books, there's a whole lot of flotsam and jetsam. Just because a book is popular doesn't mean it's worthwhile. On the flip side, just because a book is decades old doesn't mean it's a classic. Parents, particularly homeschooling parents, need someone whom they can trust to help them guide their children toward high-quality literature.
A superb resource that has directed me for years is Honey for a Child's Heart: The Imaginative Use of Books in Family Life, by Gladys Hunt. Familiar to many homeschooling families, this excellent book makes a strong case for a life of literature. Hunt writes:
"Children and books go together in a special way. I can't imagine any pleasure greater than bringing to the uncluttered, supple mind of a child the delight of knowing the many rich things God has given us to enjoy. Parents have this wonderful privilege, and books are their keenest tools."
Honey for a Child's Heart is divided into two parts. The first part, "Using Books to Help Children Grow," offers many good discussions and much food for thought. Hunt underscores the extreme importance of reading and offers suggestions on how to foster a literary atmosphere in our homes. She challenges us to consider who or what we allow to influence our children. Moreover, Hunt discusses aspects of good literature and how to discern the quality of books our children read.
Part two, "Best-Loved Books for Children," is an annotated book list for children up to age 14. Hunt divides the lists into groups such as classic picture books, books for beginning readers, classic children's novels, historical novels, and animal lovers' books, among others. She also offers a chapter on poetry.
Hunt's writing style is rich and vivid, and her love for literature is reflected in every chapter. Moreover, I appreciate her Christian perspective, her awe of God as Creator of all things lovely, her expansive tastes, and her cautious stance on wholesale censorship. Every time I pick up this book to read, I find myself nodding in agreement with her. Yellow highlighter glows on so many pages of my copy!
Books are a powerful medium, engaging our imaginations, emotions, spirits, and understanding. As informed parents, we want to guide our children through the murky waters of children's literature and help them select worthwhile books instead of twaddle. With Honey for a Child's Heart in hand, you'll be better equipped to help your children make the best literary decisions.
Ellen stays busy home educating two middle-grade daughters, chasing two corgis, managing the family's busy household, reading as much as she can, and writing about life at Bluestocking Belle.