I was delighted when I found Oak Meadow First Grade. It is full of hands on activities, beautiful art, and lots of resources. The Oak Meadow introduction spoke of developing the whole child: head, hands and heart.
~ I received product samples in exchange for an honest, independent review of this curriculum I love and have used in my homeschool. Please see our full disclosure policy. ~
We found Oak Meadow (OM) Curriculum early on in our homeschooling. When my daughter was six, she loved to work with her hands. She was always following me around, eager to help with chores and imitate my ways. She loved making things out of cardboard and tons of tape! So when I looked for a first grade curriculum, I wanted one that was very hands on.
The Complete Oak Meadow First Grade Curriculum includes the following:
1. Oak Meadow Syllabus – This includes the language arts, science, math, crafts lessons, resources and how tos.
2. First Grade Fairy Tales – with both new and retold traditional fairy tales.
3. Readers – including Oak Meadow Word Families Reader, and Levels 1 and 2 readers from the "I Can Read" series.
4. Recorder and OM Recorder Book – with very simple songs to play.
5. Oak Meadow Song Book – with CD.
I liked how Oak Meadow First Grade was so rich in art. It was included in almost every subject. For math, little hand drawn gnomes were used to teach concepts. Beautiful drawings in the shape of each letter used for the ABCs. This approach gave my daughter a nice, gentle introduction to elementary academics! And with the Main Lesson Books, (see explanation below), we had a beautiful collection of her first grade work at the end of the year!
The Oak Meadow First Grade Syllabus is the teacher's manual, lesson plans, and core curriculum all rolled into one. With 36 weekly lesson plans all laid out for me, I was ready to go. Each lesson includes the following:
1. Circle Time – verses to say, movements to do
2. Language Arts – lit, handwriting, simple phonics
3. Exercise – movements to do
4. Math – math concepts re: adding, subtracting, etc, counting to 100, skip counting, story problems
5. Science – lots of animal, plant and nature topics, with a nature study focus
6. Social Studies – time concepts, calendar making
7. Crafts – knitting, clay, etc.
I found the lesson plans to be easy to follow with everything I needed, all in one place. The lesson plans followed a nice routine that my daughter and I enjoyed. They were also easy to adapt to my daughter's interests, attention span, etc. We started each day with a circle time.
Oak Meadow First Grade CIRCLE TIME
The syllabus included a lot of ideas for circle time. My daughter enjoyed the fingerplays the most. Fingerplays were found in the back of the syllabus, along with many songs and poetry. Here was one of our favorite verses from our circle time:
I can turn myself and turn myself,
or curl up when I will.
I can stand on tiptoe high,
or hold myself quite still.
Circle time helped my daughter to settle and get ready for her studies. After finishing, we usually did our language arts.
Oak Meadow First Grade LANGUAGE ARTS (LA)
Each lesson centers around a read aloud using the OM Fairy Tale book. Read alouds included new and retold classic fairy tales. We often enjoyed them at bedtime. The next morning we would spend time drawing and narrating the story from the night before – great for reading comprehension! LA also included simple phonics work and a study of word families, using the OM Word Families book. Later in the year, we added in Explode the Code, to extend her phonics knowledge.
Oak Meadow First Grade Handwriting
First Grade covered both upper and lower cases. There were creative and special drawings for each letter. My daughter loved these! For example, for the letter B a bear is drawn into the the letter, the head forming the top curve, and the bear's tummy the lower part! All the ABCs had drawings like this, and they made writing practice more fun!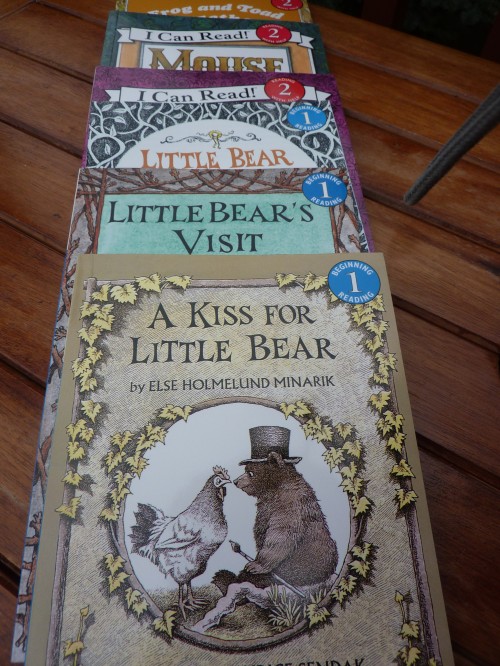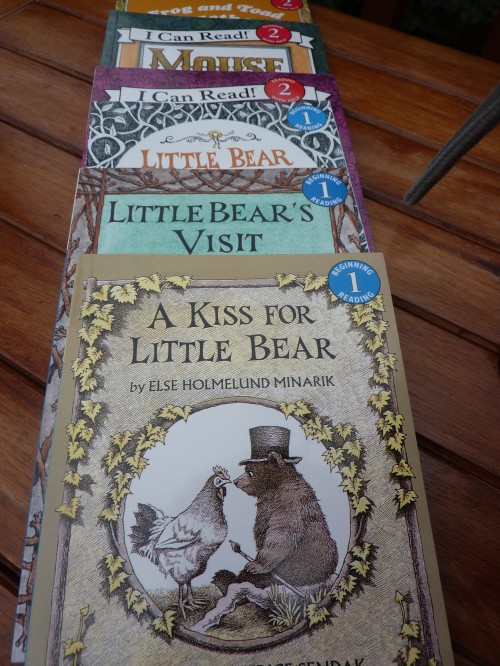 Oak Meadow First Grade READING
There are seven readers in the package, including both Level 1 – beginning reading, and Level 2 – reading with help. The illustrations were precious. Readers included Little Bear books and my daughter's favorite, Frog and Toad are Friends, which we read over and over. We also added library books to the mix.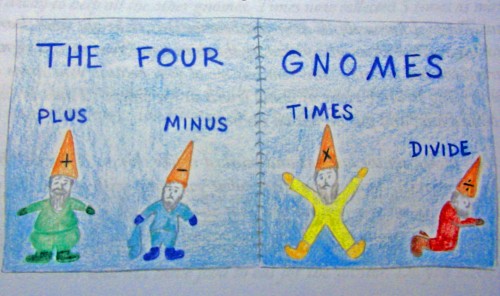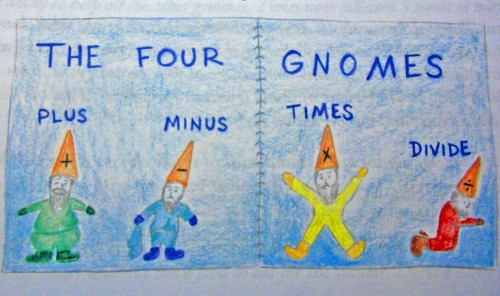 Oak Meadow First Grade MATH
Oak Meadow First Grade math focused on the four processes – adding, subtracting, multiplying, and dividing. No, they are not doing long division in first grade! Instead, the focus was on learning beginning math concepts, along with a study of numbers, and lots of story problems. All of this was done using the four cute math gnomes, as above.
There was a gnome for each process, adding, subtracting, etc. For example, the Plus Gnome (see above) was a fat little one who liked to fill all of his pockets with treasures. That's addition! Then for subtraction – see how sad the Minus gnome looks? That's because he has lost something through the holes in his pockets! Each gnome was shaped according to its function. I loved using these gnomes to introduce these math concepts to my daughter. It helped my daughter to love her math lessons! They were so fun to draw and to use in story problem drawings in the lessons.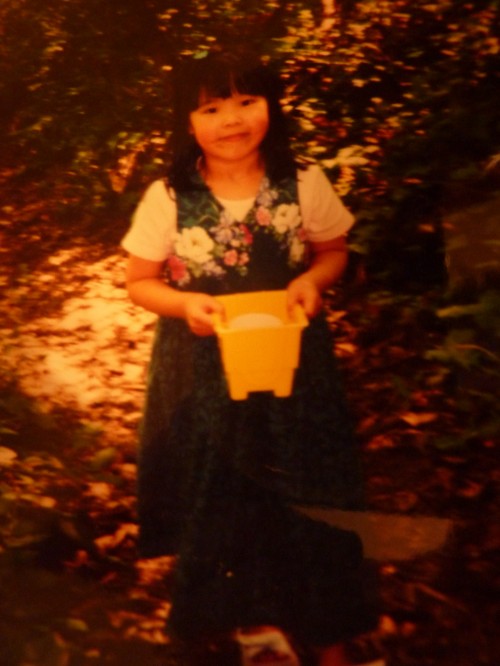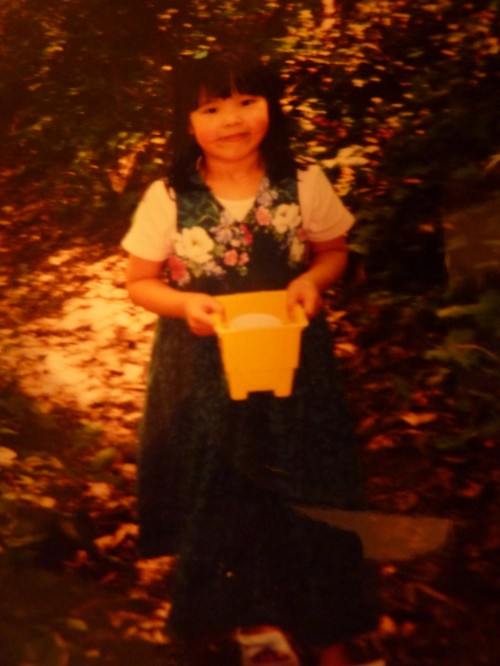 Oak Meadow First Grade SCIENCE
Oak Meadow Science was all about looking at and exploring the natural world, with an emphasis on developing observation skills. Topics included the seasons, plants, animal tracking, birds, animals, local weather patterns, etc. By the end of the year, my daughter felt like a real backyard scientist! Watching cloud patterns, planting seeds, studying a plant's growth, etc were all a part of our science lessons. Learning the phases of the moon, and staying up late to do so, was also very popular! This intro to elementary science helped my daughter to develop a love of nature. And later, a love of science, which helped her in her later high school science studies.
Oak Meadow First Grade ART AND CRAFTS
Art was interwoven in everything in Oak Meadow First Grade! They also focused on many hands on crafts, clay work, science projects, and finger knitting. This program is very project oriented in all of its subjects, which made our first grade year so full of fun! But, as my daughter had trouble with her finger knitting, we enjoyed simple hand sewing instead. We made clothes for her dolls, fixed hems in her doll dresses, and later made a pillow full of her favorite colors! I loved our time spent together sewing, great for this age of imitation! Sewing and doing crafts also helped my daughter to develop her attention span and small motor coordination.
Oak Meadow First Grade MAIN LESSON BOOKS
A Main Lesson Book is just a nice, large tablet full of thickish drawing paper with a thin tracing paper between each. This helped to project the child's delicate drawings! I purchased mine from www.oakmeadow.com and put all of my daughter's drawings and work in there for the year. What a nice keepsake for us! My daughter enjoyed sharing these with her dad. We ended up using three.
Oak Meadow First Grade In Summary
Oak Meadow- First Grade gave a structure to our learning and a rhythm to our days! It's calm, gentle style helped my busy first grader to focus and learn to love learning. For larger families, Oak Meadow could be used as a spine for the core subjects, and then science and social studies can be done as a family, such as by supplementing with unit studies.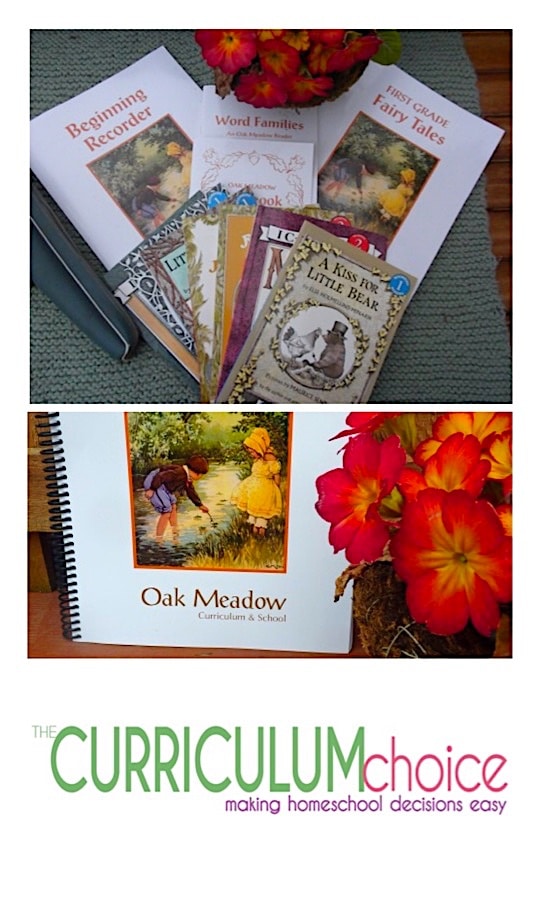 How to Find Oak Meadow
If you are looking for a creative, project based curriculum for your younger ones, my family recommends Oak Meadow – First Grade. It can be purchased as a complete curriculum, or as individual books. For more information, please go to www.oakmeadow.com, where you will see homeschool curriculum for K – 12.
Oak Meadow Curriculum Sale!
Oak Meadow usually has a curriculum sale going on during the month of May! They also offer a facebook group, just called Oak Meadow, which serves as a connection among those families using Oak Meadow. You can also find Oak Meadow on Pinterest.
~Betsy received product samples in exchange for an honest independent review.  Betsy is mom to her now college senior, whom she homeschooled from day one.  She blogs at BJ's Homeschool, about the early years, high school & college and wrote the book – Homeschooling High School with College in Mind.   She offers FREE homeschool help through messages at BJ's Consulting. 
-originally published May 2013