This review is Part 2.  If you haven't already read my review of Primary Arts of Language: Reading, please do so before continuing with this post.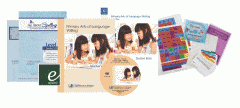 Primary Arts of Language: Writing by Jill Pike of Excellence in Writing is the companion program to Primary Arts of Language: Reading.  While the reading program focuses on early phonics and reading skills, the writing program focuses on printing, beginning story writing, copy work and spelling.  Using the two programs combined gives you a complete and thorough language arts curriculum for the K-2nd grade student.
Primary Arts of Language: Writing is divided into three parts.
Part 1 introduces your child to printing using correct letter formation and story summaries.  Handwriting is taught in a variety of ways, most importantly through modeling by the parent.  (A DVD-ROM comes with the program which teaches you precisely how to teach your child.)  Letter stories are introduced to your child at the same time they are learning to write the letters to reinforce sounds the letters make.  After handwriting practice, your child gets to listen to simple stories and learn the fundamentals of comprehension through sequencing, and understanding characters, settings, plots and more.
Part 2 builds on handwriting fundamentals through copy work and begins spelling lessons using the very popular All About Spelling , Level 1.  (You can read my previous review of All About Spelling here.)  During copy work times, you will also discuss such things as punctuation and capitals.
Part 3 assumes that handwriting is now automatic, spelling is going well and story charting (characters, setting, etc.) is no problem.  If this is the case, your child will move into beginning composition.  These 16 final lessons are meant to ease your child into the basic units of the Institute for Excellence in Writing's Teaching Writing: Structure and Style methods.  Your child will learn to take notes, summarize from the notes, create a story sequence and write creative stories.
You can certainly choose to move more slowly than the material suggests!  I am using Primary Arts of Language: Reading with my K4 at a slow pace.  My little guy is only ready for some of the handwriting lessons, so that's all I plan to complete this year.  I'll probably wait to use the remaining parts of the book until first grade, because I know he won't be ready for copy work and composition until at least then.
Besides the daily lesson plans, the teacher's guide also includes a scope and sequence of writing skills covered, several printable posters, charts and templates, and additional tips for teaching writing.  You also receive a DVD-ROM with video instruction on how to teach the lessons, audio seminars from writing teachers and the all-important printable student pages.
Just as the reading program, Primary Arts of Language: Writing is a fantastic program!  The only warning I might give…the reading and writing programs are meant to be used together.  My feeling is that the reading program can be started much earlier than the writing program.  I would be very weary about starting the writing program with a child younger than 1st grade, while the reading program can easily be started as early as K4.
-Cindy West is an eclectically Charlotte Mason mom of a high schooler, middle schooler and K4.  You can find her blogging and writing creative homeschooling curriculum at Our Journey Westward.
(Cindy was given a free copy of this curriculum for review upon her request.  There are affiliate links included. As always, she shares only her honest opinion.)