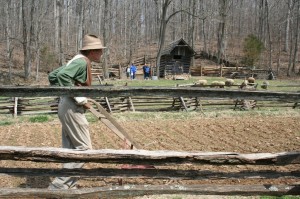 It's a well-known fact that we learn best by immersion.  When we're studying a foreign language, it's recommended that at some point, we fully immerse ourselves into the language and culture to learn and absorb more.  But, when it's time to study history, learning by immersion can be a little tricky.  We don't always have the resources (or, time!) to re-create a version of the past to immerse ourselves in and most history textbooks leave much to be desired.
So, what's a family to do?
Recreating the past has just gotten easier with Hands and Hearts.  When I stumbled across Hands and Hearts History Kits, I was sold after reading what came in the kits.  Each kit is jam-packed with everything you'd need to do projects from the past as well as a CD with printable instructions and background history – making learning so much fun!
For example, the Early American History Kit included everything I needed for the following activities:
(as stated on the website…)
Dip candles: This kit contains 100% pure beeswax and natural wicking.  Your child is sure to enjoy creating his own hand-dipped candles, then eating or studying by candlelight.

Craft an apple pomander:  After reading about the importance of fragrant herbs in early America, your child will enjoy creating a spicy-smelling apple pomander.

Make and play the Bowl Game:  The Bowl Game was a favorite game for many Indian tribes, and it was a favorite for our testers as well!.  Your child will paint the wooden playing pieces, then enjoy playing the game with others.  Comprehensive math tie-in projects are included.

Prepare and drink black brick tea:  Think you know about the Boston Tea Party?  Think again!  We don't want to ruin the surprise, but you may never look at tea the same way after trying a cup of this brew!

Create a talking feather:  No, this feather isn't going to start chatting with you.  A talking feather was a decorated ceremonial feather used by Indians during gatherings.  Only the person holding the feather was allowed to talk.  Your child will be delighted to create his own talking feather using an imitation eagle feather, real buffalo bone beads, genuine rabbit fur, leather, artificial sinew, and more.  You will be delighted with the lessons he will learn about social graces!

Stitch a lavender sachet:  Your child be so proud of making this fragrant and beautiful sachet made with lovely dried lavender and attractive calico fabric.  The time spent stitching it will give him or her a glimpse of the work that went into creating clothing and linens long ago.

String a bone cross necklace:  This amazing necklace is made from a hand-carved bone cross and authentic glass tile beads.

Decorate and play a bamboo flute:  This simple toy was enjoyed by many children long ago, and your child will enjoy decorating his own bamboo flute with leather and genuine glass crow beads.  He will enjoy playing it even more!

Learn about the importance of beads in early American history:  You and your child will be fascinated by our section on beads.  We include a bag of genuine imported lampwork beads, trading and valuing information, and several bead projects from which to choose.

Create a wonderful keepsake notebook:  We include a packet of reproducible notebook pages, information on notebooking, and specific notebooking suggestions.

Learn timeless language lessons: Our copywork section draws from classic sources such as The New England Primer, the founding fathers, and more.

Study the geography of early America:  Our Early American History Discovery Kit includes maps from Knowledge Quest, Inc., and comprehensive, easy-to-implement lesson plans co-authored by Terri Johnson of Knowledge Quest, Inc. and Kate Estes of Hands and Hearts.

Hide God's Word in his heart:  Our exclusive Bible Truths Cards will help your child discern important Bible truths drawn from the KJV and the New England Primer.
This kit includes a comprehensive instruction manual containing full background information for every project, and clear step-by-step illustrated instructions.  Everything you need to do all of these projects is right in the box – *you need only to provide an apple and two empty metal cans (like soup cans).  All materials are of the very highest quality and are extremely historically accurate.  Your child won't just be learning about history – he will be living it!
Each kit – whether you want to learn about Ancient Egypt or Ancient Greece and Rome – are full of learning possibilities and everything you would need for the activities.  Most kits are between $39.95 and $69.95, which is well worth it when you consider the contents are provided as are the CDs with instructions and history lessons – and, the gas you didn't have to waste while trying to find similar items.
Bottom Line – Would I Recommend It?
Yes!  It's a great time-saver and packed full of fun ideas.  Of course, you could put your own kits together, but in my opinion – these are reasonably priced and make things a lot easier and faster!
-Written by Ashley.  Find more of Ashley's writings and reflections on motherhood, marriage and life on her blog.