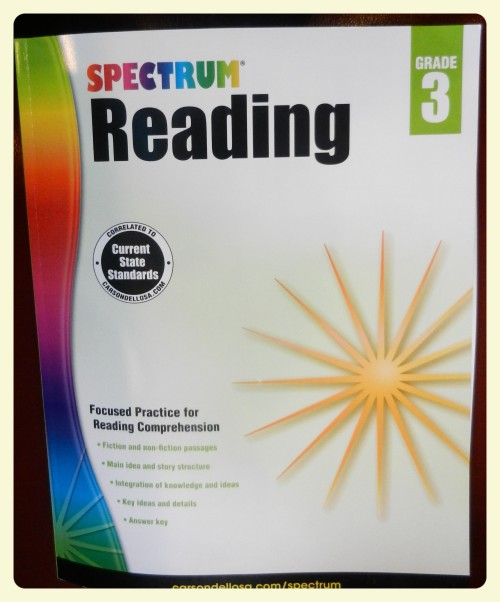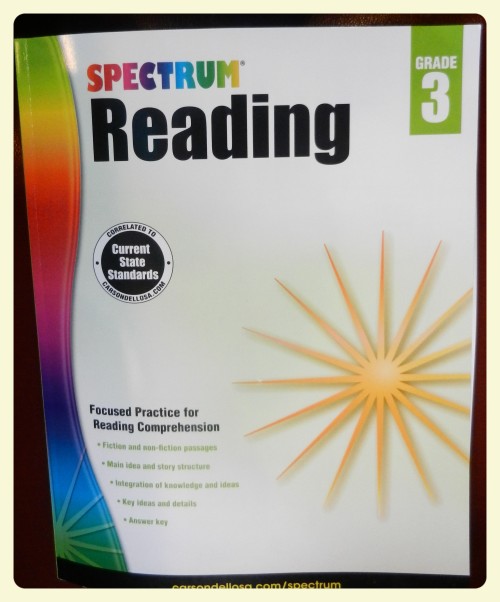 Do you children have trouble remembering what they have read?  Or do they struggle when giving their narrations?  The folks at Spectrum created a book, at the third grade reading level, that addresses just this problem. It is full of child-oriented stories that are fun to read. In fact, there are more than 100 short stories to choose from, with a few nonfiction articles thrown in too.
Spectrum Reading – Grade 3 provides tools for teaching comprehension to your children, without them knowing it!  They think they are just reading fun stories.  This book teaches the following comprehension skills:
 Finding the main idea
 Learning the structure of a story
 Finding key ideas and details
 Learning to sequence the events in the story
These are key skills for future learning success. Comprehension can be difficult for many children to master.  Spectrum Reading 3 provides a variety of helpful questions for each story or article.  For example, in a sweet little story about a sleepover in the backyard, called "One Tent, Lots of Stuff"…..excerpt below: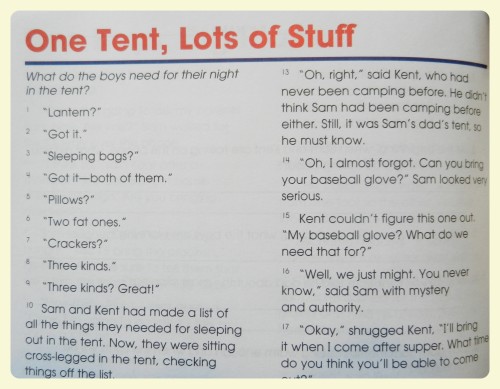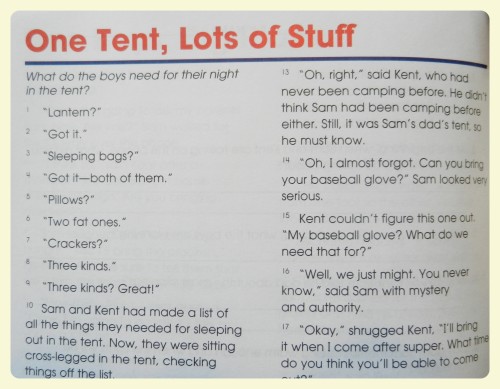 ….the child is asked to find out which boy is the leader in this story.  This encourages the learner to study the story for details, a helpful technique in comprehension.  Each question encourages them to analyze what they have read.
The next story is an article where they learn how to pitch a tent…..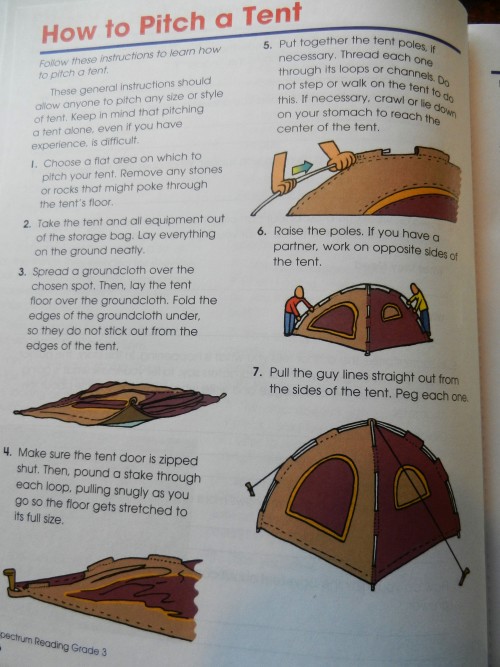 Here the child is asked to recall the steps needed to put up a tent, and put them in order.  See below…..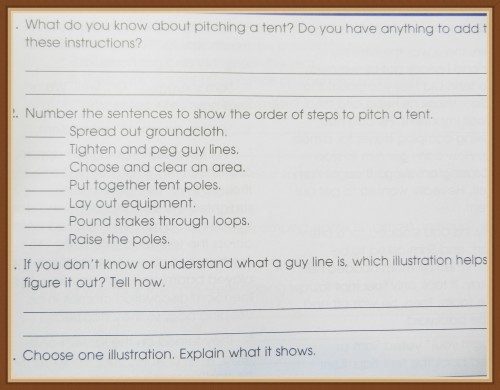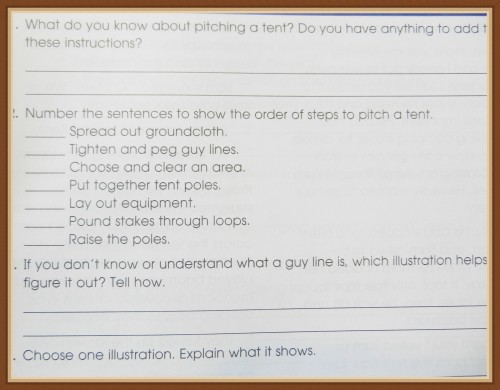 My daughter developed much stronger reading skills after working on comprehension in this book!
I also like how the stories are wholesome and fun, with a wide variety of topics to choose from, including:
Dreaming of the Harvest
History of Soccer
Snakes
At the Shore
Phone Troubles
In the Barn
The Dominican Republic,
and almost 100 more!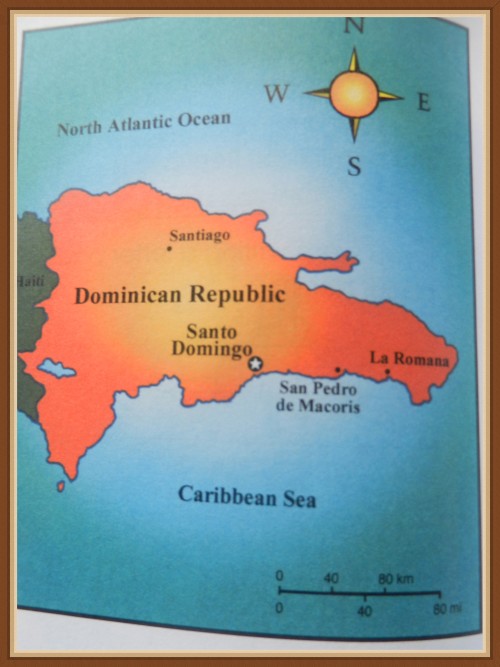 The best  way to use this book, is to hand it to your child and ask them to choose a story. There is no need to go in any particular order.  Then I would ask them to narrate it.
If your child has trouble recalling the parts of the story, the questions can be used as a guide, to help him. I would pick and choose the questions, taking them one at a time, picking the ones that YOUR child needs.  These question are ideal for 1 on 1 discussions with you.  At 3rd grade, I wouldn't ask them to just complete the questions by themselves.  But that could be done, if appropriate, or with other learners.
These stories are great for reading alouds at lunch, for sharing on "Show and Tell" day at co-op, or for working on during a rainy day.  They can also be turned into a family quiz game, with points made for answering each question.  Great for pizza night!
With this book –Spectrum Reading – Grade 3, developing comprehension skills is fun!  And comprehension is so important for our kids to develop as they grow.  For more information or to order this frugal resource, please go to carsondellosa.com/spectrum.
Betsy blogs at BJ's Homeschool about high school and college and all the fun of homeschooling the early years too.  As a veteran homeschooler and the mom of a college student and homeschool grad, Betsy also offers free help to homeschool families,   She is the author of Homeschooling High School with College in Mind.