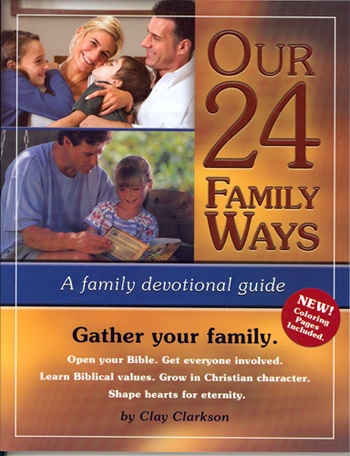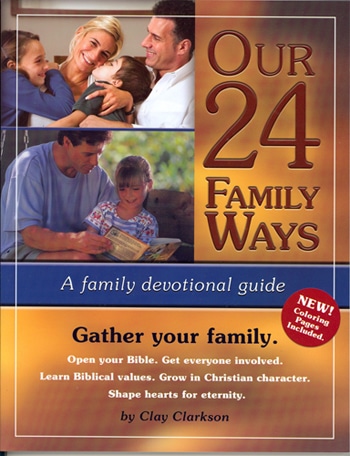 This wonderful family devotional guide by Clay Clarkson teaches character in five lessons a week for 24 weeks.
The layout is simple – each day your family follows the "ARTS" system to learn that particular trait:
Ask A Question
Read The Bible
Talk About It and
Speak To God
Each weekly character quality also has a commentary, definition and a modern day application. Your family will also memorize a Scripture weekly with three different translations given right in the book for you to choose from: NIV, NASB and NKJV.
Something we have just discovered in our homeschool is that our children listen better and retain more, when they are coloring or drawing while listening to me read to them. This updated devotional also has coloring pages in the back, which you may copy for your family's use.
This was written for family devotional time, led by the father but would also be perfect for homeschool Bible time. We do a morning and evening Bible time, one during school first thing in the morning and then one in the evening with dad.
Mr. Clarkson encourages you and your family to make any changes needed to make the devotional fit you and your needs: switch a Scripture, choose a different question, make the lesson work for you. The most important thing is to be in the Bible. Teach your children to love the Bible – and that you love it too.
I can't believe I have gone so long without finding this fabulous devotional! It is really what we had been looking for. A curriculum that is not full of someone else's opinion but one that keeps you searching in God's word while  giving you the tools to succeed in the most important area we can teach our children.
The only other resource you will need is a Bible for each family member. Plus a desire to grow closer to God yourself and as a family.
You can purchase your own copy of Our 24 Family Ways, at the Whole Heart Ministries website for $15.95 By following this link, you can also see each of the 24 Family Ways that you will be learning.
This is a must-have tool for any Christian home. I don't have any cons for you. I am so happy to have found it!
I was given a copy of this devotional for review purposes. All opinions are my own.