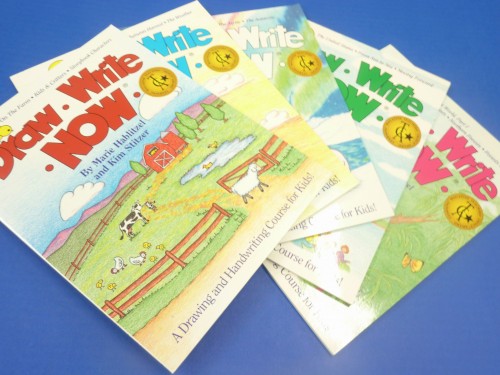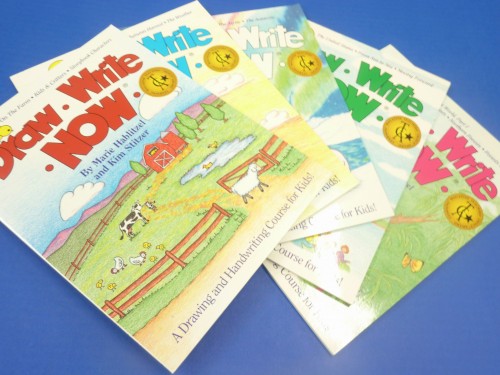 Note – This post may included affiliate links to products that we love and have used or would use in our  own homeschool. Please see my disclosure policy.
Draw Write Now handwriting and art program helped my daughter develop her printing skills and have fun while doing it! The series consists of eight books, each with a different theme and all written at the same level. You can start with any of the eight books. I took my daughter to the nearby children's book store and she chose Book 1 – On the Farm, Kids, Critters. It was full of her favorite animals to draw!
When we opened the book together, we saw that each lesson included a shape or animal to draw and a short story to copy. Each story included facts about the animal or shape, such as "Rabbits eat plants" or "Ducks have webbed feet." My second grader enjoyed copying down these new facts, and of course, drawing her new animal!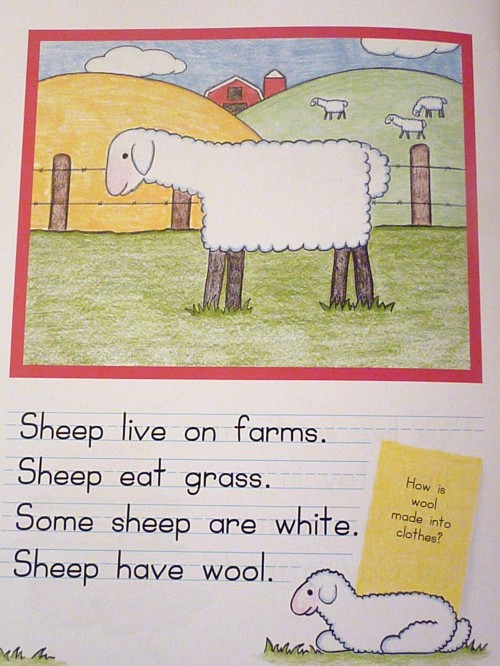 My daughter's favorites were the sheep and penguin.
Benefits:
This program is built on success! Each animal or shape is explained in step-by-step drawings.
Explanations are very easy to follow.
While drawing, my daughter was developing her fine motor skills! We placed special drawings into frames and, of course, posted on the frig!
Draw,Write Now was a good fit for my daughter because she knew how to form each letter but needed a lot of practice in her printing.
Drawing also helped my daughter practice following a sequence – which improved her reading skills!
Skill building: As we worked through three of these books, my daughter developed better control of her pencil. Then while copying the sentences, she began to think up her own stories! Soon she was writing down these stories and illustrating them. The following year, she wrote a story about a toucan and illustrated it for a story contest.
Draw Write Now is aimed at the first or second grade level.
Although we chose from the animal books, Draw Write Now also offers a number of science and social studies topics.
Each of the eight books has 64 pages and is non-consumable.
Draw, Write, Now also offers lined paper, books to draw in, pencil grips and grasp positioning guides and more on their site.
Below are the eight Draw, Write Now titles:
Book 1  On Farm, Kids, Critters
Book 2 Columbus, Autumn Harvest, Weather
Book 3 North America, Native Americans, Pilgrims
Book 4 Polar Regions, Arctic, Antarctic
Book 5 U.S, From Sea to Sea
Book 6 Animal Habitats, Land, Ponds, Ocean
Book 7 Animals of the World, Part 1, Tropical
Book 8 Animals, part 2, Savannas, Grasslands
In summary, I would recommend Draw, Write, Now to families with young children who know how to form letters – and want to improve printing skills in a fun and creative way!
For more information, please visit the Draw Write Now on Amazon or Draw Write Now site You might also like Shannon's review of Draw, Write, Now.

Betsy's most important role  is mom to her college student whom she homeschooled from day one.  She blogs at BJ's Homeschool about the early years, high school and college, and is the author of Homeschooling High School with College in Mind..  She offers free homeschool help through messages at BJ's Consulting.