[youtube=http://www.youtube.com/watch?v=y2CULd2qqR4&feature=player_embedded]
Some are already dressed for the day. Two at the kitchen table lean over cereal bowls. I carefully place the laptop on the counter, away from anything that could spill and out of reach of little hands.
I click over to Daily Audio Bible for Kids. This resource we first learned about from Ann Voskamp's Everyday Learning Links: How to Feed a Brain Every Day. I find the online recording for today and announce I'm about to click it. I turn the laptop towards the table and turn the volume up as far as it goes.
China or Max read to us a passage from the Bible. Children themselves, reading to my children. I turn and quietly begin to unload the dishwasher, trying not to clang dishes so everyone can hear.
That's the picture of the Daily Audio Bible listening from our house. On a regular sort of morning. The movie at top, DAB in 2 minutes, explains the how and the why of this resource. Even how easy it is to listen to podcasts wherever you are. You don't have to be unloading the dishwasher. We've even clicked over to listen during lunch or right before bedtime.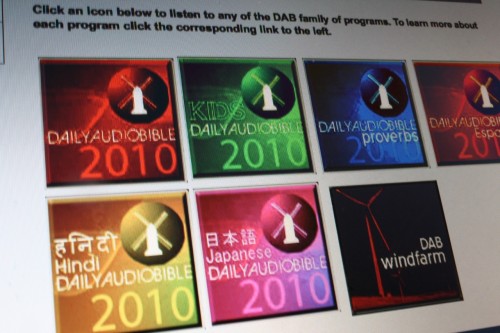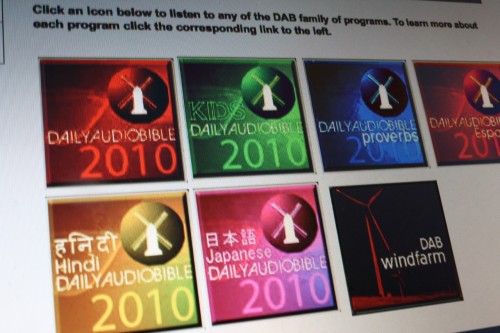 But this year it is even easier. Not only is the Daily Audio Bible is a free podcast available online, it is also available for:
iPhone or iPad in the iTunes store for .99
Android in the Android Marketplace for .99
You can get the new app by searching for DAILY AUDIO BIBLE at iTunes or in the Android Marketplace. Or click over for more details on the Daily Audio Bible site.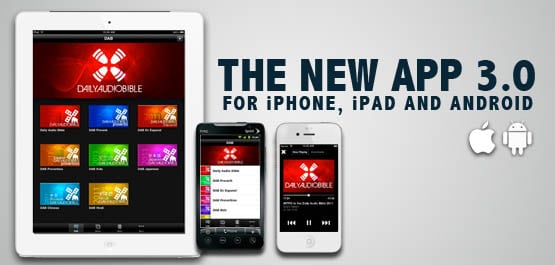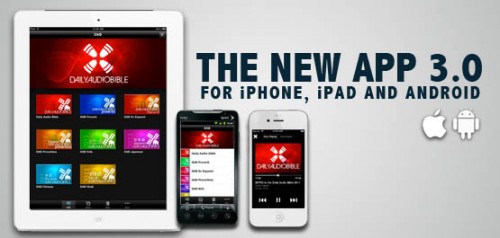 We can listen to it in the car. We click it on my phone while we wait for sister during her piano lesson. We can turn it on while we do an art project.
Generally, we listen together to the Daily Audio Bible for Kids. But there are many versions available to fit every need. And now it's even easier to read or listen to the Bible in a year.
Wherever we are. Whenever.

~Tricia faces a daily dose of chaos homeschooling five children. She contributes a blend of writing at parenting, frugal living and homeschool sites as well as her own daily Hodgepodge.