Just as every homeschool is unique in the curriculum they use or the educational methods they follow, every homeschool is also unique in determining where their homeschool students study and learn. Do you have a dedicated space in your home for learning, or are you like many homeschool families we know and have learning materials all over the house? Today the authors of Curriculum Choice are excited to give you a peek inside their homes to offer organizational ideas for your homeschool space!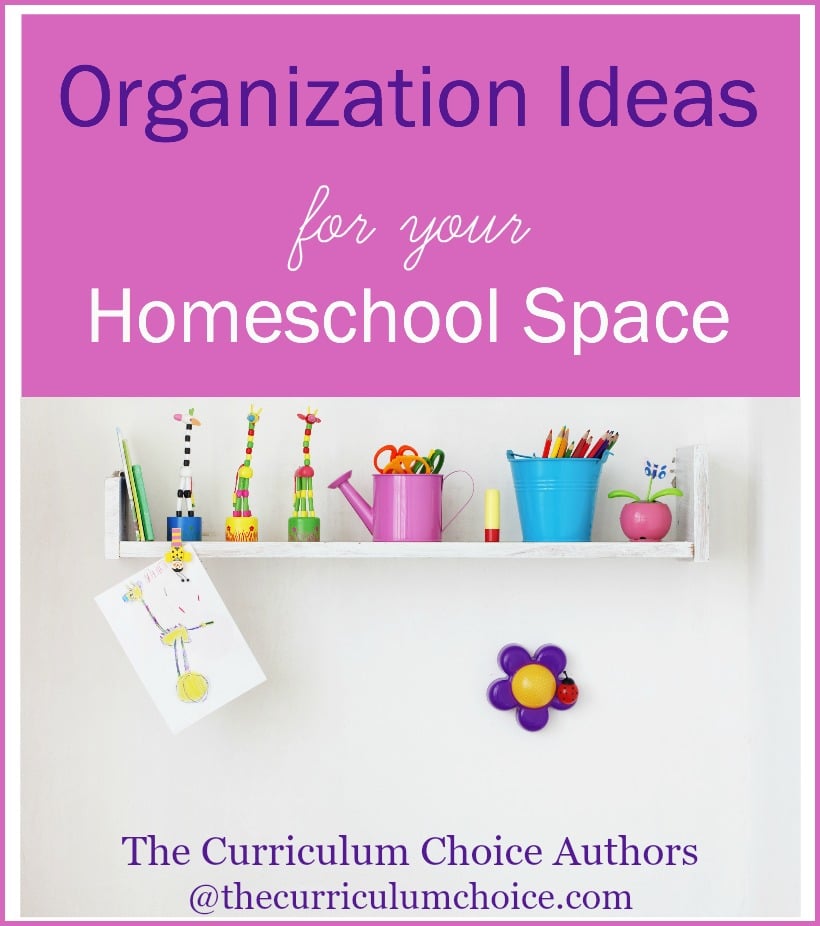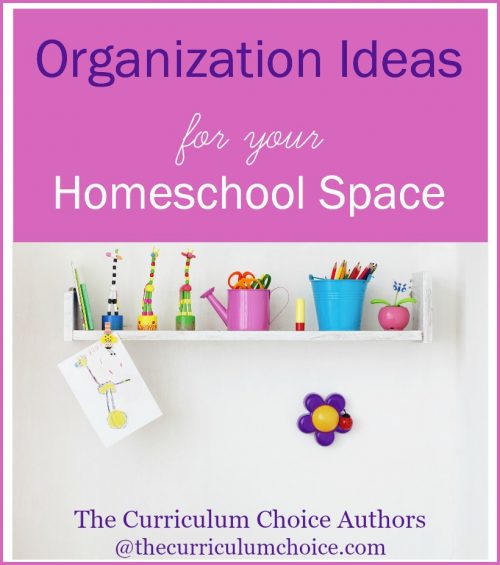 Many families use a kitchen table for group work, while others have a dedicated room with tables and educational supplies.  Some students have a desk in their room, while others are happy to use a comfy chair or sofa as a quiet reading spot.  A few families I know even consider their car to be a learning space.
Homeschooling includes a variety of resources – books, art supplies, paper, pencils, materials for science projects, musical instruments, computers, and the list goes on and on.
We know that everyone's spaces and organizational needs are different so hopefully these tips will give you some ideas you can use as you prepare for a new homeschool year.
From The Curriculum Choice Archives
At The Curriculum Choice we have shared many resources for homeschool organization. Be sure to browse the tabs above to find reviews for homeschool organization.  You might also enjoy these that we've selected from our archives.
Keeping an Ordered Homeschool – Homeschool moms share reviews, hints, tips and tricks about how they keep their days ordered as they move along.
Wrapping up a Homeschool Year – Storage Ideas & Graduation – Lots of great ideas  for storing the remnants of your homeschool year, as well as planning for graduation.
Homeschool Rooms – One of our most popular posts – The Curriculum Choice authors share our homeschool rooms.
Organization Ideas for Your Homeschool Space From Curriculum Choice Authors
The Curriculum Choice authors have active blogs where they regularly offer ideas and experiences about their homeschool adventures. Below are their organization ideas for your homeschool space.
BETSY @ BJ's Homeschool
Our Homeschool Room – for High School – "In high school, my teen wanted to create her own space to work in.  We combined a small chest of drawers with a wooden table that we already had, to make a desk.  Then we went to Goodwill, together…."
Where our Homeschooling Happens  – Our homeschool space, through the years, has been ever-changing and evolving…Here's how we set things up for the elementary years, with a reading corner, and more…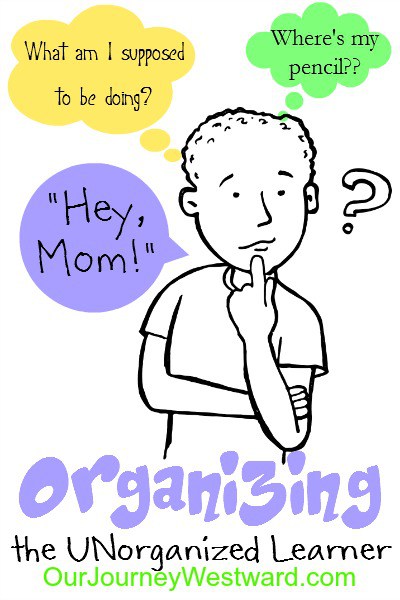 From Cindy at Our Journey Westward
Two of my three children were not born with the organization gene.  That's awfully hard on a momma who loves to be organized!  I decided to come up with some very simple, very-easy-for-my-boys-to-keep-up-with organization tools after way too many years of hearing, "Mom, do you know where my math book is???"  The ideas seems almost too simple, but they've made a huge difference in our homeschool days!  Organizing the Unorganized Learner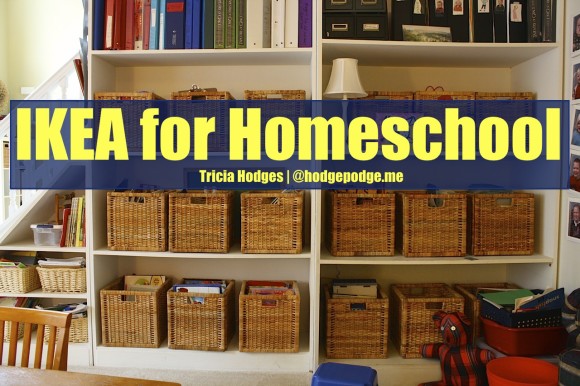 From Tricia at Hodgepodge
In our homeschool with five children, we have to have practical organization. That is why we have homeschool learning centers because homeschooling happens all over the house! IKEA is inexpensive and practical. Plus those baskets cut down on the visual clutter of papers and stacks. We looked at what was bothering us most and tackled certain areas one at a time. IKEA for Homeschool – Organization Galore!
Even more (chalkboard desk, maps for window treatments, displaying school books on the mantel, boys and girls rooms  – plus organization for high school and for a kinesthetic learner) in my Hodgepodge Homeschool Makeover series.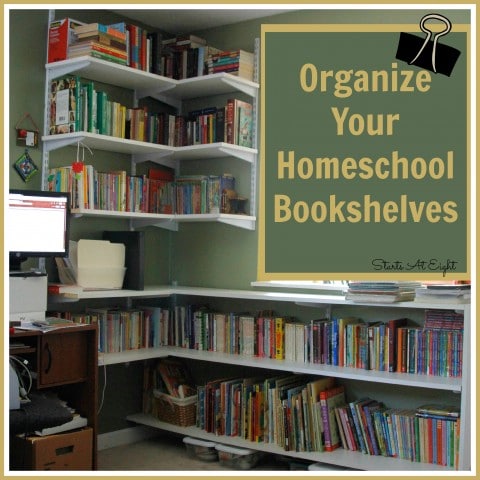 From Heidi at Starts At Eight
I am a book nut. I love to frequent garage sales, library books sales, thrift stores, etc. in search of great books for our collection. With so many books I need a great space to organize them! Here you can see both our Homeschool Room as well as how we Organize Our Homeschool Bookshelves.
The Curriculum Choice Review Team Features
Have you enjoyed this special post from our review authors? Our Curriculum Choice review team features a topic monthly. You can see all that our authors have shared on electives, math, curriculum choices and more under Review Team Features.
~ originally published July 2016, hosted by Susan Williams  
Save
Save
Save
Save