Since I have a struggling reader, I am always looking for tools to assist her achieve  Ooka Island is not intended for struggling readers solely.  It is a computer game designed to teach early literacy skills.  The visual and fun way Ooka Island uses can appeal to preschool through Kindergarteners.  It even appeals to my struggling reader.  Her confidence grows in the area due to her achievements on Ooka Island.
Here is the breakdown:
Product: Ooka Island Adventure
Format: Downloadable Computer Game
Ages: 3 to 7
Focus: Literacy, Phonics
Use: Supplement to any reading program, extra practice, fun and learning game
Rating: 5 out of 5 golden pencils
What is Ooka Island?
Learning early literacy skills was never so much fun!  The game teaches phonics and letter/sound recognition. A friendly robot named Zobot guides your child in a mission on Ooka Island.  Your child will visit the Cave of Sounds, Alphabet Mountain, Bubbly Troubly and more!  Once your child visits Popcorn Mountain she will get the chance to read books.
What did I love?
An approach to teaching literacy that breaks the code of reading.
It may be fun but it does teach foundations that a child will use in reading development.
Each game centers on a skill that builds upon another skill until your child begins to read.
Build confidence in young readers.
The staff is quick to respond to customers and easy to work with.
My 6 year old asks to play daily alongside her 3 year old sister and both are learning at respective rates.
Improvement in my daughter's literacy skills.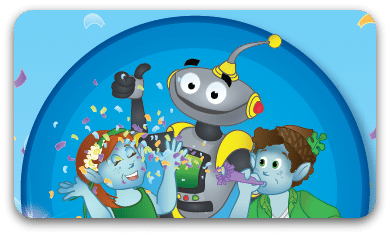 Richele is an eclectic homeschooling mom to four reflections of God's love whose greatest accomplishment thus far was teaching physics, folding laundry, and playing Candyland simultaneously.  Find her blogging at Under the Golden Apple Tree.