You are in for a treat! Not only are we offering a giveaway but you have nine more chances to win at the sites we are teaming up with…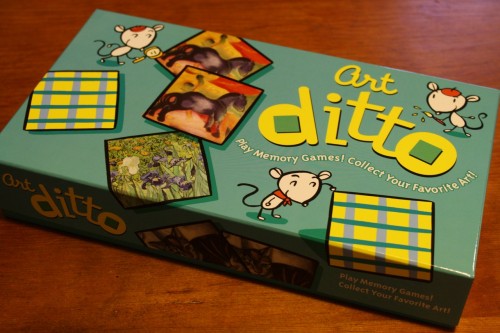 We are all about adding in the joy of art in our homeschool. And what a fun way to view beautiful pieces of art – holding copies of them right in your hand. Playing a game? Even better! As a parent, I am very impressed with the quality of Art Ditto by Birdcage Press. The children are very impressed with the fun factor.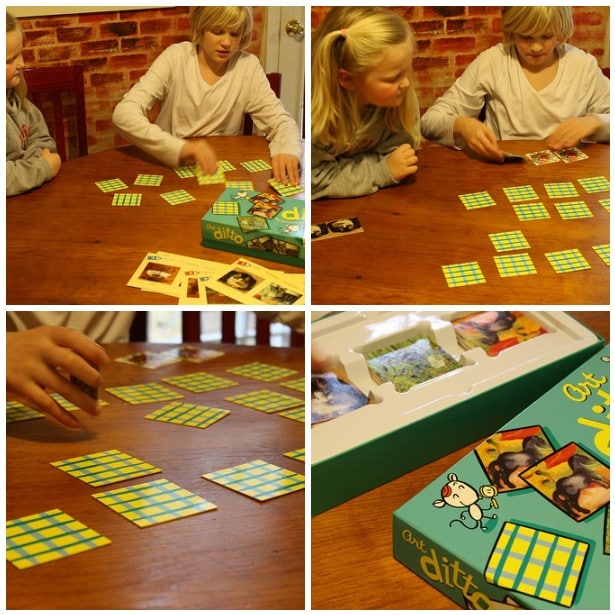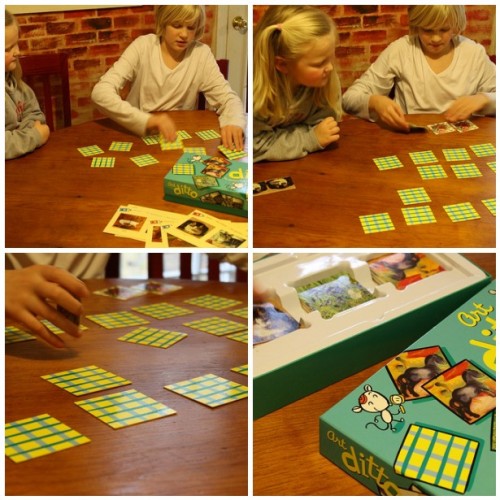 For ages 4 and up (all my children enjoyed it – from age 4 up to 14):
Brilliantly-colored cards. Glossy and thick – will stand the test of my rough and tumble household.
Simple memory game with benefit of learning famous pieces of art.
Includes 48 tiles – so younger ones can play with just a few and older children can be challenged by using the whole set.
Easy enough for children to play independently.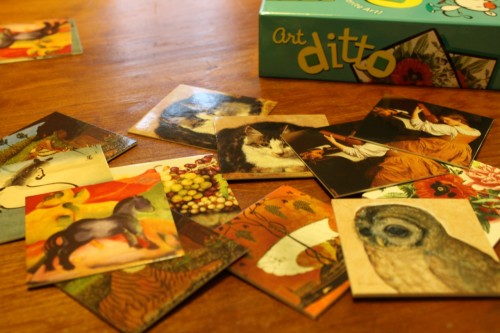 For a more advanced way of playing – pretend your are an art collector:
Eight (8) art collecting cards that show details on one side and full paintings on the other.
Cards include names of famous artists (hooray! A supplement to our homeschool studies).
Find the matching tiles and collect them on the cards.
The cards give a visual of how different artists depict birds, boats, cats, flowers, horses and more.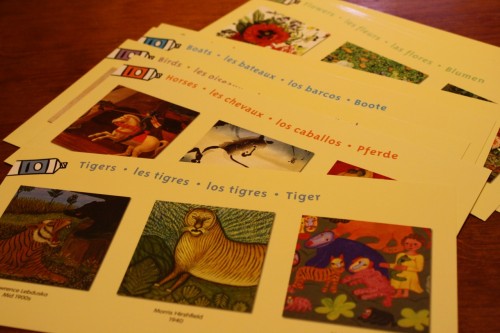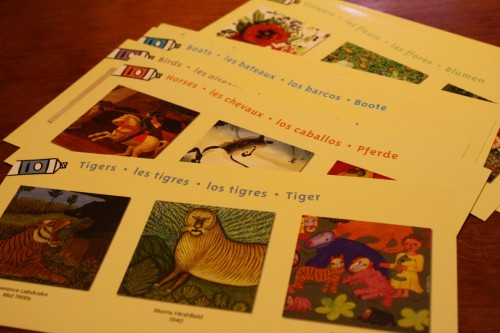 Need even more of a challenge? Learn words in 4 languages.
You might be interested to know:
Art Ditto won the Creative Child Game of the Year Award as well as the Parents' Choice Recommended Award.
Art Ditto is also available in an American Art version. (Which Rachel at at Finding Joy is reviewing)
You can browse all the Birdcage Press art products here.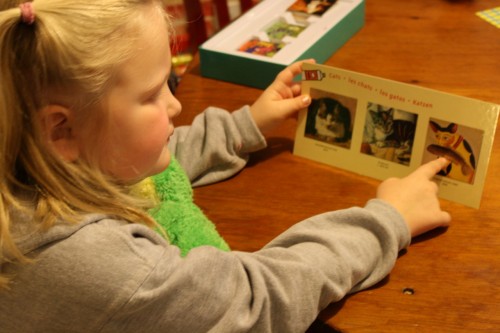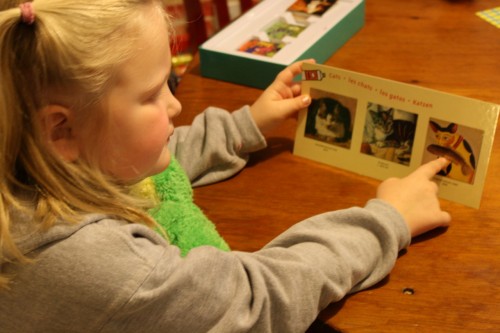 Conclusion: Playing Art Ditto over and over makes us interested in all the other products from Bird Cage press. Click over to their site for more detail and to browse other games in the art category. We loved Art Ditto so much that we ordered Go Fish for Renaissance Artists to compliment our Tapestry of Grace studies.
Happy faces! Play memory games! Collect your favorite art! And as a homeschool parent, enjoy a high-quality, educational resource for your homeschool.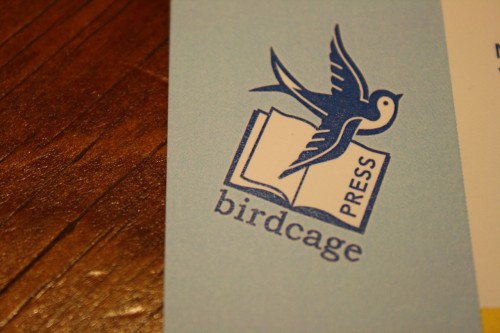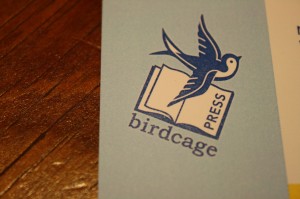 Find Art Ditto and many more wonderful educational products via the Birdcage Press website.
*Special shipping discount code on all orders: IN12 is good until 3/31/12
Please note: I received this Art Ditto game in exchange for a review. I always give my honest opinion and love to share our family's experiences when reviewing a product.
Now for the giveaway! The giveaway will only run through Sunday, February 26th. The winner will be announced Monday, the 27th. Birdcage Press is kindly offering one (1) Art Ditto game to our readers.

a Rafflecopter giveaway
More Chances to Win! The Curriculum Choice is joining with these wonderful sites in reviewing Birdcage Press products. Be sure to visit each blog to find out about more of these great resources. Plus enter to win a different game or product at each site!
Spell Outloud — Choice of Egyptian Art Cards or Battle Cards-Military Jets
Finding Joy — Choice of Wild Cards – North American Birds or Art Ditto Game.
Jimmie's Collage –Choice of Impressionist or Renaissance Art Game
Mama's Learning Corner — Renaissance Art Game
Handbook of Nature Study — Wild Cards-Backyard Birds
Harmony Art Mom — Choice of Go Fish for Art or Art Close-Up Cards
Hodgepodge — Go Fish for Wildlife – Sea Creatures
The Traveling Praters — Choice of Go Fish for Van Gogh and Friends or 52 Amazing Places-National Parks
Get Along Home — Choice of Wild Cards, Backyard Birds or Renaissance Art Game
Tricia has been homeschooling for over a decade now. She faces a daily dose of chaos balancing the needs of five children from preschool to middle school (and playing educational games) at Hodgepodge.