With our third high schooler now heading into her junior year, I realized it is time to ramp up our preparation for college admissions testing and more. In a busy homeschooling household with multiple ages, I am still surprised at how easily these type of requirements sneak up on us! Thankfully there are multiple ways to include some test prep time. In the past we have turned to books and online quizzes. This summer, though, we were introduced to Study.com with a great variety of online homeschool test prep courses.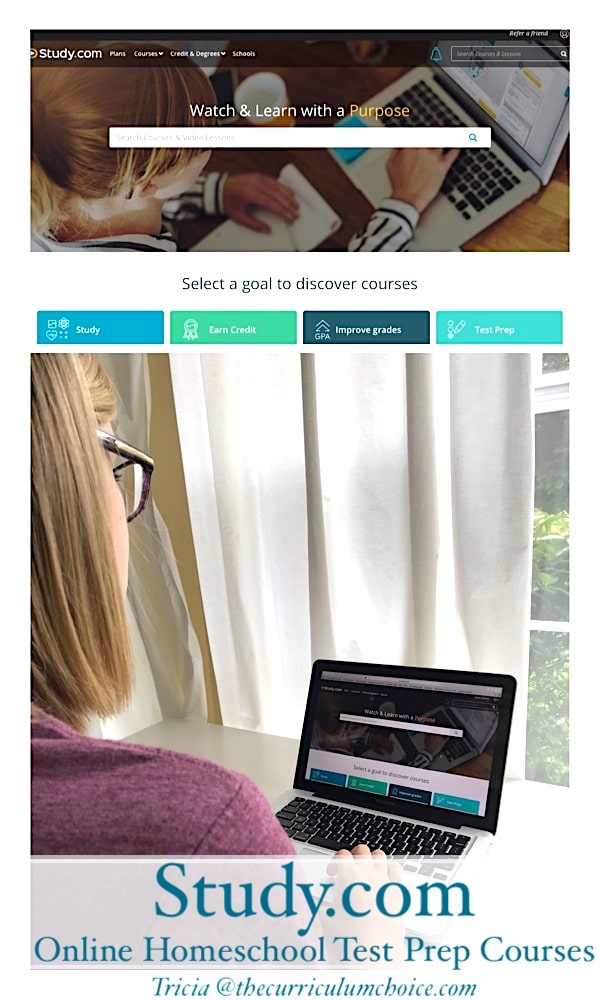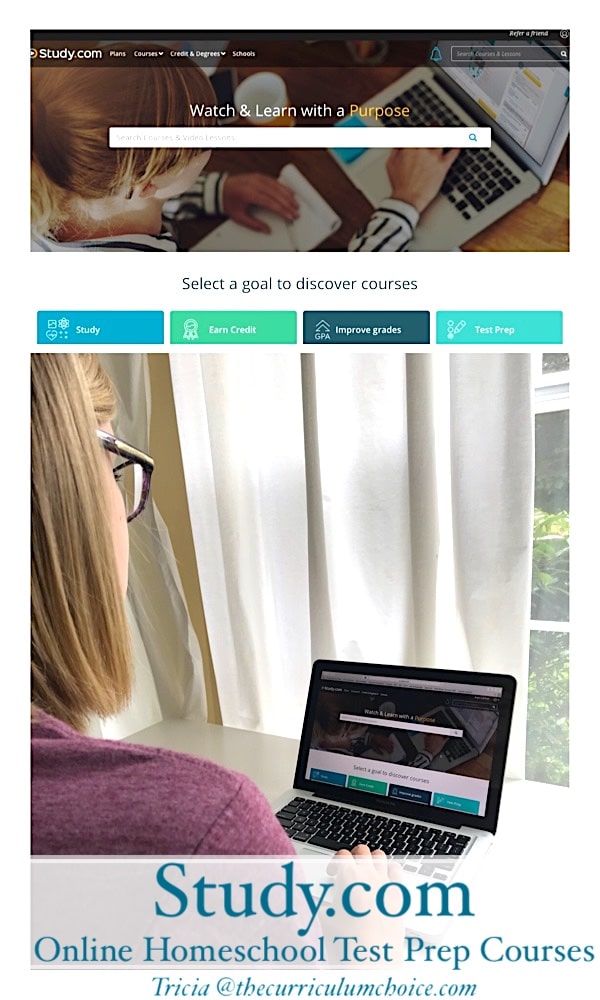 The online course library at Study.com is extensive! My daughter and I have been impressed with all there is to offer for elementary, middle, high schoolers – and the business community. There are courses for practically any subject. We, of course, honed in on the college preparatory courses and the ways for earning college credit.
My family was provided access to Study.com and paid a sponsorship fee in exchange for an honest review. All opinions are our own and we love the benefits and blessings we are continuing to see! Please see our disclosure policy.
What is Study.com?
I like that there is simple approach to the 22,000 video lessons and resources. It would be easy to get overwhelmed and not know where to start! But you can take a look on the home page and determine what your needs are. Do you want to…
Study
Earn Credit
Improve Grades
Test Prep
Study.com offers multiple courses for:
Math
Science
Business
English
Social Science
History
Psychology
and more!
Study.com Online Homeschool Test Prep Courses
I really like that the SAT test prep resources don't simply jump right in. There is first a history of the SAT. Because your student might be wondering why she has to study for this test! But don't just take it from me. Here is what my high school daughter had to say:
"I'm going to be honest. When my mom asked me to take a look at Study.com, my first thought was "ugh. She really wants me to do something school-related in the middle of my summer break?" But as soon as I started using it, I was glad she asked me to!
Since I'm heading into my junior year of high school, I knew I needed to start studying for the SAT and ACT, so that was the first thing I looked for on the website. I was not disappointed! They have several different courses that met all of my needs. 
You get to choose the subject you want to study, the education level you're looking for and so much more! Each lesson is very well written and easy to understand. Some lessons have videos to go along with them. There are even quizzes at the end of each chapter to review what you learned."
Earn College Credit with Study.com Online Homeschool Test Prep Courses
Yes you can even earn college credit! Be sure to check out CLEP Study Guides and DSST Study Guides to see how these resources can prepare your student for the tests for earning college credit.
There is also an excellent College and Career Guide with over 10,000 online articles and information on schools, degrees and career planning. We really like the School Finder drop down menu option – based on interest.
What We Like About Study.com Online Homeschool Test Prep Courses
This resource is mobile and accessible from multiple devices – enjoy on the go!
My daughter is an independent learner. She prefers to study on her own – mostly reading. So she was pleased to see that the videos include a transcript as well. So if she didn't want to watch a video, she could simply read the material.
New! Online Homeschool Program with Study.com
Study.com has a wonderful, new homeschool resource page for you! Homeschooling with Study.com:
Is flexible and practical – the new Family Plan offers connected parent and child accounts
Allows students to achieve dual credit
Gives students the opportunity to learn non-traditional subjects like marketing or criminology
Offers useful supplementary information such as state-specific homeschooling laws
Be sure to check out this homeschool resource page for all sorts of homeschool encouragement.

Discover courses and start a free trial at Study.com! Be sure to head over and explore all that Study.com offers for you, your students and your homeschool.