Homeschooling high school science can seem daunting for a parent. High school physics can seem overwhelming for a student. For others, high school science is a subject your student may love and enjoy. I will share with you just how all of these needs and concerns might be met with online homeschool high school physics from Apologia Academy.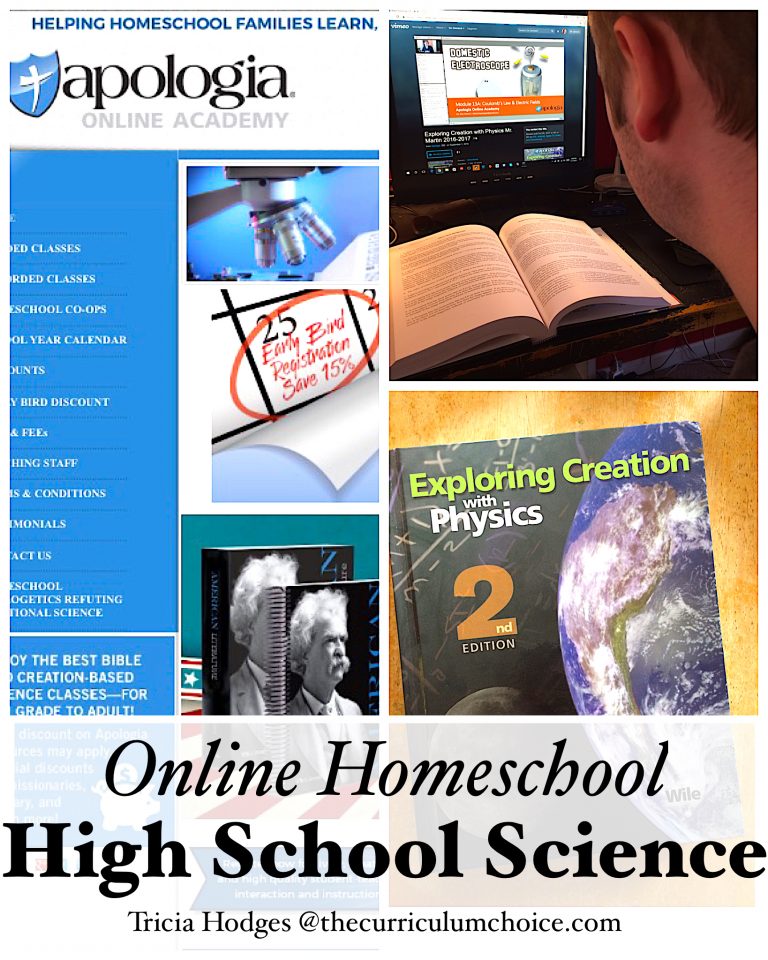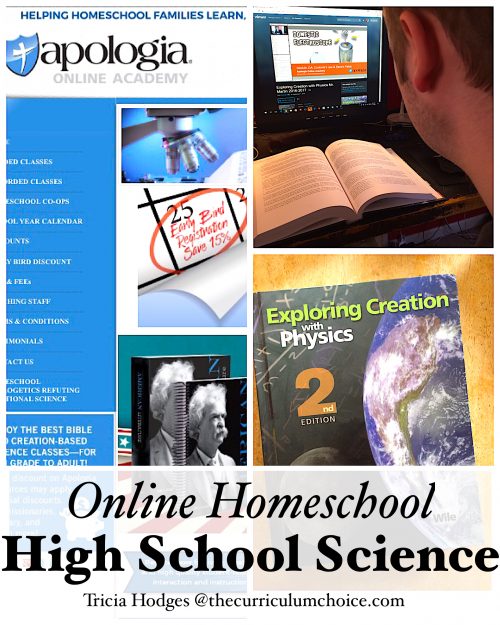 ~Don't miss the great discount information plus the giveaway at the end! We received this Apologia Physics textbook and online course in exchange for an honest review. All opinions are our own and we love the benefits and blessings we are continuing to see from this high school level study. Please see our disclosure policy.
Why Online Homeschool High School Physics?
Reasons why online homeschool high school physics from Apologia has been a perfect fit for him.
My son has always been one to enjoy a study of science.
Even when he was younger he loved to go to the library and gather more resources on a subject.
He does his work independently and enjoys it that way.
He really likes any sort of online option.
He is also an auditory learner.
Apologia Academy met my high school senior's science needs this year.
What is Apologia Online Academy?
First off, the options. There are two ways to participate in Apologia Online Academy. We chose the on demand option so I will share a more in depth view of this type of learning.
For the more social learner who loves to interact with other students, there is the live version of the class available through Apologia Online Academy. Students can ask questions of a live instructor in a virtual classroom.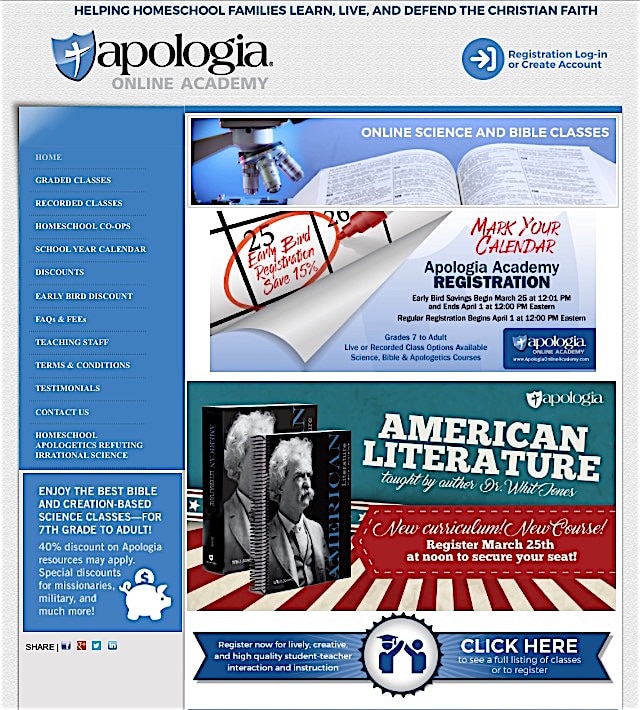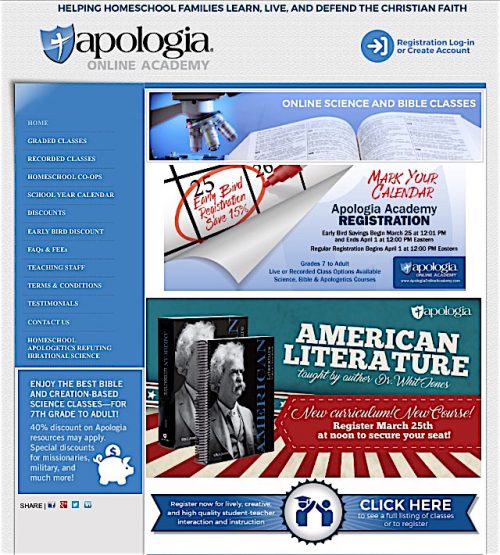 Apologia Online Academy or Video on Demand
His schedule. His time of day. His pace. My son is such an independent learner and enjoys learning at an accelerated pace. He chose the pre-recorded video on demand version of Apologia's Physics course. This has been perfect for him!
Homeschool High School Physics Textbook
This is a Creation-Based Physics Course. This course is Christ centered and God glorifying! Isn't this the ultimate goal of all our studies? An appreciation and deeper knowledge of God!
"You are about to embark upon an amazing journey! In this course, you will be introduced to the fascinating subject of physics. You will learn the basics about the universe around you and how it works. Although the course will be hard work, you will learn some truly amazing things. Hopefully, these things will help you develop an even deeper appreciation for the wonderful creation that God has given us!" ~Apologia Physics text

Everything you need is in the course – each module has the information to study, the questions to complete, the experiments to perform and the test to take. Also included is the Solutions and Test Manual with the answers to module questions and tests. There are even suggestions for how to grade the course – percentages to grade for tests and lab experiments.
What Does Apologia Physics Include?
Included in Physics Text:
16 modules (each module should take about two weeks to complete with one hour each school day devoted to studying physics);
On Your Own Questions in each module help reinforce concepts in the student's mind;
Study Guide at the end of each module for review and test preparation;
Bold print text for memorization;
Quality images throughout;
A special website to accompany the course;
Glossary;
Appendices;
Experiments – designed to be completed as the student is reading the text.
List of Laboratory Equipment Needed
Modules:
Motion in One Dimension;
One-Dimensional Motion Equations and Free Fall;
Two-Dimensional Vectors;
Motion in Two Dimensions;
Newton's Laws;
Applications of Newton's Second Law;
Uniform Circular Motion and Gravity;
Work and Energy;
Momentum;
Periodic Motion;
Waves;
Geometric Optics;
Coulomb's Law and the Electric Field;
Electric Potential;
Electric Circuits;
Magnetism.
Also Available for High School Physics
Physics Full Course CD-ROM
Physics Multi-media Companion CD-ROM
Physics MP-3 Audio CD
Explore all the Physics Textbook options.
Explore Apologia Academy Courses.
What Age is Apologia Physics and Online Academy Course Designed For?
The Exploring Creation with Physics course is designed for older high school level students – those that have completed Algebra I, Geometry and basic Trigonometry functions. Click the download tab on the course description page for the complete scope and sequence.
What is required?
Text
Laboratory items
Lab journal (suggested)
How We Use Apologia Physics in Our Homeschool
My high schooler reads the assignment then watches the accompanying recorded Apologia Online Module. He then answers the 'On Your Own' questions. After completing a module, my high schooler completes the accompanying test. We usually plan these for a Friday afternoon. More in Homeschooling High School Learning Styles.
In Summary
Apologia Online Academy has taken the "eeeek!" out of high school science (for me as the homeschool teacher) and has met my senior's science needs.
Special Price! Registration for Apologia Online Academy
From March 25th through April 1st there is a special discount on early bird registrations for the 2017-18 homeschool year.
Where Can You Find Apologia Physics?
Find each of the titles at the Apologia website. There you can browse all the titles, experiment materials, lab list, FAQs and more.
Looking for More Apologia Resources?
You might like my reviews of:
Now For the Giveaway!
Apologia is offering one (1) junior OR high school level text of your choice to a Curriculum Choice reader. The prize pack includes the hard cover Student Textbook, solutions manual, and the Student Notebook (if available for the course).
Simply follow the instructions in the rafflecopter widget below…
a Rafflecopter giveaway

Homeschooling for seventeen years now, Tricia faces a daily dose of chaos with five children from elementary to high school. She is author of art curriculum and video courses for all ages plus helpful homeschool habits at Hodgepodge. She and her husband, Steve, are owners of Curriculum Choice.
Save
Save
Save
Save
Save
Save
Save
Save
Save
Save
Save
Save
Save
Save
Save
Save