Note – This post may included affiliate links to products that we love and have used or would use in our  own homeschool. Please see my disclosure policy.
Are you looking for a fun high school elective for your homeschooled teen? And something that would encourage them to love writing?
One Year Adventure Novel is a high school fiction writing curriculum through which the kids write an entire novel by the end of the year. It's entertaining, educational, adventurous and fun!
Whether you have a student who loves to write, and you know they need training to take their gift to the next level—or a student who could just use a fun change of pace from traditional English curriculum—this course makes a great whole year long elective.
Through 78 video lessons, The One Year Adventure Novel curriculum guides 8th–12th grade students step by step in creating an their own adventure novel, while learning the components of good literature.  How about that!  It works well for independent study, with time spent with the parent to share ideas and help them to stay on track.  It also can be used as a co-op class.
The curriculum is taught on video by author Daniel Schwabauer. You can choose between Cloud video streaming and DVDs. Extensive support resources that come with a curriculum license offer young writers a place in a creative community.
The course includes the following:
 A textbook which explains all the concepts covered in the videos, and sections from adventure novels to study.
 A workbook with 400 + questions to help your student to develop their initial story idea into a great novel.
 78 video lessons, each 10 to 15 minutes long, covering all the important concepts needed to write an adventure novel.
26 Weekly quizzes
Teacher's Guide
The One Year Adventure Novel is worth one full high school English credit.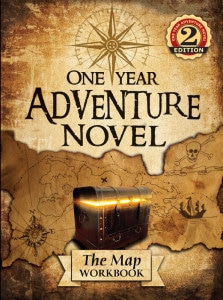 If you have a teen who is interested in creative writing, this program can provide the guidance and support to help them write their very first book!  Meanwhile, they will be learning so much!  They will learn what makes up a story, the components of literature, and that they can be successful turning their story idea into a wonderful adventure novella or novel.  What a way to build up confidence in putting words on the page.  And kids who love writing, will do better in their essay writing, too.
The author also offers free Webinars for registered students, where he talks about specific aspects of writing.  These webinars are interactive, so your teen could ask their questions in real time.  If you are looking for a structured way to teach your teen writer how to write fiction, my family recommends the One Year Adventure Novel.  For more information, please go to the One Year Adventure Novel.
Betsy blogs at BJ's Homeschool about high school and college and all the fun of homeschooling the early years too.  As a veteran homeschooler and the mom of a college student and homeschool grad, Betsy also offers free help to homeschool families,   She is the author of Homeschooling High School with College in Mind.
Save
Betsy (76 Posts)
Betsy is a long time eclectic homeschooler who blogs about resources and offers encouragement for moms of kids/teen from preK-12. She and her hubby homeschooled their daughter through high school, and helped her get accepted to each of the colleges on her list. Their daughter is now a college grad working in her chosen field of Communications. Betsy blogs about their journey at BJ's Homeschool about the early years, high school and college too. A former O. T, she also writes about special needs, and handwriting helps. Betsy is the author of "Homeschooling High School with College in Mind, 2nd edition" and also is a homeschool coach. Send her your question on homeschooling. (Free)