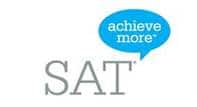 If your teen is planning to take the SAT, it's a good idea to practice.  You can spend huge amounts of money on SAT prep classes, or you can buy a practice book as we did.  However, the valuable first step we take is free:   in grade 11 we start doing The Official SAT Question of the Day.
We used to get these questions by email, but these days one can use a free mobile app or Twitter as well as the College Board website.  It takes only a short time to answer the question and either celebrate success or learn what the answer should have been and why.
Here's a question from last month:
Choose the word or set of words that, when inserted in the sentence, best fits the meaning of the sentence as a whole. 
Eduardo Galeano's novel consists of discrete vignettes, so the reader must supply the invisible ——- binding such apparently ——- parts.
Answer Choices
(A) emotions . . impersonal
(B) interpretations . . somber
(C) descriptions . . related
(D) connections . . independent
(E) categories . . cohesive
You can see that this is a typical SAT question. However, unlike on the SAT, a hint is available if you need it.
If your teens get it wrong, they are encouraged to try again, or they can request to see the answer.  They are also given the option to practice some more.
Questions are from each of the three main sections of the SAT:  reading, math or writing.  The only part of the SAT not represented in these questions is, obviously, the essay.  It may not be a coincidence that the essay was the most difficult part of the SAT for my two oldest.
The Question of the Day is very low-key but can be an extremely effective way of studying.  Of course, for general test-taking strategies, it is a good idea to use one of the test prep books as well.  We used Barron's and were happy with it, but there are many others.
As a bonus, when your teens do the Question of the Day, they will also see other information about the SAT which makes it less likely to miss important information and deadlines.
To learn more about preparing for the SAT, you can read my post Characteristics of Top SAT Scorers.
~written by Annie Kate, Tea Time with Annie Kate