Over the years trial and error got me where I needed to be for applying methods in order to be the most effective teacher for my learner. But oh how I wish I had had Home Field Advantage  just given to me from the beginning!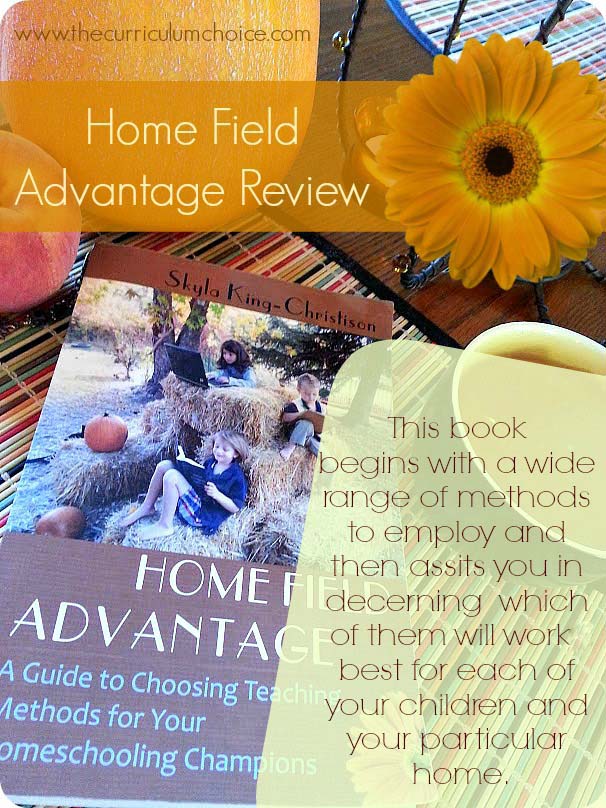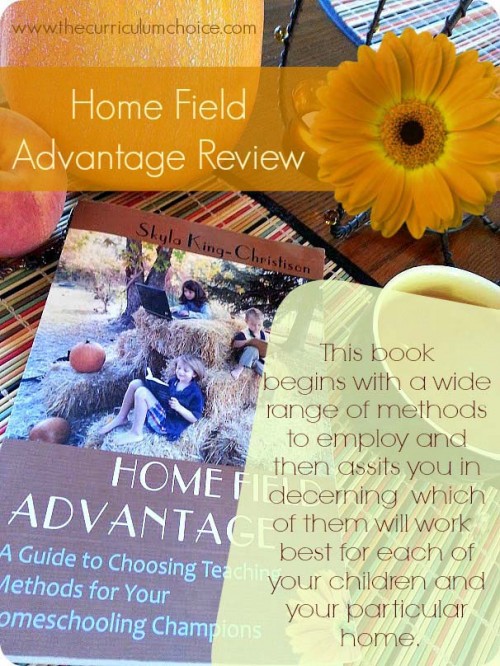 I have homeschooled for over 12 years. I first started with no experience or understanding of homeschooling. We began the way most homeschooling parents begin, with a love for our child and a desire to give him a better education than he was getting from "typical public school" standard education. He had special needs (ADHD) which I knew nothing about. I was willing to learn the way most homeschoolers are; but I had so much to learn.
Fifteen years ago, I had no book given to me that summarized homeschooling methods or approaches so I just started by talking to other homeschoolers. I quickly found I had to adjust my methods to meet the needs and learning style of my child. But it took a long time to meet the right people and ask the many questions that lead to improving my approach. Having a wonderfully informative book like Home Field Advantage as I began my endeavor, would have been wonderfully helpful.
An Overview of Home Field Advantage
Every family has their own unique reasons for homeschooling; the first section of the book covers the most commons ones. Chapters 3-7 discuss five different educational methods: Montessori, Waldorf, Trivium, Charlotte Mason and unschooling. Each method chapter explains:
History of the Method
It's Guiding Principles- What are the method's philosophies?
Defining Characteristics
What Critics Say about the Method
The Homeschool Spin- How does this method apply to the homeschool environment?
Activities- Gives suggestions and ideas for this method in your homeschool.
Chapters 8-10 cover approaches and learning styles. When I first started homeschooling I never thought to teach to my child's learning style. This is something that I really feel is important in order for us to really provide the optimum education for our kids.
Chapters 11 and 12 aid the parent in designing their own tailored homeschool program and environment. I feel the most helpful components of the book are contained in these last two chapters. These chapters will help the new (or experienced) homeschool parent take what they have learned from the proceeding chapters and apply it their homeschool; thus taking an informed and well thought out approach instead of just starting in the dark.
Why Home Field Advantage is the Perfect Book for a New Homeschooler
This book is good for any homeschool parent to read but most especially a new homeschooler. New homeschoolers are often unsure about their decision to homeschool and can use some encouragement. When beginning, it is helpful to have a good understanding of various education methods. Because unless we have studied various forms of education, we are likely to teach from either our own learning style or from the common public school model resulting in a "school at home" method. It's not necessarily right or wrong, this may be the approach that works for your child. But what if it isn't? A good homeschooler would probably eventually come around to figuring out their child's learning styles and adapt for them naturally, but isn't it easier to begin with a wide range of options to employ and then simply figure out which of them works best for each of your children and your particular home? This is exactly the aim of the book.
Another aspect of the book that I think would be immensely helpful in addition to the methods sections are the 7 different parent worksheets. You can download them for free too! They guide you through different aspects of homeschooling that an inexperienced homeschooler may not think to employ right off. They include:
Financial Planning
My Homeschool Vision and Mission
My Homeschooling Goals by Subject
School Day Schedule
Weekly Activities Calendar
Student Assessment
Curricula Comparison
Surprising Personal Insight Gained from Home Field Advantage as a Veteran Homeschool Mom
I was surprised a little by the personal insight that I gained for myself  from reading this book even as a veteran homeschool mom. While its best attributes are an overview for those less familiar with homeschooling, it also has much to offer anyone at any range of experience. This is true because of the scope and research that the authors writes from. Each of our own experiences only reflect what information we have gathered ourselves, from our own discussions, while the author's information reflects multiple families' experience.
I knew that my homeschool was an eclectic homeschool using many methods, meaning it used an integration of methods and curriculum chosen in a mix and match type style. But I learned that I even used a bit from methods I knew little or nothing about, such as Waldorf in which learning through art is a major characteristic. This part of the Waldorf method has certainly been a part of our homeschooling, but until reading this book, I confess I had never heard of it.
Where to buy Home Field Advantage and Learn More
This 312 page book can be purchased from Night Owl Press for $19.95. It is also available in other formats. The Kindle, iPad, Nook or PDF formats are only$9.99. For more information about this excellent homeschool book visit Home Field Advantage the Book.