My high schooler thrives on independent study. She is a "give me the book and the notebooking journal and let me go" learner. Do you have a student like this? Apologia Homeschool High School Advanced Biology meets my daughter's needs in her independent learner way with the tools for her learning style.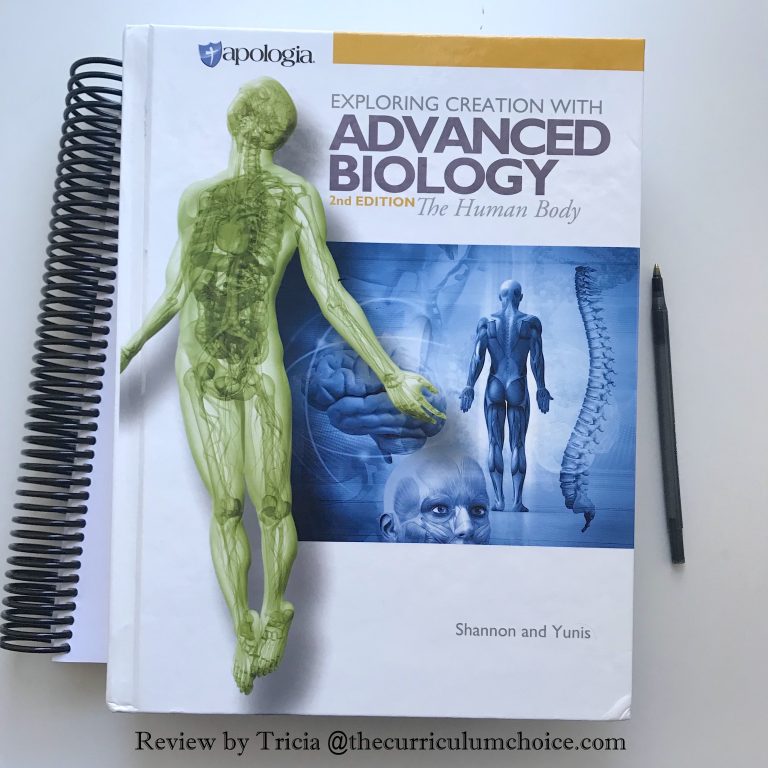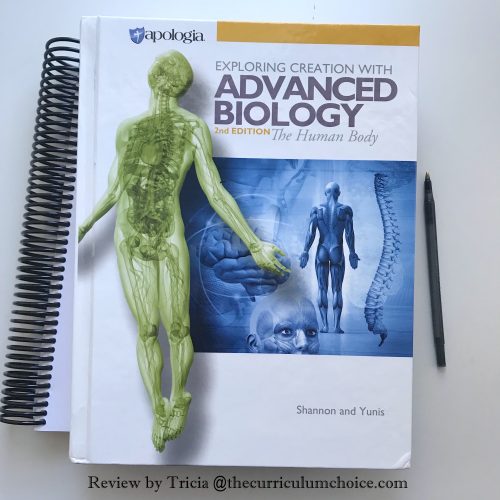 Don't miss the giveaway at the end! We received these Apologia resources in exchange for an honest review. All opinions are our own and we love the benefits and blessings we are continuing to see from this study. Please see our disclosure policy.
Homeschool High School Advanced Biology for Independent Learners
Besides being cozy in her quiet room, there are SO many ways that homeschool high school advanced biology helps my independent learner. Just take a look…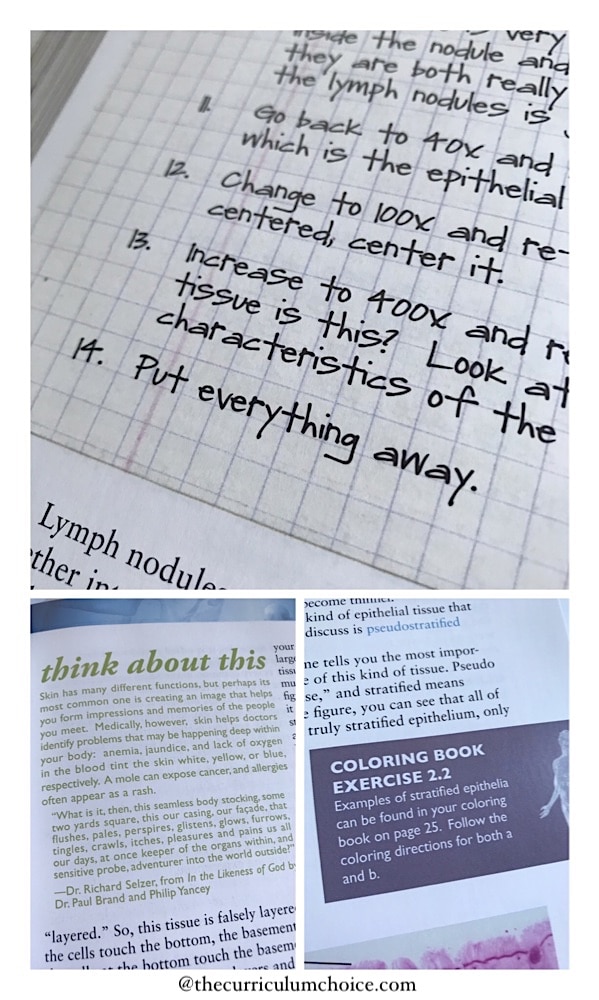 The Homeschool High School Advanced Biology Textbook
Let me take a moment here to speak to the advanced part of this Advanced Biology high school level text. My daughter asked for a more challenging year of study for her junior year. She definitely has that with taking this course along with Apologia's new Health and Nutrition course.
God designed our human anatomy in a complex and amazing way. Yes, this is an advanced text not only because of the topics covered but also because of all of the names of the layers and parts of body systems. There is simply a great amount of memory work and learning to cover.
However, the conversational tone of the text and all of the following helps set the student up for success. The Homeschool High School Advanced Biology Textbook:
Lists the 'On Your Own' questions to get her thinking.
Offers detailed textbook illustrations to further explain the module topic. No need to go look up something in another resource. It is all right there in the text.
Includes prompts for coloring book exercise for further learning and reinforcement of anatomy topics.
Highlights 'Think About This' and 'Heart of the Matter' sections to bring in yet another reminder of Biblical worldview, challenging the student to think about the big picture of human anatomy and God's great design.
Puts experiment steps in a detailed list. (As a homeschool mama, I especially love the last step, "Put everything away.")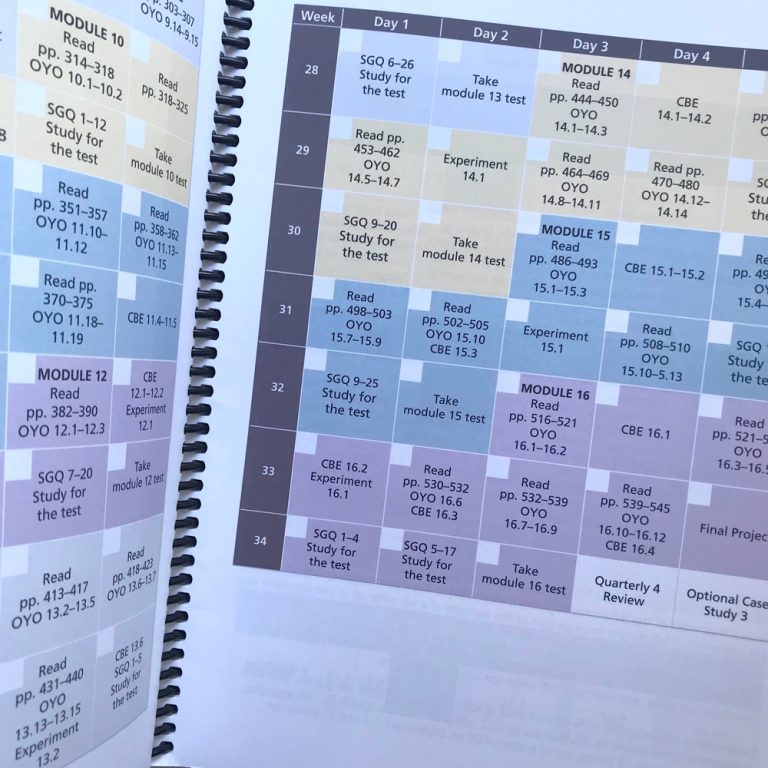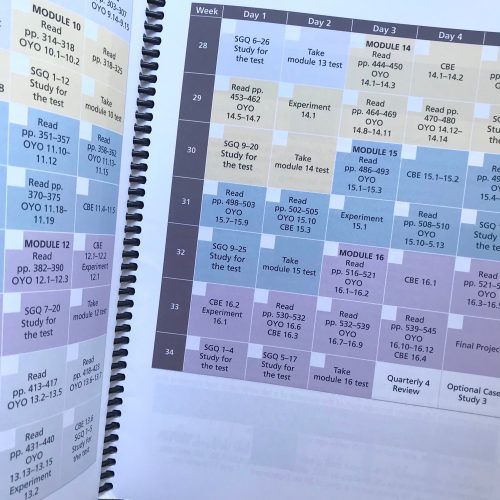 The Homeschool High School Advanced Biology Notebooking Journal
We all know that writing out information and note taking reinforces learning and helps a student retain knowledge. This resource is also great for test taking prep!
A handy (suggested) schedule to keep her on track.

Note taking practice, skills and plenty of space for it!
Vocabulary word reinforcement. (Always good!)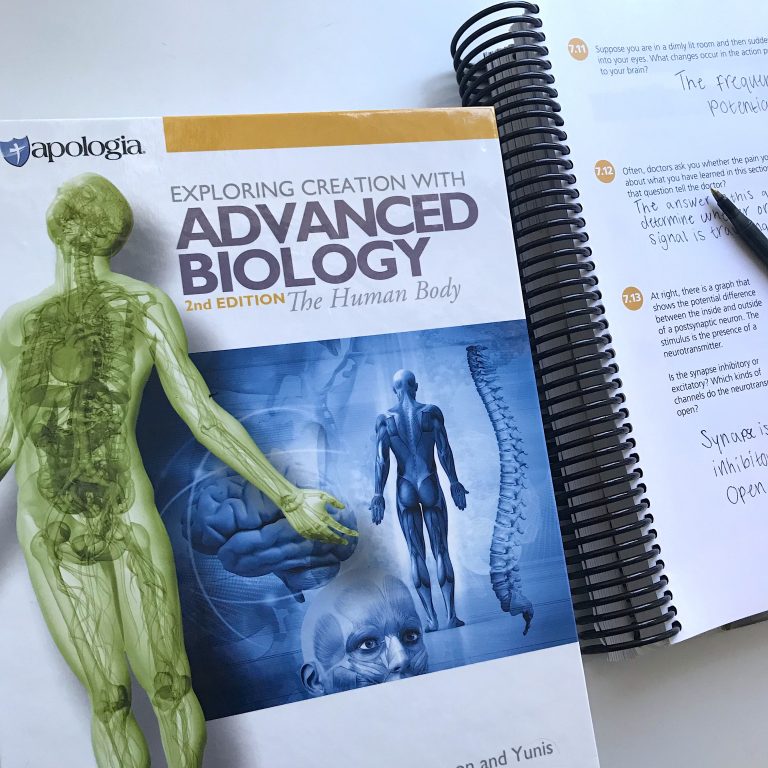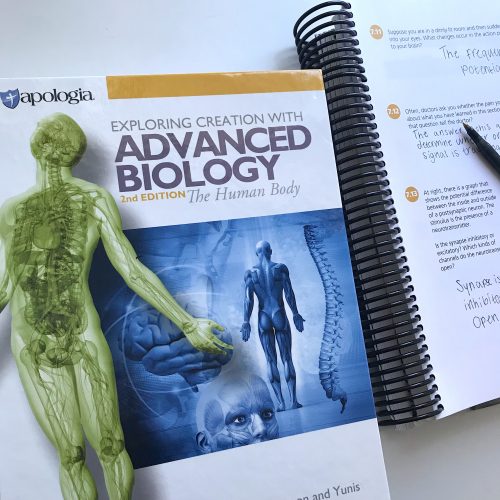 There is also plenty of space for answering the 'On Your Own' questions in each module. She can do this study at the time of day that is best for her.

Case Study section (optional) for practicing practical applications of anatomy and physiology and problem solving skills.
The Advanced Biology Video Instruction DVD
This resource is especially great for visual and auditory learners. Having this DVD helps confirm my daughter's experiment efforts. Apologia author Sherri Seligson leads and reinforces all the learning and experiments while the video instruction matches the text. Such a wonderful resource!!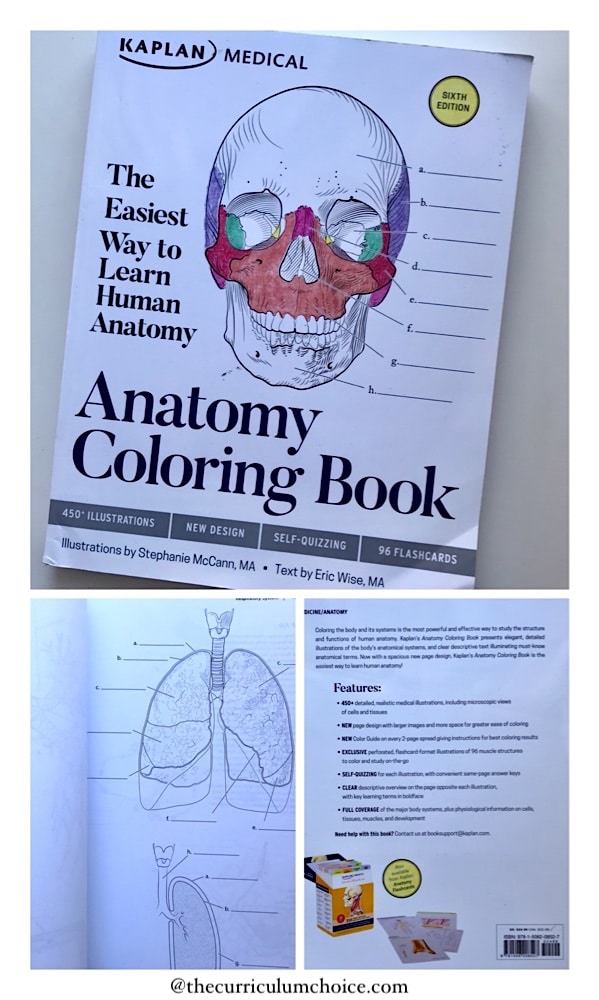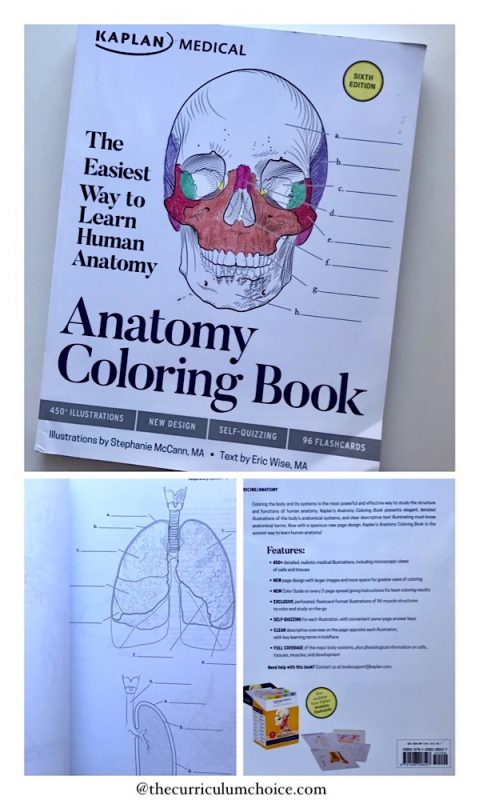 Homeschool High School Advanced Biology Anatomy Coloring Book
This is such an excellent – and challenging – resource for reinforcing anatomy terms and details. There are microscopic views and cut aways. Also included are flashcards for coloring and studying on the go. Yet another great tool for learning human anatomy.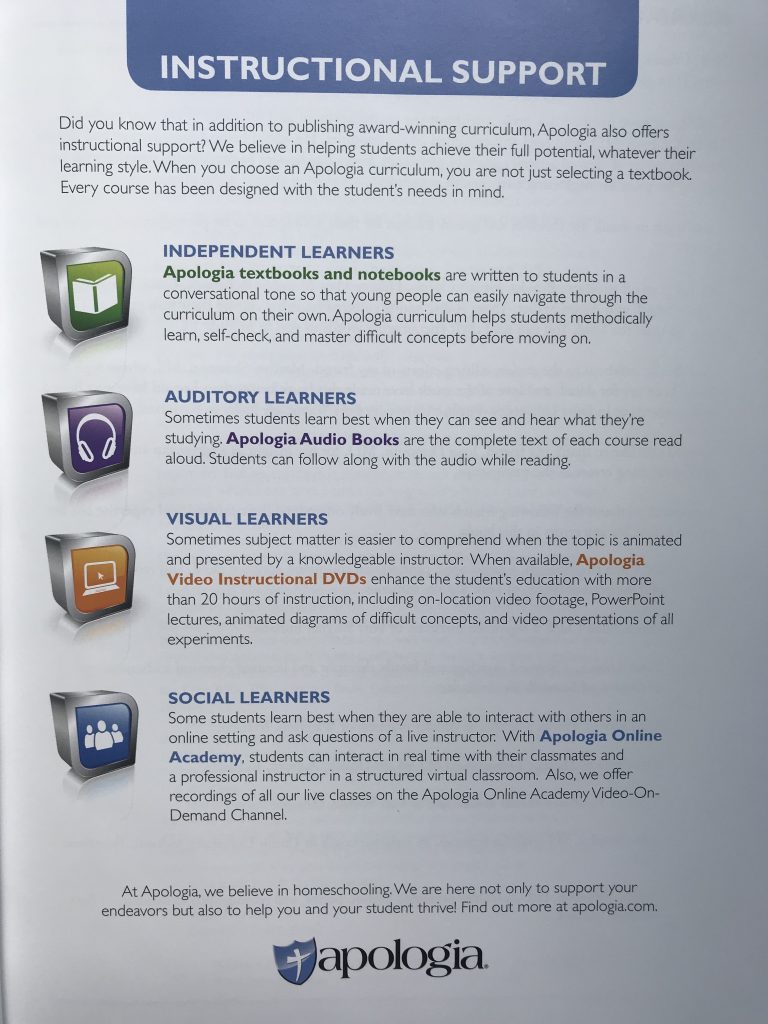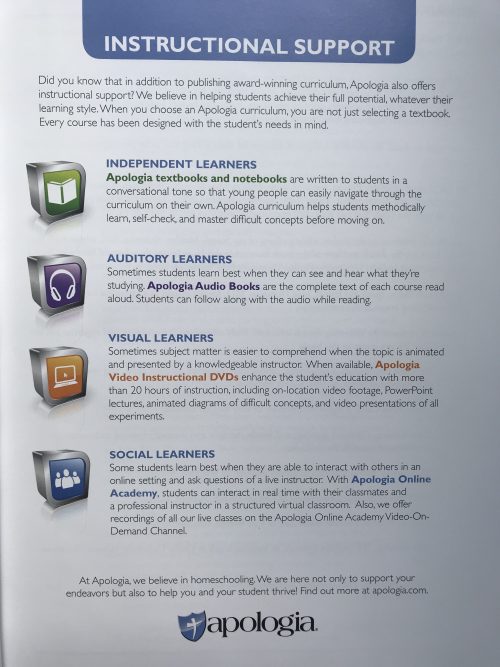 Meeting the Needs of Learning Styles with Apologia Science
My girls all learn best this way – each with their own variations. My boys are auditory learners. My now graduate son thrived with Apologia's online academy – taking Physics. My youngest son learns best when we read the science lesson aloud together or by listening to the audio version when we are on the go.
Apologia is just the best because of how their curriculum can meet the Hodgepodge of learning styles in our family. If you are wondering what might meet the needs of your child best or what type of learner he or she is, Apologia has a good explanation on this high school science page in the section 'Additional Support'
Be sure to check it out! How do your children learn best? What type learners do you have? Or what Apologia subjects are you studying in your homeschool?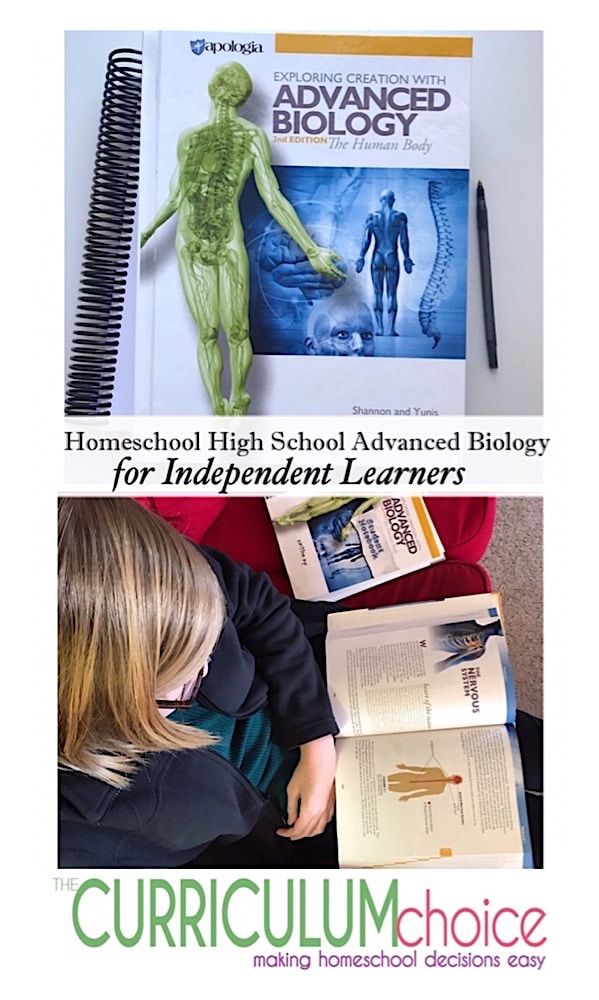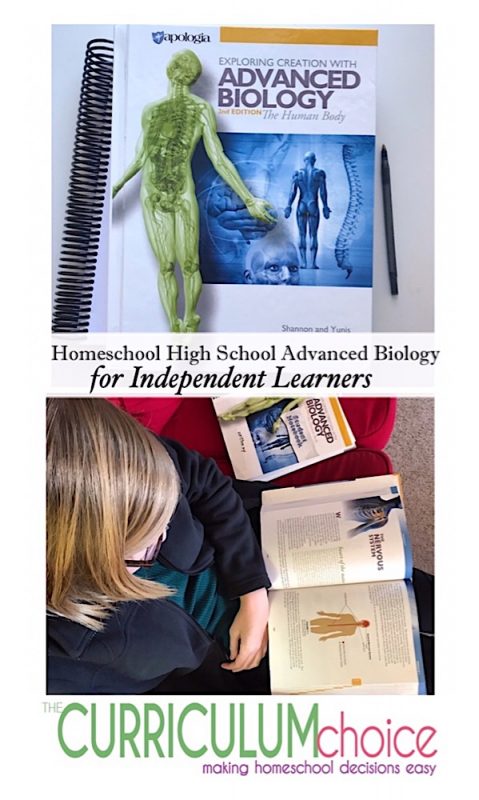 Where to Find Homeschool High School Advanced Biology Resources
Find Exploring Creation with Advanced Biology: The Human Body at Apologia. Including the textbook, notebooking journal, Instructional DVD, audio book and coloring book.
You might also be interested in:
Win a Year of Apologia High School Science!
Apologia has generously offered one Curriculum Choice reader a year of Apologia High School Science – of your choice! Set includes Apologia text and, if applicable, Notebooking Journal, Video Instructional DVD and Audio Book.
Simply follow the instructions in the rafflecopter widget below…
a Rafflecopter giveaway

So my daughter's learning is very rich and rigorous with these amazing resources. I'm so grateful for homeschooling. And I'm so grateful for Apologia.