Nature study can be so rewarding and memorable for our kids, but sometimes getting the motivation to go outside and go on nature walks can be tough. Especially when the weather is cold and there's lots to do inside the house. For me, I felt like I wanted to do fun nature walks, but had no direction. And for this list-making, plan-it-out kind of mama, I needed more direction. So, when I found NaturExplorers over at Our Journey Westward, I was very pleased.
NaturExplorers Nature Unit Studies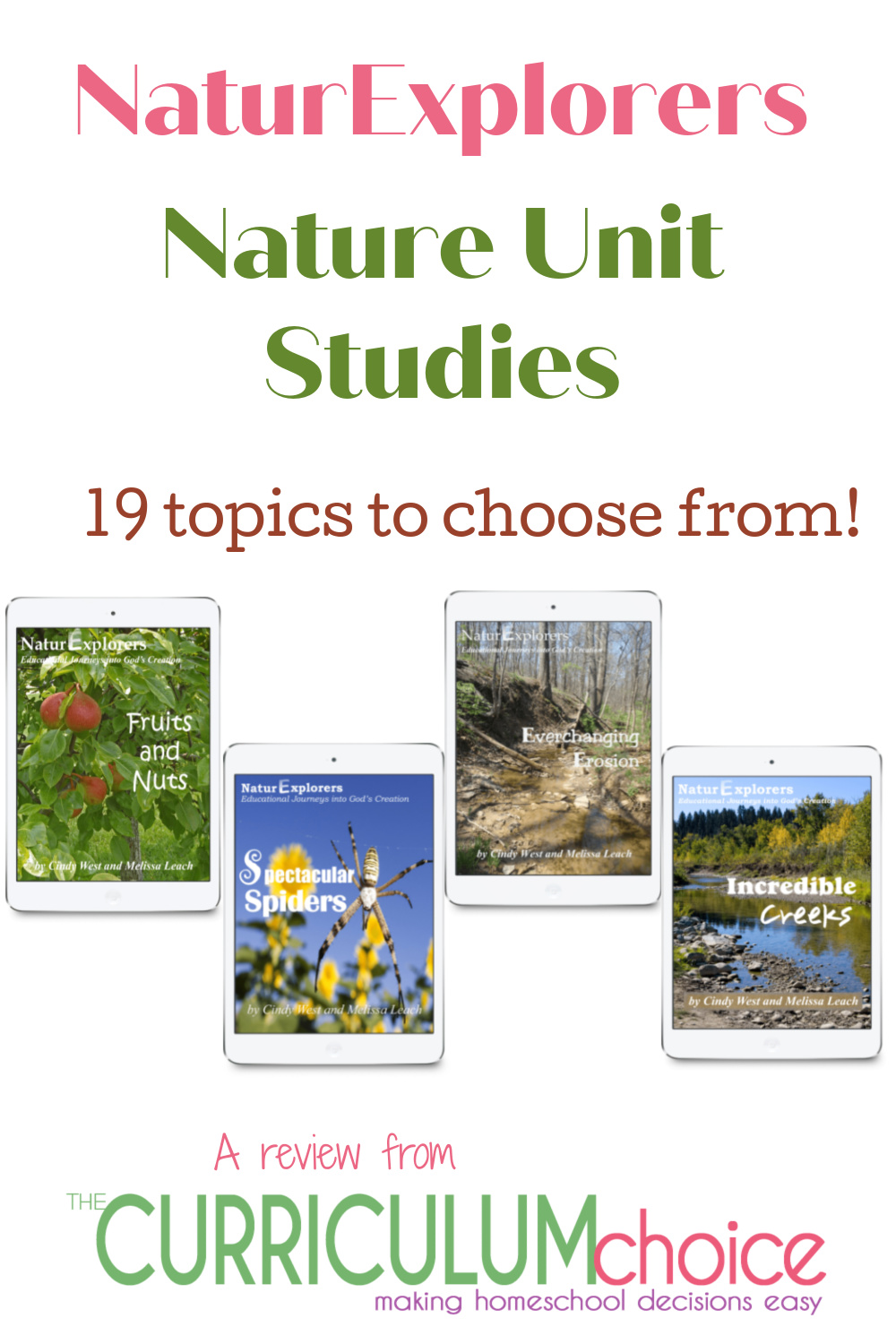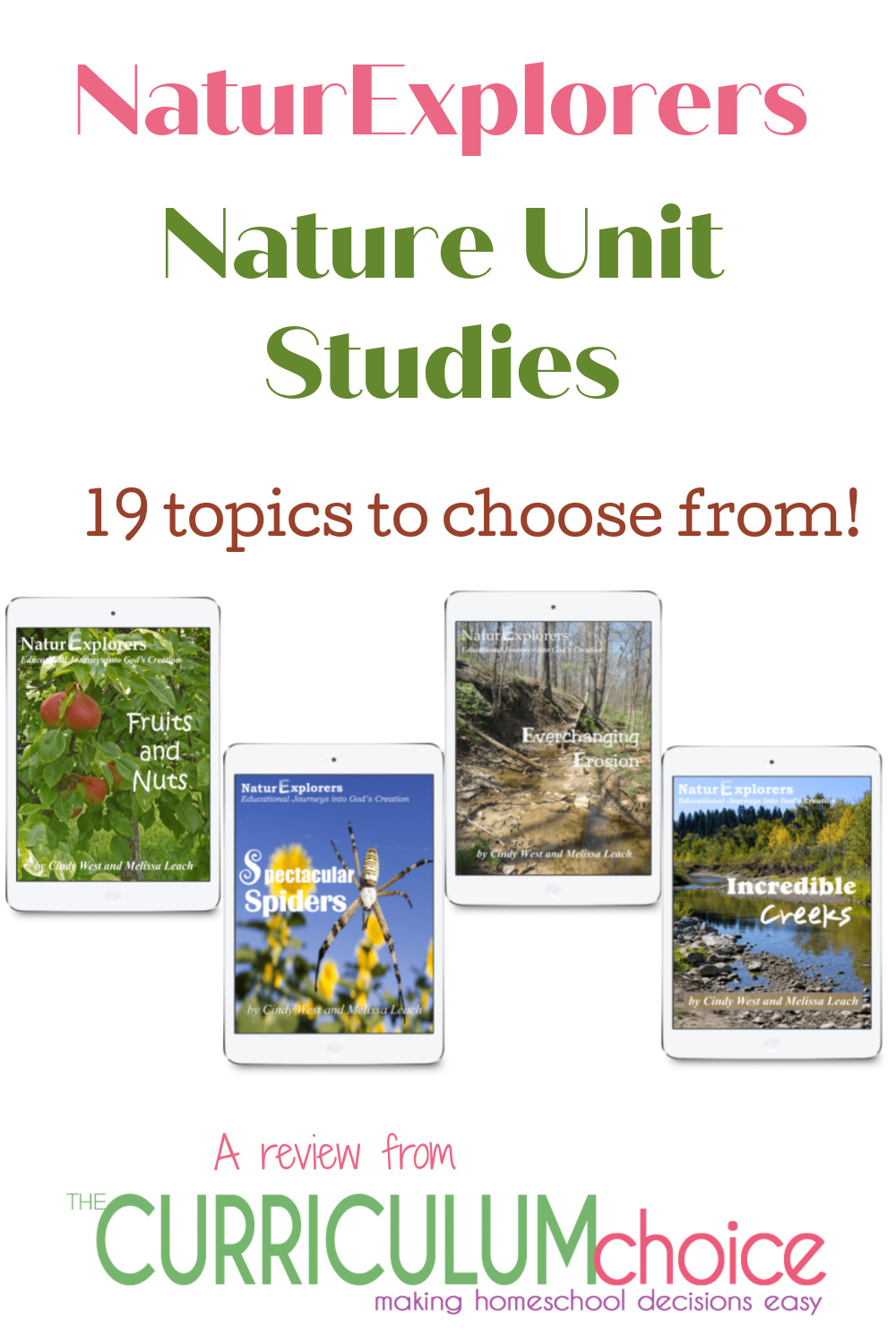 The books are written by two nature-loving homeschool moms, Cindy West and Melissa Leach. Their love of nature drips from the pages of these wonderful nature guides. Each book focuses on a different area of nature, such as:
Spiders
Birds
Rain
Snow and Ice
Butterflies
Fungus
Rocks
More! (there are 19 books in the series)
What I love about these books is the flexibility and the many, many options and ideas they provide. They are absolutely full to the brim with information and ideas. Not only does each book include tons of information on the subject it's based on, but it includes ideas of how to incorporate many different areas of your homeschool right into nature study.
Areas like:
Artist Study
Composer Study
Art
Bible
Poetry
For example, when my kids and I were studying from the Fruits and Nuts book, one suggested activity was to study the Fruit of the Spirit from Galatians and gave great ideas of how to do so. What a fabulous way to bring nature study inside and keep right on learning!
In our homeschool, we study one area of nature for about a month or two. So, when we go on a nature walk we know what to look out for. We read some background info that each book provides along with some of the additional reading they suggest, and away we go. You can use these as the spine to an in-depth unit study or you can definitely pull them right off the shelf and use these books as guides as you go on your walks. Their notebooking pages and many suggestions make it possible for any homeschool mom to use them, no matter what your teaching style.
We have enjoyed making Nut Dye, coloring in the snow, inspecting snowflakes, and gathering samples of coniferous trees. NaturExplorers have been so helpful in our nature study. I now feel like I can look through these, get ideas and have a plan before we go on a nature walk. You can visit the website at Our Journey Westward where you can read their nature blog or ask them questions. They are great about giving advice and answering questions.
I have to say that my very favorite part about NaturExplorers is they inspire me to explore God's awesome creation! I hope you are encouraged to go out and do some exploring yourself!
All NaturExplorers Reviews
If you don't want to just take my word that these are wonderful books, then be sure to check out all the NaturExplorers Reviews of many of the individual NaturExplorers unit studies here at TCC.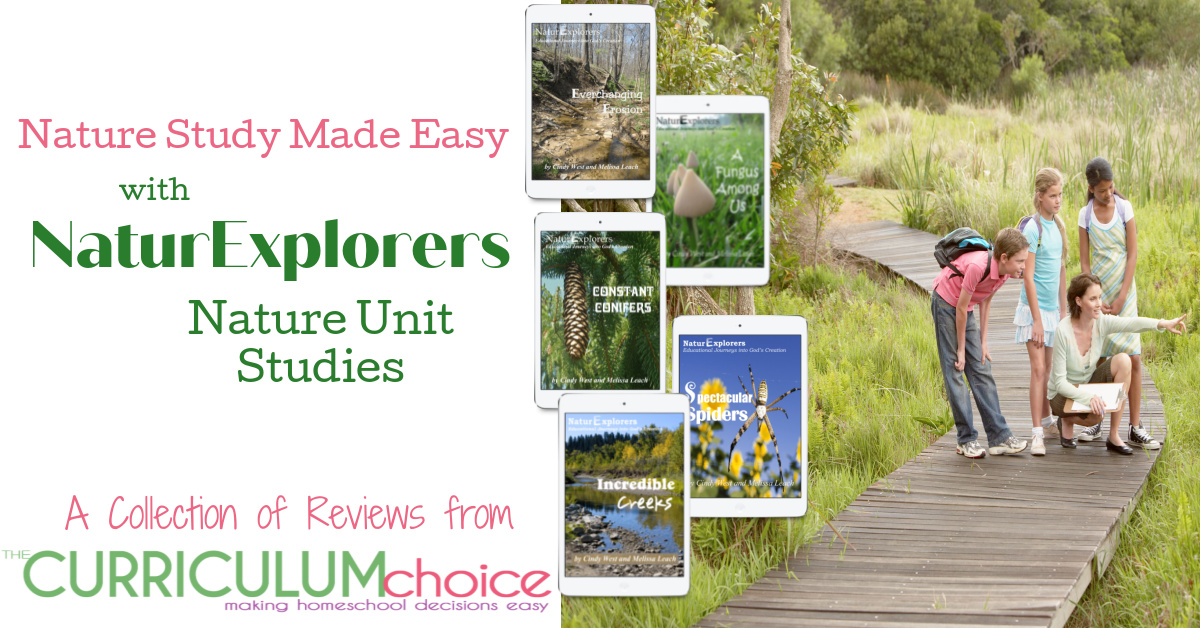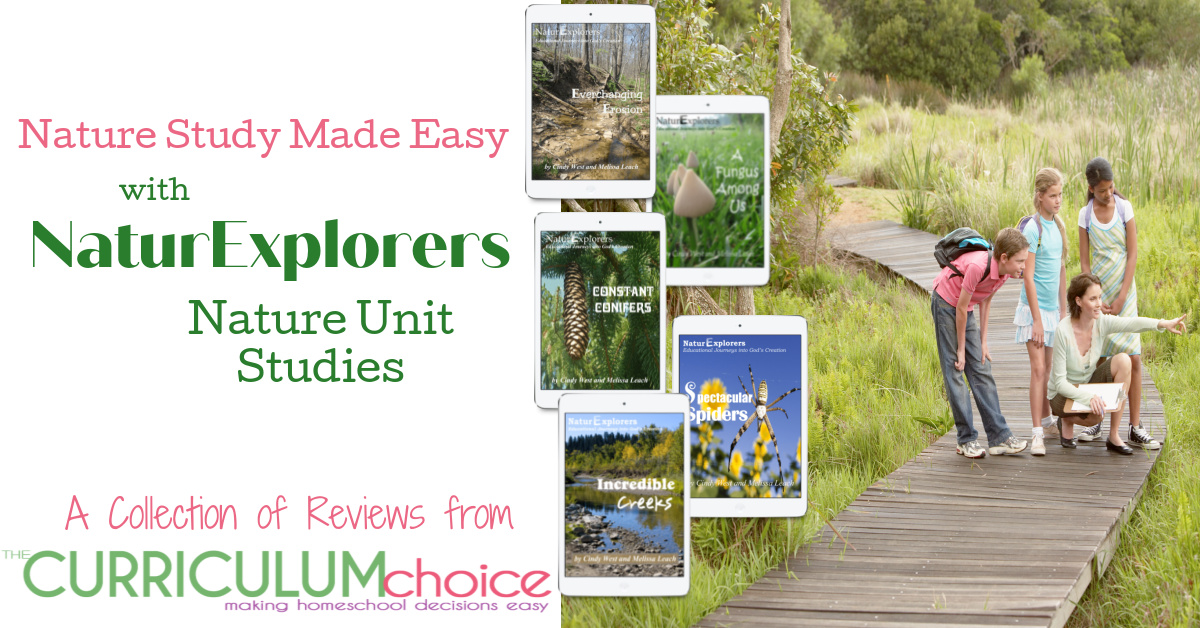 Originally Published August 2010, written by Alicia.