March is National Craft Month and we are getting in on the fun with a collection of craft ideas to use in your homeschool.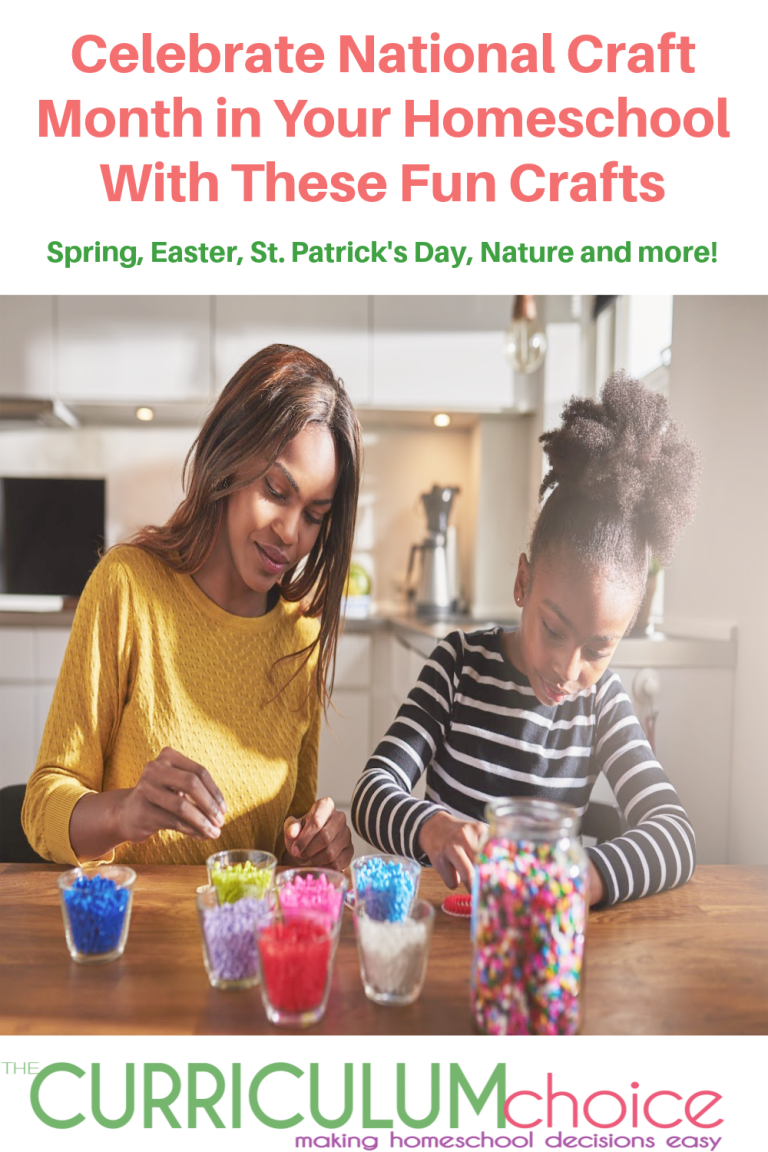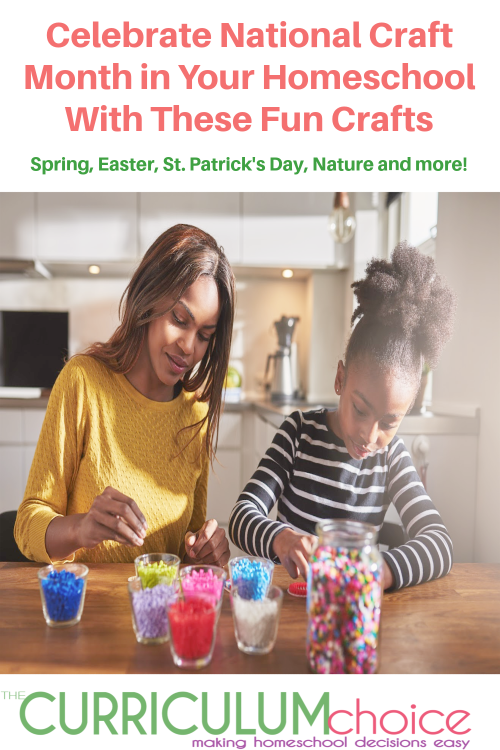 Celebrate National Craft Month in Your Homeschool With These Fun Craft Ideas
March is National Craft Month and we are celebrating by sharing a collection of fun crafts for you to use in your homeschool. Crafts for spring, Easter, St. Patrick's Day, nature, and more!
If you have a crafty kids or kids in your house, you should check out this Crafty Kids Gift Guide where you will fine tons of unique gifts for the creator in your house!
Spring Crafts And Activities
Spring brings new flower blossoms, rainbows, birds and bees and budding trees! Come craft some cute spring crafts with us!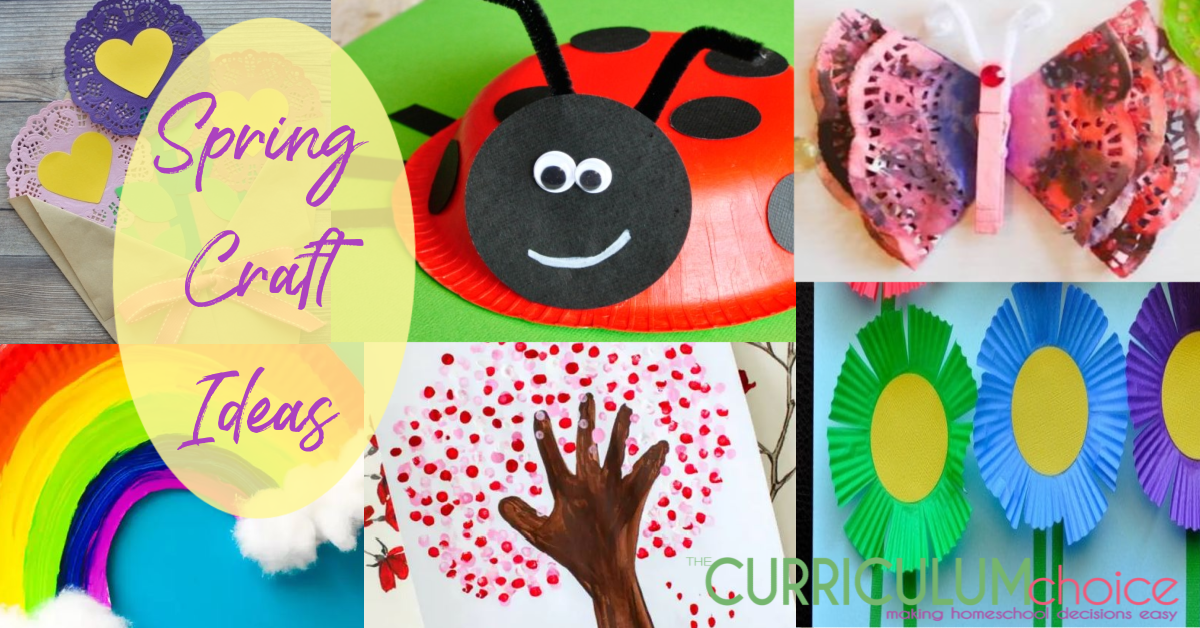 The Spring Homeschool – From spring holiday celebrations and nature study to meaningful art and literature themes, we hope you'll find at least a few fun ways to enjoy the season!
Spring Chalk Pastels Art Tutorial & Nature Study Resources – Use chalk pastels to to create spring bird's nests with colorful eggs!
Paper Doily Flower Bouquet – with this is also listed as a Valentine's Day craft, this is a beautiful flower bouquet to make in the springtime!
Cupcake Liner Rainbow Flower Craft – Not only are they flowers, but in rainbow colors!
Paper Plate Rainbow – Simple and easy for little hands.
Hand Print Cherry Blossom Tree – Using a simple technique, preschoolers are free to recreate the appearance of a tree their own way. The 'handprint ' adds a fun personal touch the kids seem to love!
Doily Butterflies! Doilies, watercolors and clothespins for the win! (you could also use white coffee filters)
Paper Bowl Lady Bug – So cute and fun!
Popsicle Stick Hand Print Flowers – Not only a great spring decoration, but a sweet Mother's Day gift too!
Easter Crafts
When I think of Easter I think bunnies, eggs, and the cross. Here are some simple and fun Easter themed arts and crafts to enjoy with your kids.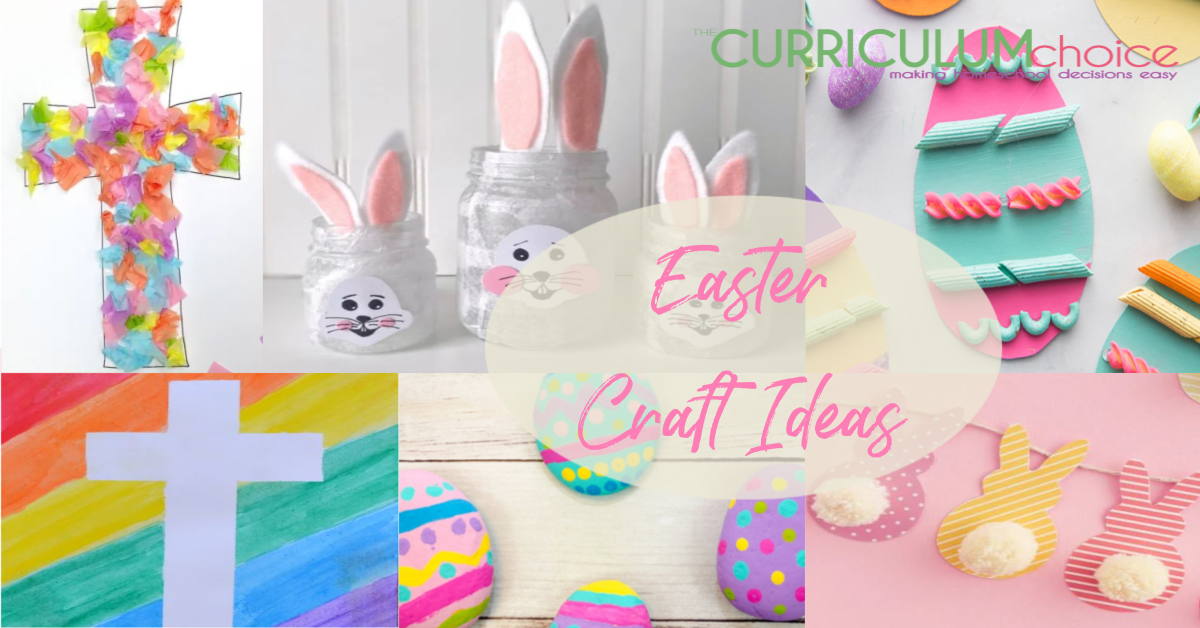 Easter Homeschool Activities – this includes books, art, nature studies and more!
Beautiful Easter Nature Studies for Kids (includes a resurrection garden craft)
Teen Art Project: Tissue Paper Easter Egg Craft – with just a few supplies you can make decorative and glittery eggs!
Easter Eggs Rocks (and even chicks) are easy and inexpensive to make! Acrylic paint, rocks shaped like eggs, and Mod Podge
Pasta Easter Eggs – another simple and inexpensive Easter egg craft
Mason Jar Bunnies! SO cute! They make great decorations or you can fill them with fun treats!
Easter Bunny Garland – scrapbook paper and yarn will get you hopping off to make this sweet Easter decoration
Tape Resist Cross – card stock, painter's tape and watercolors will have you crafting this simple yet beautiful cross.
Tissue Paper Cross – tissue paper squares and an outline of a cross on paper will have your little ones gluing to their hearts content
St. Patrick's Day Crafts
Four leaf clovers, pots of gold and leprechaun's, oh, and don't forget rainbows!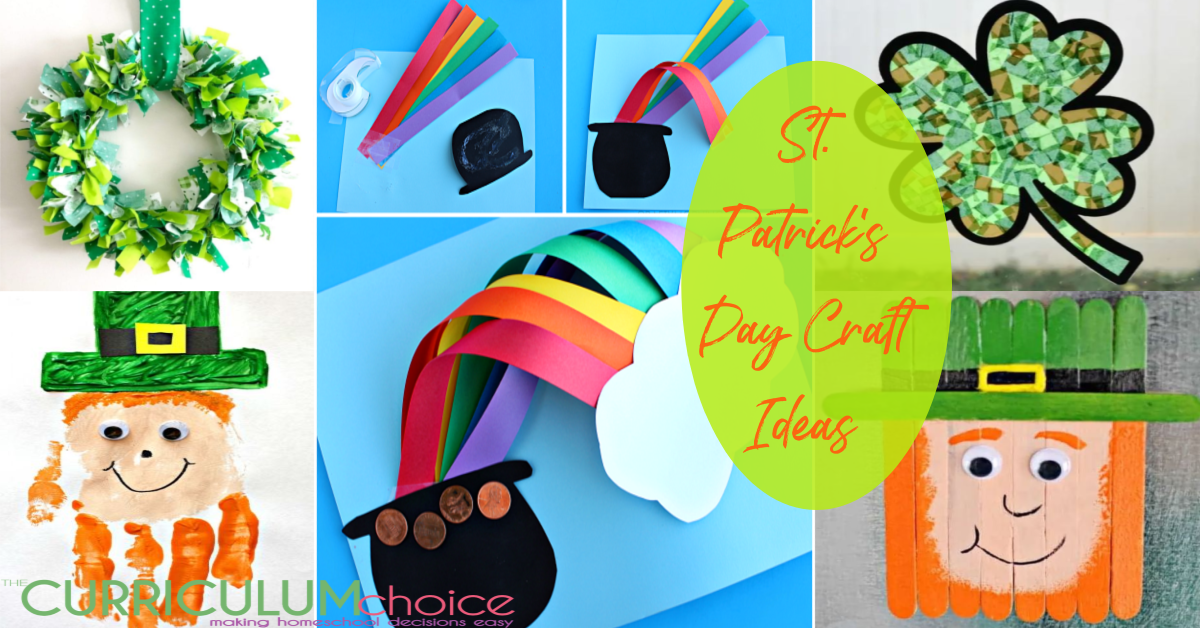 St. Patrick's Day Craft: Tissue Paper Shamrock – Grab some green tissue paper (Great to grab on sale after Christmas!), print out the FREE Template, and get crafting this fun tissue paper shamrock!
The Perfect St. Patrick's Day Unit Study with Art! – Art projects, a fun snack to whip up and more!
Shamrock Wreath – a fabric wreath for decorating your door!
Four Leaf Clover Sun Catcher – sticky clear contact paper and tissue paper bits help kids craft this cute four leaf clover sun catcher!
Leprechaun Handprint Craft – For those with younger kids, handprint crafts are always pop. This is such a cute little guy.
Popsicle Stick Leprechaun – We have a snowman one like this that is a favorite of mine!
3D Rainbow and Pot O Gold – Rainbows seem to be a popular theme with all the craft themes in this post! LOL!
Nature Crafts
Many of these nature crafts either depict something in nature, are created from things in nature, or both.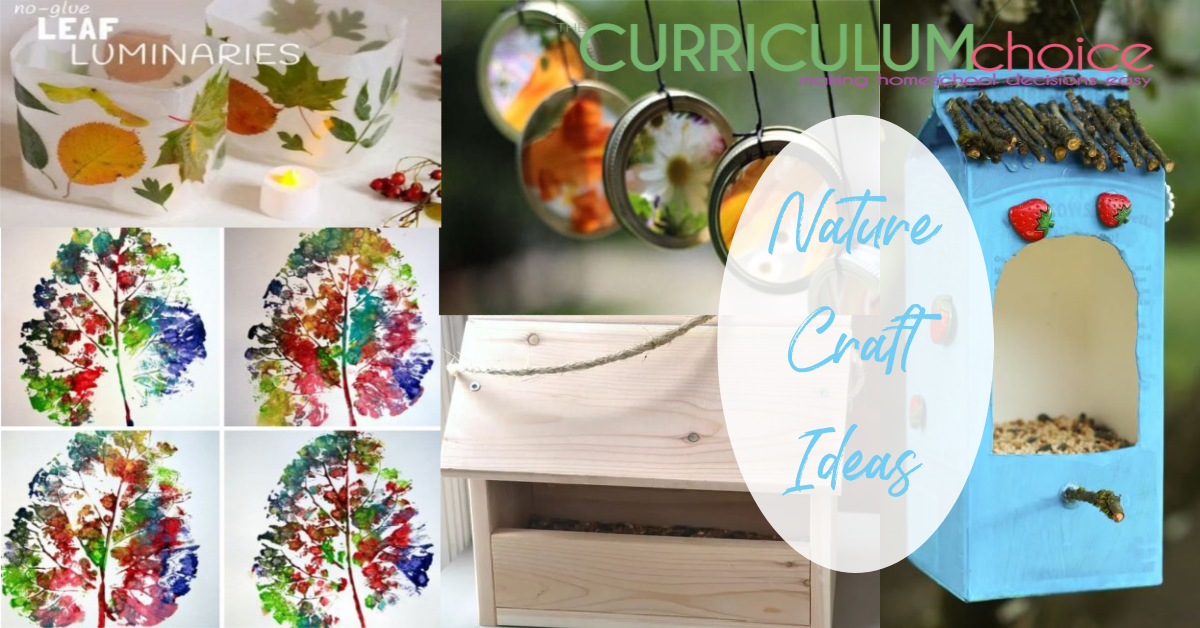 Nature Study Crafts for Kids: Easy Activities for Learning and Fun – Get out in nature and gather some supplies, and then get crafting with us!
Nature Study: Daffodils – Learn to draw a daffodil
Leaf Luminaries – While this one uses clear contact paper to attach the leaves, you could also use Mod Podge.
Mason Jar Ring Nature Suncatchers – Collect leaves and flowers and then let the sun shine through with these mason jar ring suncatchers.
Big Leaf Prints – These are SO pretty and also easy to do.
Simple Wood Bird Feeder – Easy, inexpensive wood bird feeder.
DIY Recycled Materials Bird Feeder – Use materials in your recycling bin to create a fun, low to no cost bird feeder for the backyard.
Enjoy celebrating National Craft Month in Your Homeschool!
Other Fun Things To Do In March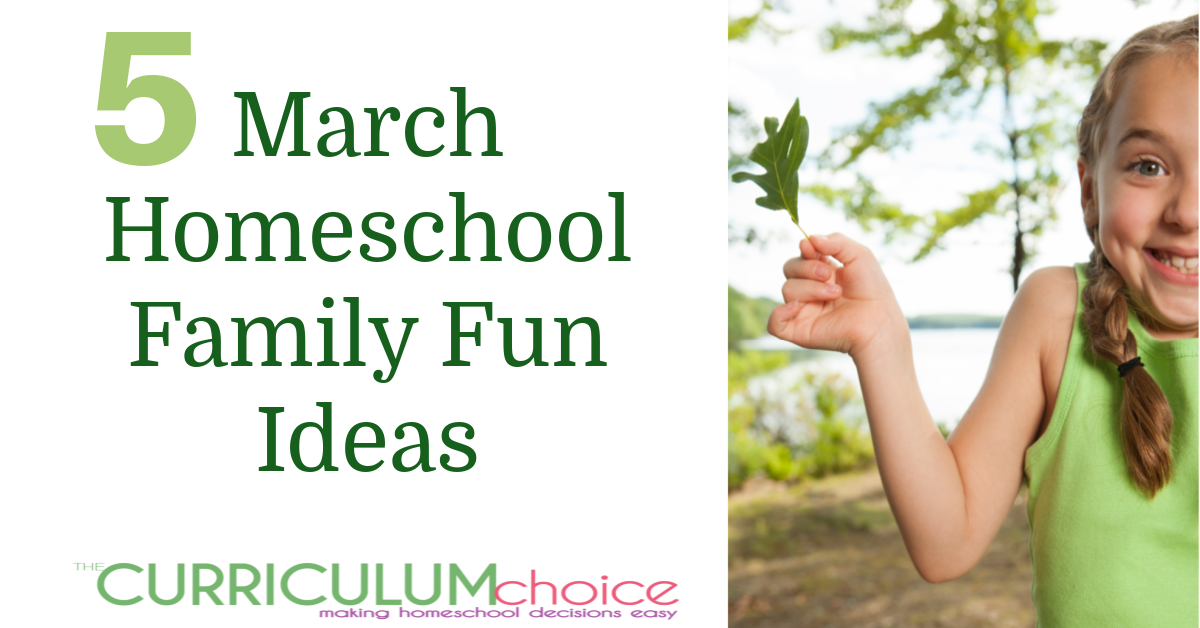 5 March Homeschool Family Fun Ideas – Beyond the St. Patrick's Day merriment, think about celebrating fun holidays like Little Red Wagon Month, National Button Week, Proofreading Day and more!
March Homeschool Celebrations – Celebrate holidays like Pencil Day, National Celery Month, Mad for Plaid Month and more!