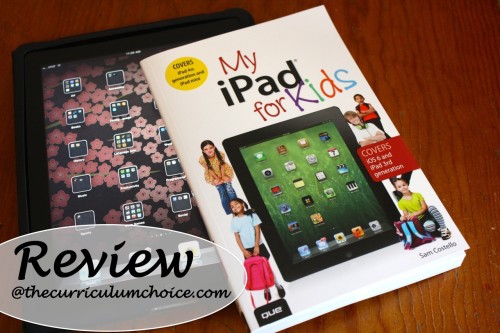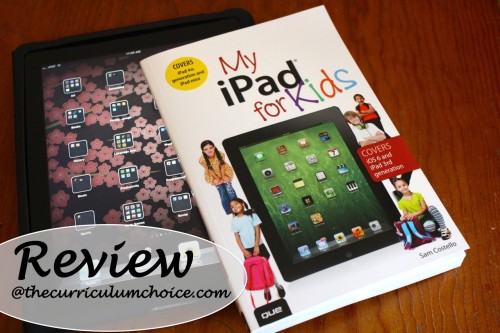 The iPad is a wonderful learning tool. Each of our five children use it in one or more ways to complement and enrich specific subjects. Our youngest one practices with learning to read apps, our first grader practices handwriting with Oceans Letter Writer and cursive. Our eldest two children supplement Apologia Biology with the app flashcards by iHomeEducator. They also learn more about technology using the iPad to view tutorials on Lynda.com. Then, of course, there is Angry Birds…
My iPad for Kids, 2nd Edition, takes iPad learning to a new level. This handy book written by author Sam Costello and available through Que Publishing, gives you a plan, points out new ways of learning we hadn't thought of, and even helps "reassure your parents that you can use your iPad and the internet safely and responsibly."
What's inside?
This book is like a companion how-to guide for your iPad. Above, in the pictured table of contents you can see the many topics covered. I especially like the grade by grade 'how-to' for using the iPad.
step-by-step instructions on any aspect of your iPad
help – for when you run into problems – trouble shooting and how to become your own tech support
tips and notes to help you get the most out of your iPad
examples of awesome apps
having fun with Siri
taking care of your iPad – very important for this expensive piece of equipment!
what to do when your iPad gets wet (hope we don't have to look that one up!)
how to use the iPad camera
basic how tos for viewing YouTube, movies and more
Insights from an Eighth Grader
Our son is our resident iPad expert. Anytime someone in the family needs help with the iPad, we turn to him. So, it seemed fitting that I ask my son to spend a week or so becoming acquainted with My iPad for Kids. He did and I enjoyed the things he noticed. He shares them here:
My iPad for Kids is great for anyone who has just bought an iPad or would like to learn more about the one they own.
The book is designed for 4th through 7th grade, but all ages can learn from it, including adults.
This resource covers Caps lock, restarting your iPad, using the internet and more.
The book also suggests many great apps for education and fun, some of them include TapTyping, Skype, Lobster Diver HD,  Cells and genetics, Rocket Math and many more.
Another great thing about My iPad for kids is that it tells you how to be safe on websites such as YouTube and Facebook.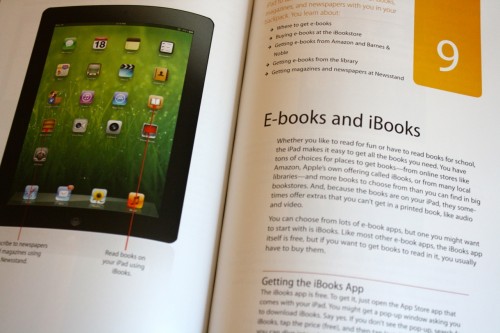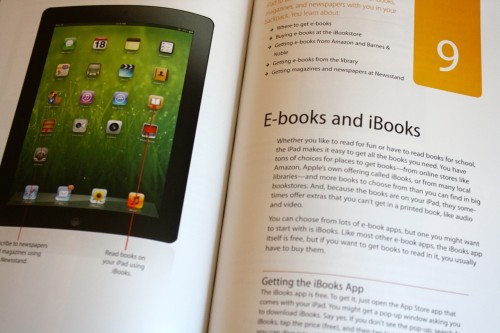 eBooks, iBooks, Newsstands and more Reading
Using the iPad for school reading assignments is a big help. There is so much that can be placed on the iPad electronically. A virtual huge stack. These chapters on eBooks, iBooks and getting newspapers and magazines will be so very valuable to parents and children. With a little planning, we were able to find several of the books needed for our Tapestry of Grace studies. A big savings over purchasing standard books (though, of course, we love those!).
Bonus Material and More Info
Online Extras – a web address included in the introductory material "where you'll find all sorts of additional content we weren't able to squeeze into this book…"
Available in both book and online edition. When you purchase the book you can activate your free 45 Days of access to the online edition.
Covers iOS 6 on iPad 3rd or 4th generation, and iPad mini
View sample content at Que Publishing
How much does it cost?
Book $19.99 – currently includes free shipping
eBook $15.99 –
Book + eBook bundle $26.99 – currently includes free shipping
In Summary
Many thanks to Sam Costello and his My iPad for Kids for opening our eyes to how much more we can be doing with our iPad. We can fit in some extras, add enrichment activities, supplement our learning and reinforce basic subjects – even more now that My iPad for Kids showed us how. We can make the best use of the iPad as a learning tool! For Kids? I'd say it's for educators too.
Homeschooling for a dozen years now, Tricia faces a daily dose of chaos with five children. She shares a mixture of art lessons, recipes and helpful homeschool habits at Hodgepodge. Her husband, Steve, also writes iPad app and technology reviews here at Curriculum Choice.
How have you used iDevices as learning tools in your homeschool?
Hearts and Trees: Art, Handicrafts and Nature Study for your Homeschool