I want to share a product with you that I found and fell in love with long before I started homeschooling (or at least very early on with my first child). Learning math facts can be quite the chore for kids and parents alike.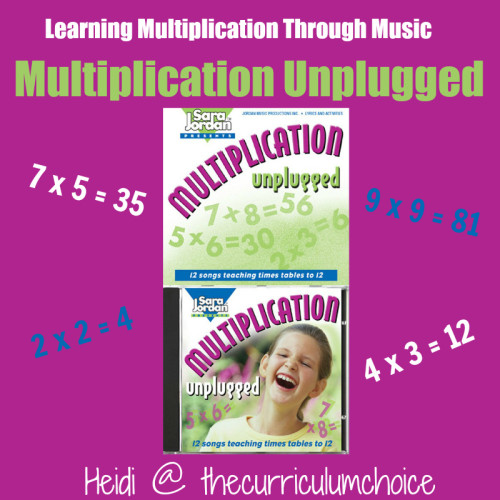 As parents we struggle and debate over how to teach them. Do we push memorization? Do we push learning as a more natural extension? Maybe we should find hands on ways to teach these facts? I am not here to tell you what or how you should do it as every situation is different. I am here to tell you about a method that work flawlessly for all three of my children.
Multiplication Unplugged
When the kids were young I spent lots of time at the library. From books to CDs, and favorite videos, we were always coming home with bag loads (we still do but without the endless hours spent browsing at the library). One day I happened upon this music disc called Multiplication Unplugged. I picked it up to play in the car as we often listened to children's music CDs in the car.
Much to my surprise I found that I had children who learned to skip count and multiply, even before adding was solidified! (You can also get Addition Unplugged, Subtraction Unplugged, and Division Unplugged if you prefer to start elsewhere!) We would listen to it only in the car and sing the melodies together.
Using the lyric book was helpful for one of my children who always wanted to follow along like a book and CD read along. Along with the lyrics there are printable activities in the book that you can make copies of for use within your family. These made for good, quick practice sheets as the kids got a little older and more confident.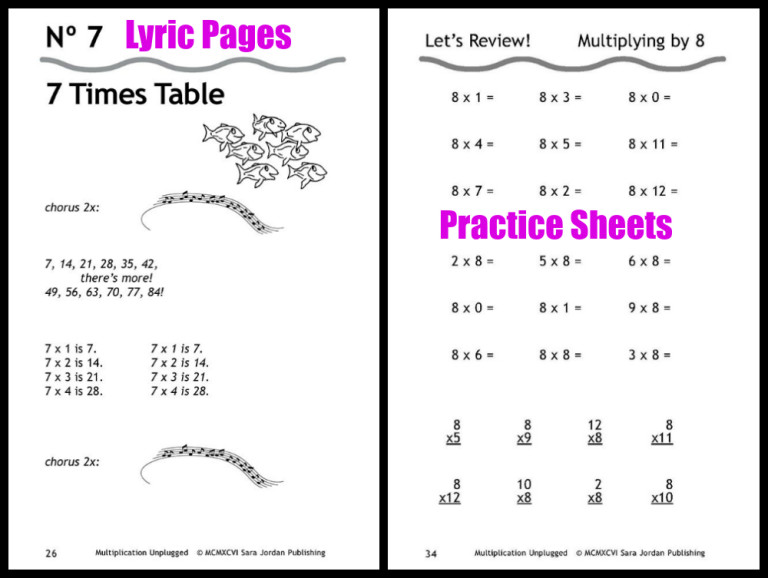 When we started formal multiplication in our homeschool curriculum, each one of our kids already had a huge head start! They all started out multiplying by singing the songs out-loud when the were doing a problem, then they slowly worked to running through the songs in their heads until finally the multiplication just became ingrained in their memories.
What's included:
I highly recommend buying the CD along with the accompanying book.
The music CD covering multiplication and skip counting though 12.
Beyond the basic music tracks there are practice tracks that leave out facts allowing for your student to fill them in on their own.
The accompanying book includes lyric pages for all of the songs.
There are more than a dozen activity sheets that can be reproduced and used for extra practice
Multiplication Unplugged can be found at the Sara Jordan Publishing site – Songs That Teach, along with a myriad of others subjects that are covered in song. Here is a look into how we are teaching Spanish using Sara Jordan products.
Homeschooling for 10 years now, Heidi has children at each stage (elementary, middle and high school). At Starts At Eight you can find her writing and offering resources for middle school, high school, and many unit studies to span the ages.