Manners are some of those important life skills we need to teach our children. As you know, it's not a once and done lesson, it's an ongoing process. As our kids grow, it's important to continually build their "manners library," so they can feel confident in all of the new situations they'll encounter.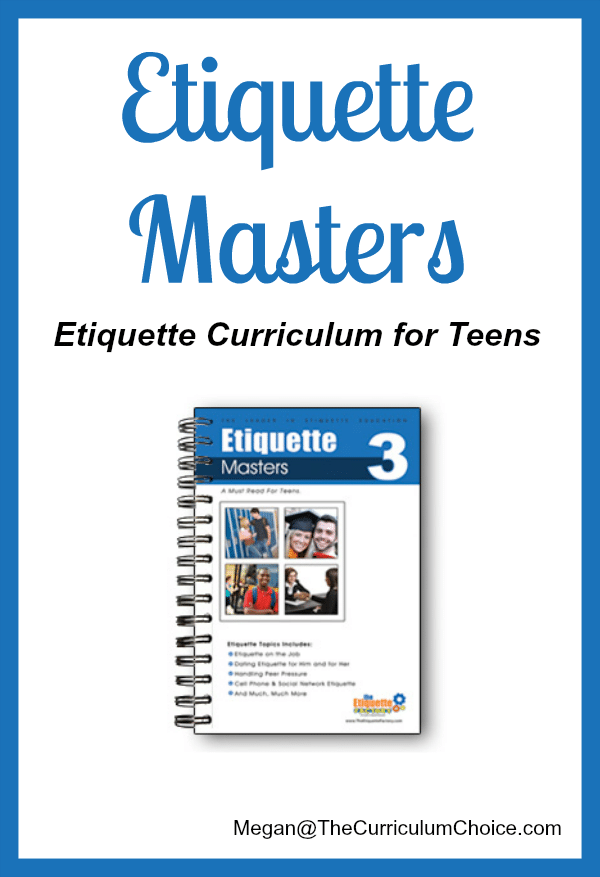 The Etiquette Factory has created an excellent curriculum for families who want to add etiquette training to their home school lessons. Their products include Etiquette for Beginners, Etiquette Intermediate, and Etiquette Masters. Moving through the books as your children get older is a great way to make sure their manners are growing right along with them.
If you have a high schooler, Etiquette Masters is a resource you'll definitely want your teen to read.
It's a small, 36-page book that is full of useful information for older kids. Broken down into ten chapters, it is designed to be read by the student. They'll discover the etiquette required in dating, using technology, while on the job, and as a college roommate.
Chapters include:
How Can Proper Etiquette Improve My Life As A Teenager?
Etiquette on the Job
Cell Phone Etiquette and Social Networking
Peer Pressure and Etiquette – True Opposites
Lifelong Etiquette Skills/A Life of Success
And MORE!
Teens will learn specific skills such as:
respect for people and things
how to dress for a job interview
having integrity in the workplace
posting appropriately to social media
planning a first date
being gracious on a date
how to be a good roommate
putting others first
TIPS FOR USING ETIQUETTE MASTERS
Instead of just giving your student the book and sending them on their way, consider extending the learning by adding in some interactive elements.
Read it Together
Take turns reading a chapter from the book out loud to each other. If your teen isn't interested in reading out loud, then each of you can read the chapter on your own and come together to discuss it.
Either way, make sure you're reading the book too, so you can talk to them about it.
Time to Talk
After you finish a chapter, take some time to talk about it. Give your teen a chance to ask any questions they have. Share your personal experiences.
As a parent, these discussions are important for making sure teens understand what you expect from them.
Make it Specific
Are there elements that your teen doesn't quite understand? Do you want to emphasize certain skills?
Set up some scenarios so they can practice.
For example, after reading the chapter on Job Hunting, sit down and conduct a mock interview with them.
Giving teens the opportunity to practice what they're learning will solidify the lessons, plus they'll feel more comfortable when they are faced with new situations.
Manners are life skills that need to be learned and frequently reviewed, regardless of your child's age. That's why I'm thankful for tools like Etiquette Masters.