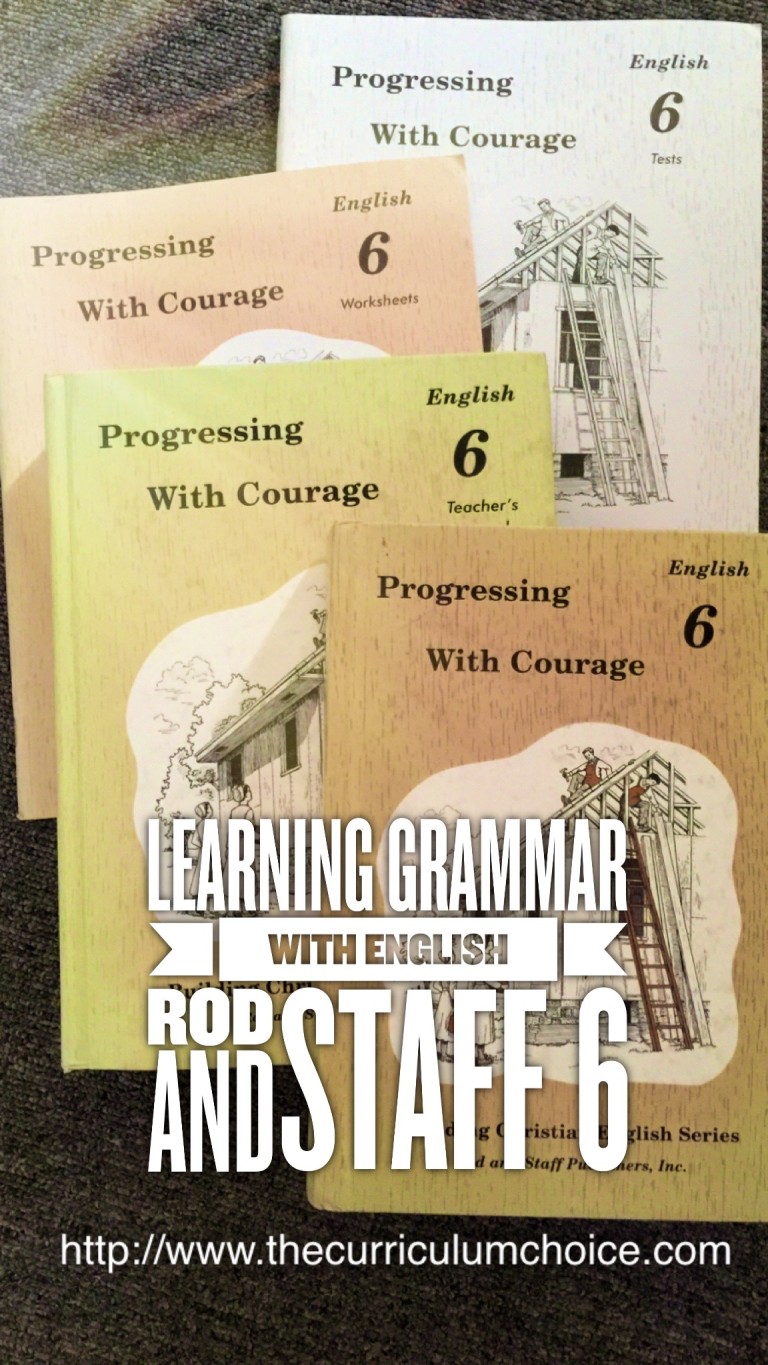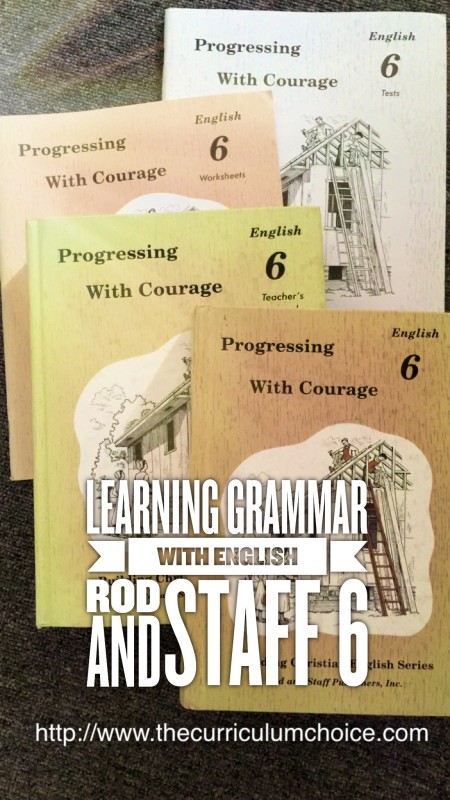 Learning grammar can be done along with the process of reading and writing naturally. However, to consolidate the practical knowledge, learners need to learn and practice the use of grammatical knowledge in routines. Well, we are not native English speakers, but we want to learn English like those who have English as the first language. It was a difficult consideration, but we finally decided it.
To learn English as the first language, I looked for an appropriate resource of grammar, after we finished the First Language Lessons series for my older son. The series are only to level 4. Our choice goes to English Rod and Staff series. We used the 5th level, but today I am going to share our Learning Grammar with English Rod and Staff 6, Progressing with Courage.
English Rod and Staff 6, Progressing with Courage
English Rod and Staff 6, Progressing with Courage
 is not a new English grammar curriculum. It was first published in 1971. You might have also used it when you were at school. It has 4 components in a series:
English Pupil Text Book
English Teacher's Manual
English Worksheets
English Tests
There are 11 chapters in English Rod and Staff 6, Progressing with Courage
, with a total of 132 lessons spread out in the chapters. Each chapter has review lesson in the end before learners take the test.
Each lesson (not include the review lessons) has 4 parts:
Reading the theory and examples
Class Practice
Written Practice
Review Exercise
We learn grammar every day. We spend one day for one lesson, one worksheet, or one test. We do them chapter by chapter. There are several writing, vocabulary, or speaking in each of the chapter. Here is our sequence in doing the lessons:
I listen to my son read the theory. I will interrupt him when it comes to the examples. I give emphasis to the concepts each time. I try to get him read and learn by himself to form an independent learning habit, but it is still sometimes too hard considering English is not our native.
We do the class practice orally.

Get my son read the instruction. It is important for him to understand the instruction. It is usually the same or similar with the written practice that he does individually.
Each number is done orally. When there is an instruction to diagram sentences on the chalkboard, he does only a couple written on either the whiteboard or a piece of paper. The rest will be done orally.

My son does the written practice on his notebook.
He needs to write independently. Tidiness and accuracy are emphasized. However, there are times when my son feel tired and reluctant to write. If the condition is emergence, we just do the written practice orally.
The review exercises are about the previous lessons learned.
They are sometimes written and sometimes spoken orally. When kids need to return to the related lessons, then we return.
At the end of the day lesson, I check his work and he needs to revise any mistakes.
When there are extended exercises in the workbook, we will spend a day to do the related exercise in the workbook:
Get my son read the instruction of every work book part aloud to make sure he understands what he is expected to do.
My son can do the work independently while I take care of his brothers.
We check the work together.
Review lessons are usually done orally as there are a lot of numbers in each lesson. The next lesson after review is usually the test. Doing the test is not different from doing the workbook. My son already understands the score value.
What We Love about English Rod and Staff 6
It has biblical content without preaching.
We are Christian and it is important to give an atmosphere of Christianity in the lesson. However, we don't like too much preaching. There is a time to do so.
English Rod and Staff 6 is very flexible to do.
When my son doesn't want to write, he still can read. However, we don't give too much oral for the written practice, unless it is urgent.
It is continuing the First Language Lesson series we had. There is also the same diagramming system that we have already been familiar.
Although it is not intensive, it provides writing and vocabulary as well. Therefore, while consolidating the grammar, my children can practice the other areas of language as well.
Recommendation
I am going to give my recomendation to anyone, especially Christian, who wants to have a solid grammar curriculum in the 6th grade level to check out English Rod and Staff 6, Progressing with Courage.
Be sure to look at the other reviews of Rod and Staff English, here at The Curriculum Choice: