Although we have had the opportunity to use other math drill programs since we first used MathScore, it still stands out.  As I wrote in an earlier review,
MathScore is a drill program that's all about math, instead of being mathematical entertainment.  Entertainment is fine in its place, but a good, solid math drill program that goes from 1+1=2 right up to quadratic equations is worth its weight in gold.  Rather than flashy fun, MathScore has a simple military rank reward system that provides exactly the right amount of motivation.  This program is a very good fit for our family.  
In most respects MathScore is still the same effective, no-frills way to help your children achieve mastery in over 200 topics from grade 1 through Algebra 1.  It still has excellent parental reporting.  It still has modest pricing and the wonderful account-freeze feature I described long ago.
And it still has the understated rewards of modest fireworks and hard-won increases in military rank that recognize the students' achievements without distracting them from the math.  In this the MathScore developers are onto something.  They use the well-researched idea that intrinsic rewards are more effective at promoting an activity than extravagant external awards are.  In other words, real accomplishments are rewarding in themselves, and MathScore uses this concept most effectively.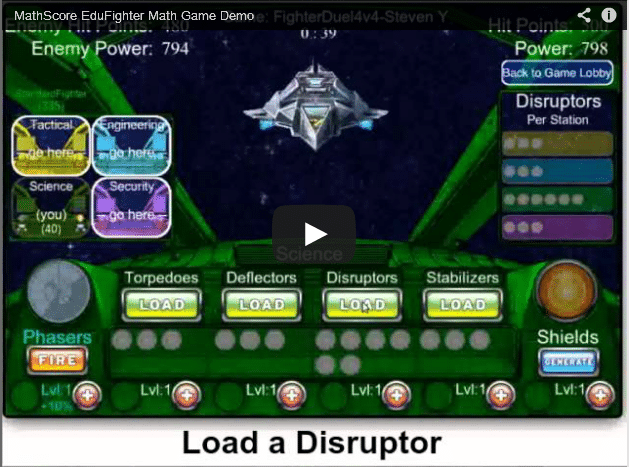 There is a new feature, though:  MathScore has added EduFighter, a solo or team game focused on taking down an enemy ship.  The students' MathScore rank determines their level of play so that the higher their rank, the more fighting skills they can access in the game.  Thus they play EduFighter for a while, go back to MathScore to increase their rank so they can do more in the game, and then return to EduFighter, in a positive learning spiral.
At least, that is the way it is supposed to work.  I really thought my girls would enjoy EduFighter, but should have known better.  After all, one of them averages about an hour of computer games per year, another one plays only pink girlie games, and another one enjoys games that involve building civilizations.  In fact, it turns out they prefer the actual MathScore program itself to the new game, perhaps because they love getting points and improving their rank.  In this respect I must admit that my girls are somewhat unusual.
On the other hand, if your children enjoy military-type games—as most boys and many girls do—EduFighter would thrill them.  It would also enhance their math skills, just as it has brought joy and learning to many students.
You can see a slow motion version of the game here.  Note that it shows more than one level of play.
Even though my girls did not love EduFighter, I am still thrilled with MathScore.  Last fall the older two girls (13 and 16) used it to review long-forgotten concepts while their little sister used it to learn.  The older two strengthened their fluency in foundational skills and went on to do very well in several of the CEMC math competitions.  In fact, Miss 16 did so well on one of them that she was invited to the University of Waterloo for a week long math camp, with living and travel expenses largely covered!
Now, I can't promise that MathScore will send your teen to a prestigious invitational math camp, but I can assure you that it will benefit all students, whether as drill, learning, or review.  It will be especially beneficial to those who are easily distracted by the flashiness of other sites.  And, for those children who love military games, it now also has EduFighter which encourages both learning and fluency.
To see if MathScore or EduFighter would work for your family, check out the demos and the free trial on the MathScore website.  For more information about MathScore, see my detailed review.
Disclosure:  I was given free access to MathScore in order to prepare this review.